Valmont Partners with The Armory Show by creating 'La Maison Valmont VIP Lounge'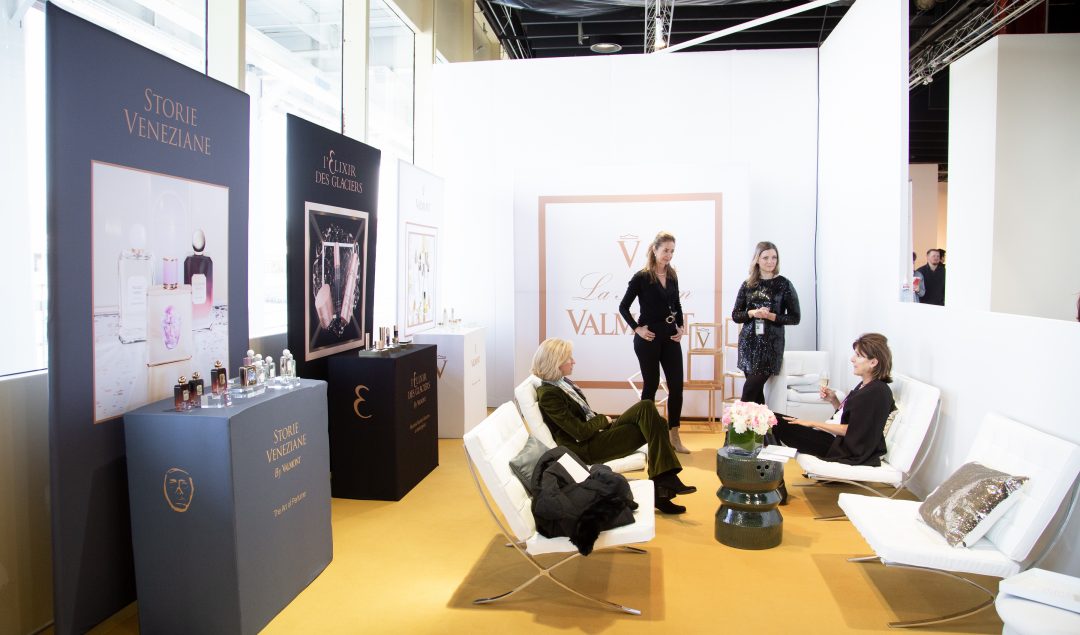 Swiss beauty brand, Valmont, known for its iconic anti-aging skincare products and unparalleled natural resources combined with cutting-edge, cellular cosmetic research  partnered with The Armory Show for their third year in a row to create the 'La Maison Valmont VIP Lounge' at Pier 90 from March 4-8, 2020.
The Pop-Up Lounge featured luxurious and authentic Valmont experiences including skin consultations, stress-relieving mask applications and invitations to visit Spa Valmont at the Hotel Plaza Athénée for exclusive treatments. Guests to La Maison Valmont VIP Lounge were treated to Valmont's newest fragrance collections and experienced unique artistic encounters and artwork. In addition, Valmont sponsored the VIP Collector Dinner on March 3, 'Bubbles and Bites' at the Boom Boom Room with exclusive gift bags.
The 26th edition of The Armory Show featured three curated sections, seven large-scale projects, four days of talks and 183 exhibitors from 32 countries. The balance of major blue chip galleries and fresh discoveries is what maintains The Armory Show's status as an international meeting place for the art world and an annual destination for museums and collectors to acquire new works.
Art is a fundamental pillar of the Valmont Group and plays a role in every initiative of the brand, promoting their motto 'When Art Meets Beauty'. An artist and collector himself, Valmont's Owner and Creative Director Didier Guillon is motivated by a constant dialogue between art and cosmetics.
« Brands can no longer be self-centered. They must build bridges toward other universes, draw connections with other types of influential trends and become one with the spirit of their time,» said Guillon.
Guillon has curated art exhibitions all over the world including multiple shows in Venice for the Biennale, Switzerland, Greece and New York City.
This year, the Valmont Group acquired a historic palace in Venice, Palazzo Bonvicini, that is the new home of Valmont's art charity, La Fondation Valmont (https://fondationvalmont.com/). which supports artists globally, presenting international art exhibitions and contributing to the local arts scene.
The Valmont Group has three luxury cosmetics brands: Valmont skincare, l'Elixir des Glaciers skincare and Storie Veneziane fragrances, where sensory and olfactory experiences intermingle and combine along with a virtuous passion for modern art.
In addition to The Armory Show, Valmont promotes their commitment to art and culture across the country by participating in other art shows including Frieze LA, the West Coast's biggest art show. For the second year in a row, Valmont has partnered with The Cultivist, a private global arts club, for events to support artists associated with Frieze LA.
Created in Switzerland in 1985, Valmont is known for its scientifically advanced skincare products that incorporate cutting-edge Swiss technological research, patented Triple DNA and glacial spring water into their luxurious products. For over 30 years, Valmont has been helping women and men master the visible signs of aging. Heir to traditional Swiss medicine, the company draws from their unparalleled natural resources in Switzerland and the latest cellular cosmetic research to formulate visible and long-lasting anti-aging skincare products. The Valmont Group has four brand pillars that include: Valmont skincare, l'Elixir des Glaciers skincare, Storie Veneziane fragrances and Fondation Valmont.
For more information: www.lamaisonvalmont.com