GROOMING IN THE WORLD OF SELF DISTANCING 18.21 MAN MADE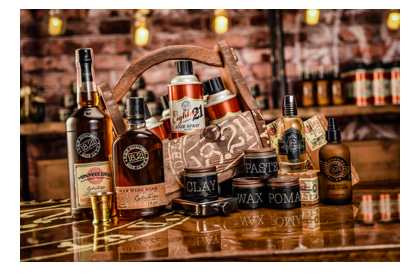 Money is tight and priorities have shifted.  Officials discuss "essential" goods and services but isn't essential subjective? One person may find chocolate essential while another finds pasta essential.
Comments by Walmart CEO Doug McMillon on The Today Show recently suggest that needs are constantly shifting as time marches on, "You can definitely see that as people have stayed home, their focus has shifted.  It started out as food and consumable and then it moved to things like puzzles and games and things to entertain kids and educate children as you would guess. Recently we've seen more grooming products.   People need a haircut so you start to see more beard trimmers, hair color and things like that."
McMillon is right. And 18.21 Man Made can verify that they have seen an uptick of grooming products of late 18.21 Man Made was inspired by prohibition and driven by the lack of originality and creativity in the men's grooming industry. So began a bootlegging of their own custom grooming mixtures.  Their approach is to always provide uncommon goods which feel uniquely American in nature and provide a nostalgic yet modern grooming experience. And, they meticulously form this experience through the use of exceptional materials, choice ingredients and the custom crafted aroma of sweet tobacco and spiced vanilla.
The 18.21 Man Made team sorted out the products that men actually need.  By supporting men with a complete strategy for self care and at home grooming, they can establish a movement centered upon the finest masculine grooming experience.
The product selection was carefully curated, the packaging screams masculine cocktails while the formulas will treat him to the best ingredients available.  The fragrance will envelop him with hints of sweet tobacco or spiced vanilla.
Products include:
The hero 3-1 Wash, Shampoo and Conditioner.  This effective, multi-functional liquid soap will provide a delicious-smelling and easy solution for the man-on-the-go who wants to spend less time cleansing and more time going about his day. The rich, sulfate-free formula binds weightless moisture to skin and hair, which won't leave your skin greasy or your hair feeling heavy. The fortified shower gel provides strength, gentle washing and is perfect for all hair & skin types.  Inspired by the look and feel of fine whiskey and a nod to the roaring spirit of swanky Prohibition era speakeasy lounges.
Sweet Tobacco Spirits is a signature oil blend that will leave a lasting impression with classic aromatics. Citrus, spicy saffron, and dried fruits reveal hints of tonka bean, manuka honey, and dark-toned vanilla that sweeten undertones of tobacco, exotic woods and musk. 18.21 Man Made's cologne comes furnished in an elegant glass bottle that sports a fine-mist atomizer. It creates a sleek, polished aesthetic that won't leak. This is a parfum-grade scent that is made in small batches in a niche barrel house. It contains a 20% oil blend, 80% denatured alcohol, and no water, for a sweet, unmistakable depth of fragrance that transcends gender.
Other products offered in this sexy collection include Beard Balm, Clay, Pomade, Wax, Paste, Shaving Glide, Premium Hair Spray, and Deodorant – everything he needs to keep on top of his grooming needs.
In addition to a robust product offering the 18.21 Man Made team is offering Free Male Cutting Education. If he finds himself desperate for a haircut, follow along with Angel del Solar, Managing Director and Co-Founder of 18.21 Man Made HERE