BeautyStat Launches Eye Cream with Vitamin C & CBD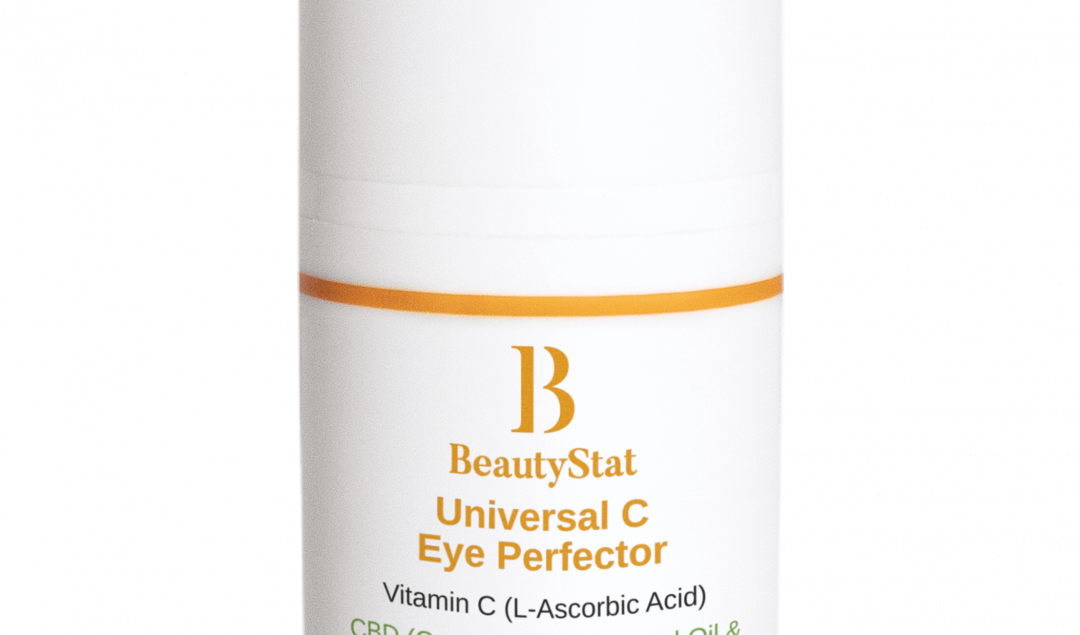 Introducing BeautyStat Universal C Eye Perfector, the newest in the Universal C portfolio of breakthrough Vitamin C-based skincare products. This newest formulation includes CBD, as these two ingredients synergistically provide unparalleled results in fighting all the visible signs of aging in the delicate eye area. As Vitamin C brightens, softens lines, fades dark circles, and diminishes puffiness, CBD provides the strongest anti-inflammatory protection fighting pollution, irritation, and minimizing redness.
An Industry First
This new eye care perfector is formulated with a unique combination of patented 5% pure stable Vitamin C (L-Ascorbic acid) and CBD (Cannabis Sativa Seed Oil and Cannabis Sativa Flower/Leaf Stem Extract). This first-to-market powerhouse delivers a velvety-soft cream with a weightless texture that glides on with no pull on the delicate eye area. It not only immediately softens and soothes the eye area; the combined power of both pure Vitamin C and CBD provides unprecedented results in helping prevent and reverse signs of aging, helping brighten, firm, hydrate, and calm delicate eye skin, ultimately restoring a more youthful appearance.
While eye care was always going to be part of the BeautyStat portfolio, Ron Robinson, cosmetic chemist and trusted influencer, along with his team of beauty industry veterans and experts, wanted to create an eye care product good for all skin types, including sensitive, compatible with our pure Vitamin C and, resulting in a superior and highly effective eye product whether used alone or with other Universal C skincare products!
"The mission at BeautyStat is to scour the planet for new beauty ingredients and technologies. Our goal is to continually develop beauty innovation with high performance technology that truly delivers optimal benefits to all skin types with impressive results, while targeting and exceeding consumer wants and needs", states Robinson.
Extraordinary antioxidant protection
Universal C Eye Perfector's patented and protective Vitamin C, combined with CBD, refreshes the eye area. Dark circles are less obvious. Fine lines and wrinkles appear diminished and skin is less puffy and tired-looking. Formulated for all skin types including sensitive, this product helps even the most sensitive skin react with less sensitivity with proper use.
The new "It" Ingredient.
As a well-known member of the influencer audience and consumer media, we were aware of the "buzz" around CBD. The industry influencers, combined with crucial consumer education (no, it won't get you high) has helped this "it" ingredient evolve into a huge skincare trend in the industry.
CBD (Cannabis Sativa Seed Oil and Cannabis Sativa Flower/Leaf Stem Extract) and its presence in skincare and personal care, has skyrocketed. However, despite this compelling fact, we at BeautyStat still had to be convinced.
We took a deep dive into this ingredient, researching its origin and benefits, as well as benefits in skincare and its potential and overall compatibility with our formula. CBD is a natural, highly-effective anti-inflammatory as well as an impressive emollient, delivering these unique and therapeutic benefits when applied to the skin. While safe and effective for all skin types, it has proven to be particularly useful for people who face challenges with sensitivity, inflammatory conditions, redness, and dehydration.
Hemp oil-infused skincare products aid in minimizing the appearance of skin damage by soothing and revitalizing stressed-out skin. Hemp, a lush, green botanical, rich in vitamins, minerals, and antioxidants, helps visibly calm the look of redness and leaves skin smoother, more even-toned, and younger-looking. We have receptors, found naturally in our skin, that mimic the benefits that CBD has to offer. Compatible with effective CBD-infused formulas these natural receptors are able to work in tandem with the product, when applied, to keep the skin in peak condition.
What makes Universal C Eye Perfector unique?
Not satisfied with the efficacy of CBD alone, we wanted to know how this ingredient would combine with our proprietary ingredients and be most beneficial to the
delicate, and often sensitive, eye area. We conducted several tests, mixing pure CBD with our patented, pure stable Vitamin C (L-Ascorbic Acid).
We concluded the ideal usage level to be 5%, brightening, smoothing, hydrating, and helping firm the appearance of lines and wrinkles in the sensitive eye area and the appearance dark circles faded with continued use. Also, our pure Vitamin C has anti-inflammatory capabilities and works synergistically with CBD oil to soothe, calm, and desensitize skin while delivering strong anti-aging protection.
The addition of Pure EGCG, the most active component of green tea, at its optimum level, helps defend against damaging free radicals and pollution. The formula also contains Hyaluronic Acid to aid in plumping and hydrating, while additional green active ingredients also help to strengthen and protect skin. This unique combination of well-researched and highly effective ingredients works together to deliver unprecedented and obvious results.
Formulated for all skin types, this velvety-soft texture glides onto the delicate eye area with no pull or tugging. The super lightweight texture feels almost weightless, in contrast to the traditionally thick and heavy formulas often associated with serious, reparative eye care.
What benefits does the patented Universal C Eye Perfector formula deliver?
Provides immediate and lasting effects, over time, when used as directed, with:
• Potent, patented, and pure Vitamin C
• CBD fueled levels of antioxidants and anti-inflammatories • Immediately softens and hydrates skin in the eye area
• Helps diminish the appearance of fine lines and wrinkles • Addresses the appearance of dark circles
• Calms and soothes redness and irritation
• Soothes, plumps, and de-puffs
• Brightens skin to give eye area a refreshed appearance
• Helps provide a more radiant appearance
• Dermatologist/Ophthalmologist approved
• Fragrance-free
• Preservative-free
• Dye-Free
• No parabens
• No phthalates
What are the key Ingredients in the Eye Perfector?
Five percent (5%) Pure Vitamin C (L-Ascorbic acid) stabilized via the BeautyStat proprietary and patented delivery system. Helps brighten and lighten eye area. Firms, lifts, and repairs fine lines and wrinkles.
Anti-oxidant protection, helps defend sensitive eye area from pollution.
CBD – Cannabis Sativa Seed Oil & Cannabis Sativa Flower/Leaf/Stem Extract
Rich in antioxidants, vitamins, and minerals.
Diminishes skin reactivity, calming and soothing sensitive eye area.
Hyaluronic Acid
Moisture-activated within the skin. Plumping and hydrating skin.
EGCG (epigallo catechin gallate) a.k.a. Green Tea Extract 98% Pure.
Delivers anti-inflammatory, non-irritating, antioxidant benefits.
Helps brighten and protect sensitive eye area.
What is the most effective way to use the BeautyStat Universal C regimen?
The high-performance BeautyStat Universal Collection is formulated to work as a step-by-step skincare regimen. For optimal benefits and results:
Apply Universal C Skin Refiner on clean skin
Follow with Universal Pro-Bio Moisture Boost Cream Complete with Universal C Eye Protector
Eye Perfector usage:
AM and PM: Smooth under and around the eye area on cleansed, dry skin.
Bonus Benefit: helps makeup wear longer.
Suggested Retail Price
$65.00
Weight
15 ml e. 05 Fl. Oz.
Will BeautyStat continue to add to its portfolio of beauty products?
Our universe has been good to us. It has been an incredible year since the launch of BeautyStat Universal C Skin Refiner and her sister product, Universal Pro-Bio Moisture Boost Cream. Our potent and patented Vitamin C-based serum, with 20% pure Vitamin C, has been embraced by influencers, celebrities, and consumers who are all impressed with the results and their skin! Universal C has been featured on morning television shows, YouTube, and other social media platforms, beauty websites and has been identified by the beauty press as the "Best Vitamin C Serum", "#1 Vitamin C Serum" , "Best Beauty Product for 2019" and voted "Best New Product" by numerous media and beauty outlets.
Our mission will continue. We search and source the best ingredients, the best technology, and the best delivery systems to create high-performance skincare for every skin type. We are currently developing a spot corrector, cleanser, mask, and hand cream to be unveiled in the near future.
Eye Perfector will be available, along with our existing Universal C products, on www.BeautyStat.com and www.Amazon.com beginning May 15.