SYMRISE INAUGURATES L'APPARTMENT ETOILE, A FINE FRAGRANCE OASIS IN THE HEART OF PARIS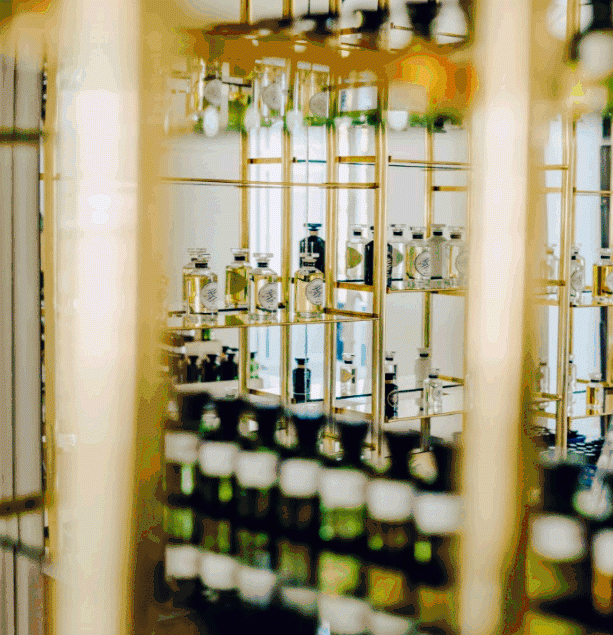 Symrise created L'Appartement Etoile to reconceptualize fragrance development as an agile, collaborative creation process. Located at 12 Rue de Presbourg, l'Appartement Etoile offers an intimate, inviting ambiance and breathtaking view of the Arc de Triomphe, giving guests a unique and inspiring backdrop to spark ideas, create opportunities and provide modern solutions in real time at the on location lab. Franco-Israeli interior designer Deborah Prasquier created a contemporary space imbued with beauty, refinement and serenity, emulating the spirit of Parisian chic.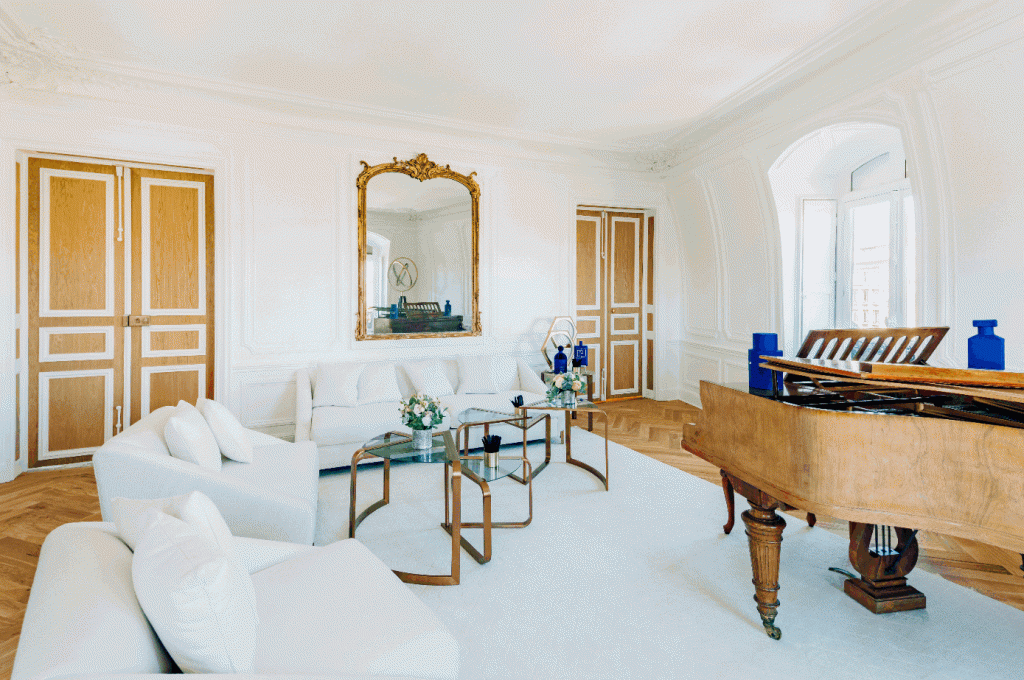 This new hub will also be a home dedicated to the creative arts and olfactory culture, bridging the disciplines through exclusive cultural programs. Planned events include thematic exhibitions, master classes, conversations with iconic speakers and artists to learn, connect and cross-pollinate knowledge. At L'appartement Etoile, audiences including our clients, perfume lovers, influencers and the media will experience a collaborative space that encourages exchanges and feel nourished by a real creative energy.
L'Appartment Etoile, through it's conception, design and overall ethos, embodies the Symrise values of Excellence, Creativity and Added Value. Symrise Fine Fragrance consistently challenges existing ways of thinking and I am confident that this new hub will continue the Symrise expansion and reinviention of the Fine Fragrance category," commented Symrise CEO Heinz-Jürgen Bertram
Opening night
The opening ceremony of L'Appartement Etoile took place on July 22, 2020 and featured a classical music concert by the award winning Trio Chausson. During the concert, Symrise fine fragrance perfumers Maurice Roucel, Annick Ménardo, Emilie Coppermann, Alienor Massenet, Pierre-Constantin Gueros, Alexandra Carlin, Marine Ipert and Suzy Le Helley together created the signature scent of L'Appartement. They say it was inspired by the juxtaposition of the classical music and the contemporary interior design.
It is in the Symrise DNA to challenge boundaries we constantly push ourselves to create differently, with more agility and ingenuity. We also believe fragrance inspiration is cultivated through collaboration with other artistic disciplines. L'Appartement Etoile Symrise brings together these ideals of imagination and collaboration in an avant-garde space to spark ideas, create opportunities and bring thoroughly modern fragrance solutions for our clients.
ARTISTIC COLLABORATION: SYMRISE X SKIO AT THE L'APPARTMENT ETOILE.
For his first artistic collaboration, Symrise invited Nicolas Scauri aka «Skio», an all-terrain artist with an inexhaustible curiosity… interested in creation in all its forms and inspired by the Bauhaus, and artists such as Chirico, Magritte and Dali, Skio has created his own universe by exploiting his experience and his mastery of new techniques whether it be ink, acrylic, aerosol, and digital composition.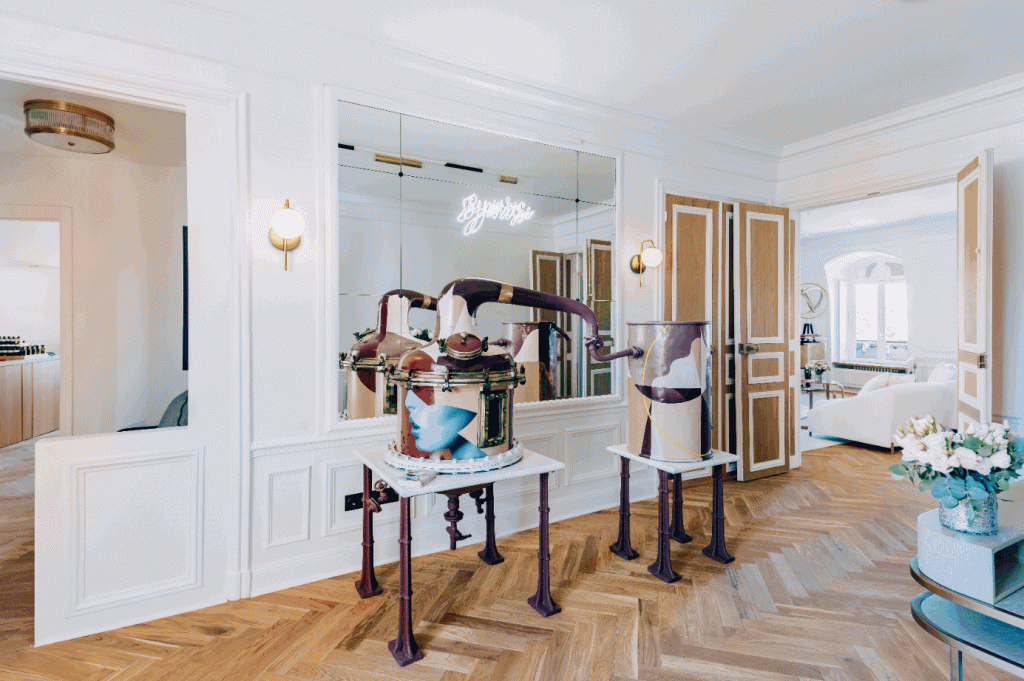 At ease on large formats, through the walls on which he inscribes his art in the heart of the city, this muralist also likes working in the studio. His work is based on the transposition of digital techniques on walls and canvases of abstract geometric constructions that are both dynamic, playful and balanced, sometimes adding characters that connote the idea of a parallel geometric universe. His sense of assemblage and his remarkable sensibility make Skio an essential street-art artist, as evidenced by his presence in numerous festivals for more than 20 years.
He is also artistic director within the Riofluo collective, founded in 2008 with Adrien Midzic. «Riofluo's philosophy is to offer quality artistic event concepts by putting the artist at the centre of the concept and enhancing his style».
SKIO, urban activist to (re)discover!
In the spirit of the creative approach of his work «Human In the City» which tends to question the place of man in the urban landscape. Skio has modernized the classic tool of the perfume distillery, the alhambic, into a veritable work of contemporary art especially for the Appartement Etoile.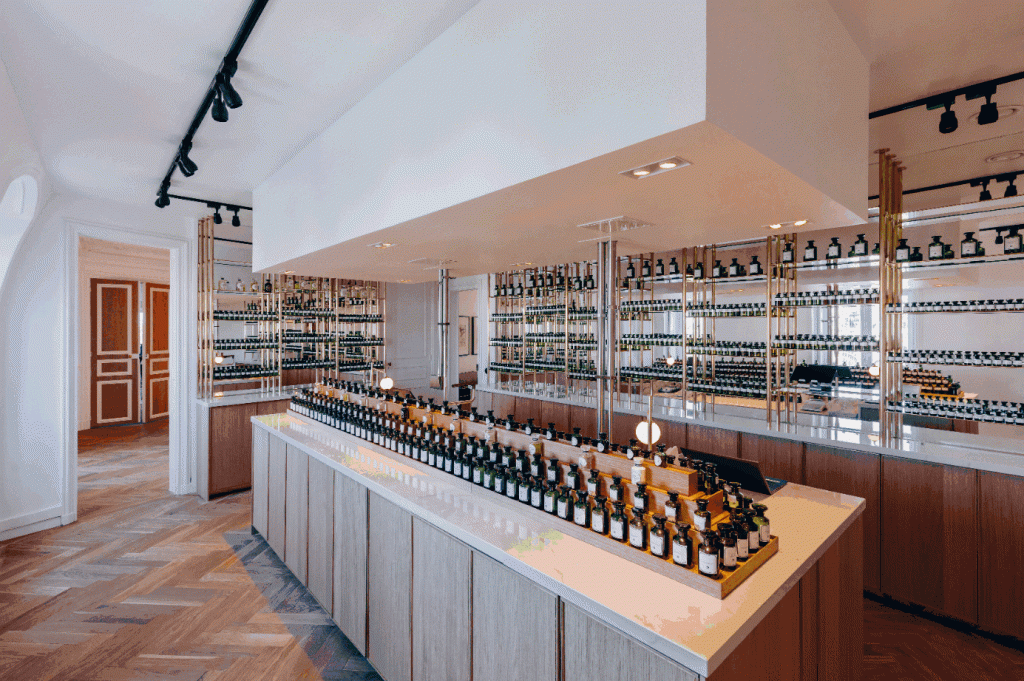 «PERFUME ME»
In the image of my research «Human in the city» on the identity of Man in an urban environment, «Perfume me» is a creation that expresses the idea of giving oneself a personal, attractive and original identity in relation to others through the perfume one chooses and which connotes one's own personality, character and universe. The way I let the face partially appear here creates a real sense on the nose, the fragrances and the personalization of an inspiration and an olfactory feeling.