Lancaster Sun Sensitive Collection Awarded C2c Certification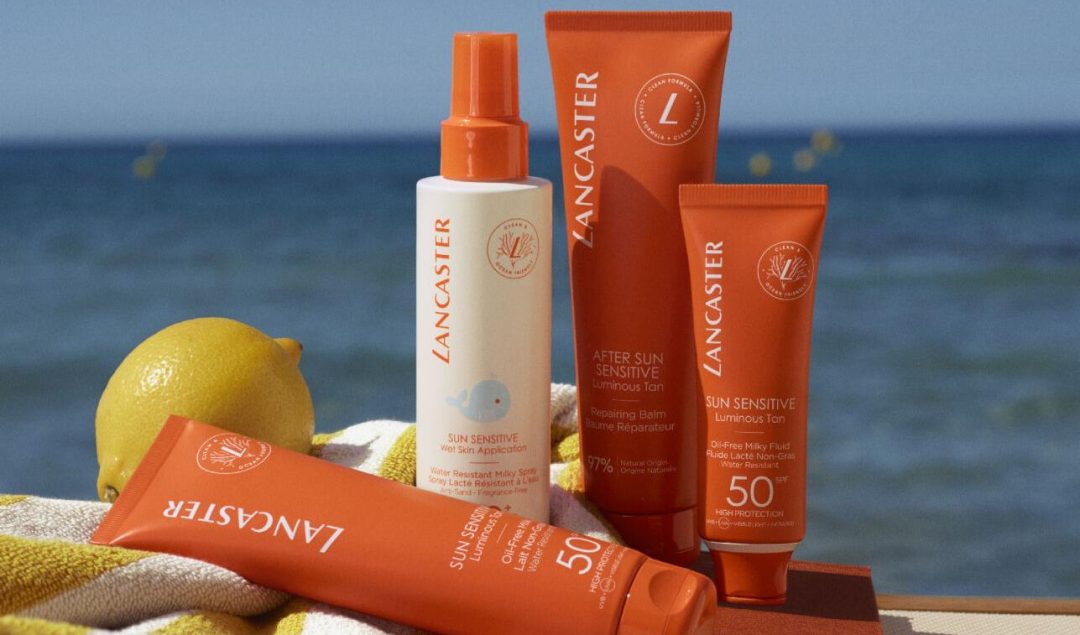 Coty Inc. -one of the world's leading beauty companies and the global leader in fragrances, has announced that Lancaster has become the first ever sun care brand awarded the prestigious C2C Certified Material Health Certificate at the Silver level from the Cradle to Cradle Products Innovation Institute.
The award indicates that 100% of the ingredients in Lancaster Sun Sensitive collection –Lancaster's first clean and vegan range, and its most environmentally friendly yet – meet the Institute's strict criteria. In addition to recognizing the sustainable innovation behind the collection, the Certification serves as the foundation for further improving the sustainability and product safety of sun care products over time.
Lancaster Sun Sensitive collection provides broad sun protection* targeting 100% of sun spectrum through a clean, minimalistic** vegan formula providing even sensitive skin with a delicate golden glow, preserved from redness and discomfort. The products also feature an ocean friendly UV filter system*** – all delivered in eco-designed packaging.****
Sue Y. Nabi, Chief Executive Officer at Coty, said: "Sustainability is the ultimate driver of innovation and brands like Lancaster are creating outstanding products that are truly clean and green. Today's consumer rightly expects that their favorite products also deliver when it comes to environmental performance. It's our approach to product innovation that sets Coty apart and these industry firsts reflect the expertise of our teams and our brands."
The C2C Certified Material Health Certificate by the Cradle to Cradle Products Innovation Institute offers a solution to growing industry and consumer interest in knowing more about the chemicals used in products across their supply chains and avoiding chemicals of concern. By using the rigorous, globally recognized material health assessment methodology of the Cradle to Cradle Certified Product Standard, the Material Health Certificate provides manufacturers with a trusted means of assessing, optimizing and verifying their product chemistries for safety and the environment. A C2C Certified Material Health Certificate is awarded to products that meet the Material Health requirements of the multi-attribute Cradle to Cradle Certified™ Product Standard. The certificate is valid for two years.
"Beyond leading the way in sun care with the first C2C Certified Material Health Certificate in the category, Coty is also paving the way towards greater product safety, transparency and innovation throughout the beauty industry," said Dr. Christina Raab, Vice President of Strategy and Development for the Cradle to Cradle Products Innovation Institute.
Laure Calvel, VP Global Marketing at Lancaster, said: "Receiving the Cradle to Cradle Products Innovation Institute's Silver Level Material Health Certificate for our Sun Sensitive range is another positive step in demonstrating the safe use of materials that are circular and responsible in our products. We have a framework for improving the sustainability of all the products in our portfolio and very ambitious plans over the coming years."
Product innovation is a crucial element of Coty's journey to becoming a more circular business and creating a more sustainable and inclusive world – as set out in its Beauty That Lasts' strategy. Today's announcement builds on the success of Calvin Klein's first clean and environmentally conscious fragrance, CK EVERYONE, which achieved a Material Health Certificate at the Silver level from the Cradle to Cradle Products Innovation Institute in April 2020.
Last month, Coty announced a partnership with LanzaTech to introduce sustainable ethanol made from captured-carbon emissions into its fragrance products. LanzaTech captures industrial emissions and processes the waste gases into a new, more sustainable source of ethanol that is suitable for use in fragrances. Coty has set the goal of having the majority of its fragrance portfolio using ethanol sourced from carbon-capture by 2023.