MY WAY: GIORGIO ARMANI'S NEW FEMININE FRAGRANCE LAUNCH IN HAINAN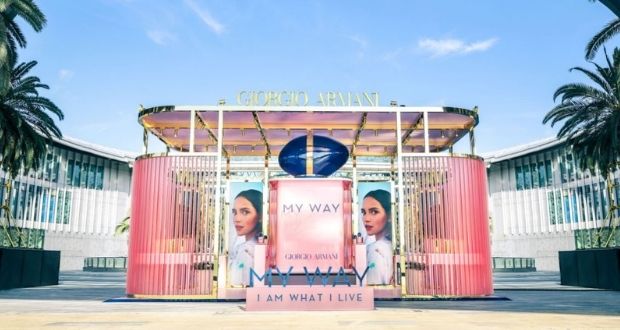 With the introduction of MY WAY, L'Oréal Travel Retail Asia Pacific created a captivating eco-designed outdoor podium at the China Duty Free Group (CDFG) Haitang Bay Mall. Conjuring a fusion of cultures enriched with a white flower scent that is at once bright, modern and feminine, it is a nod to the traveler's soul in all of us. MY WAY embodies a strong and singular statement of sustainability and femininity that celebrates oneself and the world. During the month of May, visitors were invited to open their horizons to the multifaceted and olfactory experiences of MY WAY.
I AM WHAT I LIVE
More than a name, MY WAY reflects how life's journeys, whether geographical or emotional, shape our character and through the people we meet and the moments we live, we create our unique life story. MY WAY perfume reflects the 'I am what I live' philosophy.
Echoing this ethos, the MY WAY podium encapsulates a spirit of curiosity and connection that reveals the wonders around us. The giant 3m-tall flacon of MY WAY makes an elegant yet powerful statement to dazzle visitors and lead them to embark on a fascinating journey through various inspiring touchpoints.
SHARE YOUR PERSONALIZED HAINAN EXPERIENCE
The world opened up at the heart of Hainan, where modernity and tradition meet. As visitors sifted through postcards depicting various cultural experiences from around the world, they were reminded of the power of travel to pave the way into new horizons and engage in unfamiliar rhythms, which forge the life stories that make us unique. This zone gave visitors a chance to mail a personalized postcard with their own polaroid to a loved one and shared the unique character of the island province of Hainan.
IMMERSE IN A VR BEAUTY-TECH TRAVEL EXPERIENCE
An unprecedented VR travel experience satiated the soul of the wanderlust traveler. Visitors immersed in a virtual travel journey to experience the world using a VR headset or their smartphone. Guided by actress and ambassador of MY WAY Adria Ariona, visitors could cast floating lanterns into the water and experience the dazzling lights of the Loi Krathong Festival in Thailand or partake in the meticulous ritual of a matcha tea ceremony in Tokyo. These new cultural encounters exemplify the power of experiences to shape one's character, conveying a yearning for all the stories yet to be told.
BEAUTY DESIGNED TO LAST
The world that gifts us these experiences is the world that shapes us, and MY WAY pays homage to the environment that makes us who we are. Visitors were presented with videos that unveiled the delicate craftsmanship and mindfulness of every detail, where each bottle is conceived with the environment in mind and designed to last.
MY WAY, WHERE STORIES ABOUND
The end of the pop-up marked the end of a voyage through cultures and stories, a journey etched into memory. Each perfume bottle captures the lived experiences that inspire MY WAY and expresses the authenticity of every new experience to come. Visitors were able to make MY WAY theirs and take home a MY WAY talisman of their own.