THE FRAGRANCE FOUNDATION ANNOUNCES 2021 AWARD WINNERS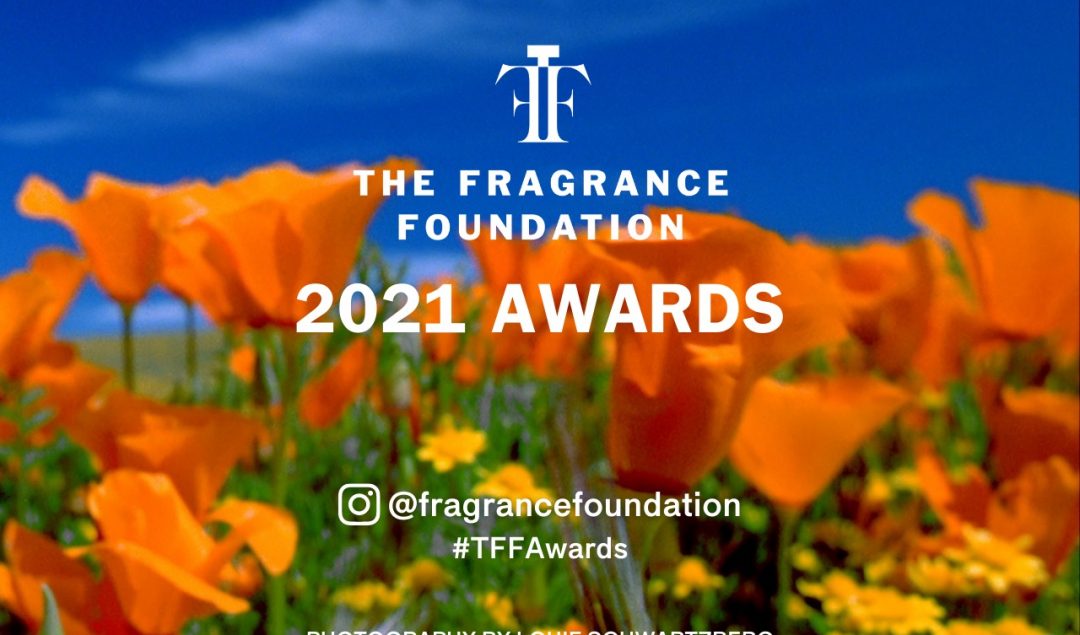 The Fragrance Foundation (TFF) announced the 2021 winners of The Fragrance Foundation Awards (#TFFAwards) on Thursday, June 10th, via webinar this year. The webinar, viewed live by more than 3,000, globally, celebrated its winners and honorees for their fragrance creativity and achievements.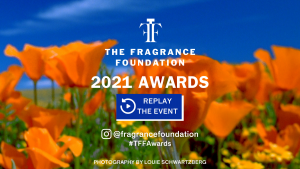 Click HERE to Replay the Event
"Congratulations to all of the 2021 Fragrance Foundation Award honorees and winners who were announced today. We appreciate the thousands of people around the globe who joined us today virtually which has grown to include hundreds of sales specialists. Although the past year was so very challenging, we are deeply grateful for the recognition that fragrance contributed to enhancing lives and personal well being. People around the world will emerge at new levels of resilience with gratitude for what is most important," said Linda G. Levy, President of The Fragrance Foundation.
The star-studded Awards included presenters Dolly Parton, Alicia Keys, Kylie Minogue, Isabella Rossellini, Marc Jacobs, Narciso Rodriguez, Thom Browne, André Leon Talley, and Christian Siriano.
TFF honored Calice Becker, Vice President Perfumer and Director of the Givaudan Perfumery School with the Lifetime Achievement Perfumer Award, and Philippe Benacin, Chairman and CEO Interparfums, with the Hall of Fame Award.
"Calice Becker is renowned for her innovative approach to perfumery and has received many industry-wide accolades including several TFF awards over the years. We are proud to honor Calice as the Lifetime Achievement Perfumer for all she has already achieved and will continue to contribute in the future. The Hall of Fame Award goes to an exemplary talent and leader in the industry, recognizing their major contributions to the world of fragrance. Philippe Benacin joins illustrious fragrance executives and designers in the Fragrance Foundation Hall of Fame with this iconic award," said Linda G. Levy, President of The Fragrance Foundation.
At the event, Louie Schwartzberg, award winning cinematographer, director and producer, who is also TFF's 2021 collaborative partner, was welcomed officially to the global fragrance community. TFF showcased his awe-inspiring work of floral photography and timelapse videos throughout the event and shared his inspiration between humans, nature and the environment. "Beauty is nature's tool for survival because we protect what we love," said Louie Schwartzberg.
All categories and winners are now highlighted on the TFF Instagram @fragrancefoundation and @George.Ledes
THE FRAGRANCE FOUNDATION 2021 AWARDS WINNERS:
Fragrance of the Year – Women's – Luxury
Gucci The Alchemist's Garden, A Chant for the Nymph Perfumer – Alberto Morillas, Firmenich
Fragrance of the Year – Women's – Prestige
Giorgio Armani My Way, Perfumer – Carlos Benaïm, IFF
Fragrance of the Year – Men's – Luxury
Ermenegildo Zegna Essenze Roman Wood Eau de Parfum, Perfumer – Dora Baghriche, Firmenich
Fragrance of the Year – Men's – Prestige
Dior Homme Eau de Toilette Perfumer – François Demachy, Dior
Fragrance of the Year – Universal – Luxury
Byredo Tobacco Mandarin, Perfumer – Jérôme Epinette, Robertet
Fragrance of the Year – Universal – Prestige
TOM FORD Black Orchid Parfum, Perfumer – Yann Vasnier, Givaudan
Fragrance of the Year – Popular
Ariana Grande R.E.M., Perfumer – Alexis Grugeon, Firmenich
Fragrance Hall of Fame
Lancôme Trésor, Perfumer – Sophia Grojsman, IFF
Candle & Home Holiday
Nest New York Blue Cypress & Snow, Perfumer – Jérôme Epinette, Robertet
Fragrance Innovative Product of the Year
diptyque Electric Wall Diffuser – Baies
Luxury – Packaging of the Year
Christian Louboutin Loubirouge
Packaging Designer – Christian Louboutin Beauty
Prestige/Popular – Packaging of the Year
Marc Jacobs Perfect Eau de Parfum
Packaging Designers – Marc Jacobs with Coty; and Jacky Blue
Perfume Extraordinaire of the Year
Scents of Wood Plum in Cognac, Perfumer – Pascal Gaurin, IFF
Fragrance of the Year – Indie
Arquiste Misfit
Perfumer – Rodrigo Flores-Roux. Givaudan
Media Campaign of the Year – Women's
Marc Jacobs Perfect
Media Campaign of the Year – Men's
Calvin Klein CK EVERYONE
Fragrance Editorial of the Year – Print
TOWN & COUNTRY, It Smells Good in Here, Editor – April Long
Fragrance Editorial of the Year – Digital
TOWN & COUNTRY, How Signature is Your Signature Scent? Why Now is the Perfect Time to Craft a Custom Perfume
Editor – April Long
Consumer Choice – Women's Prestige of the Year
Marc Jacobs Perfect Eau de Parfum, Perfumer – Domitille Michalon-Bertier, IFF
Consumer Choice – Women's Popular of the Year
Victoria's Secret Bombshell Passion, Perfumers – Linda Song and Adriana Medina, Givaudan
Consumer Choice – Men's of the Year
Calvin Klein CK EVERYONE, Perfumer – Alberto Morillas, Firmenich
Consumer Choice – Candle & Home Collection
Boy Smells Slow Burn by Boy Smells x Kacey Musgraves, Perfumer – Jérôme Epinette, Robertet
The Fragrance Foundation is a non-profit organization, The Fragrance Foundation is the premier resource for industry expertise, innovation and education. United under the mission statement "to inspire the world to discover the artistry and passion of fragrance", The Foundation is devoted to nurturing talent, celebrating the creativity of perfumers and engaging consumers to increase appreciation for the world of fragrance in an expanded community. For more information, please visit www.fragrance.org
Instagram: @fragrancefoundation Facebook: @TheFragranceFoundation LinkedIn: The Fragrance Foundation Twitter: @fragranceFDTN