SPOTURNO 1921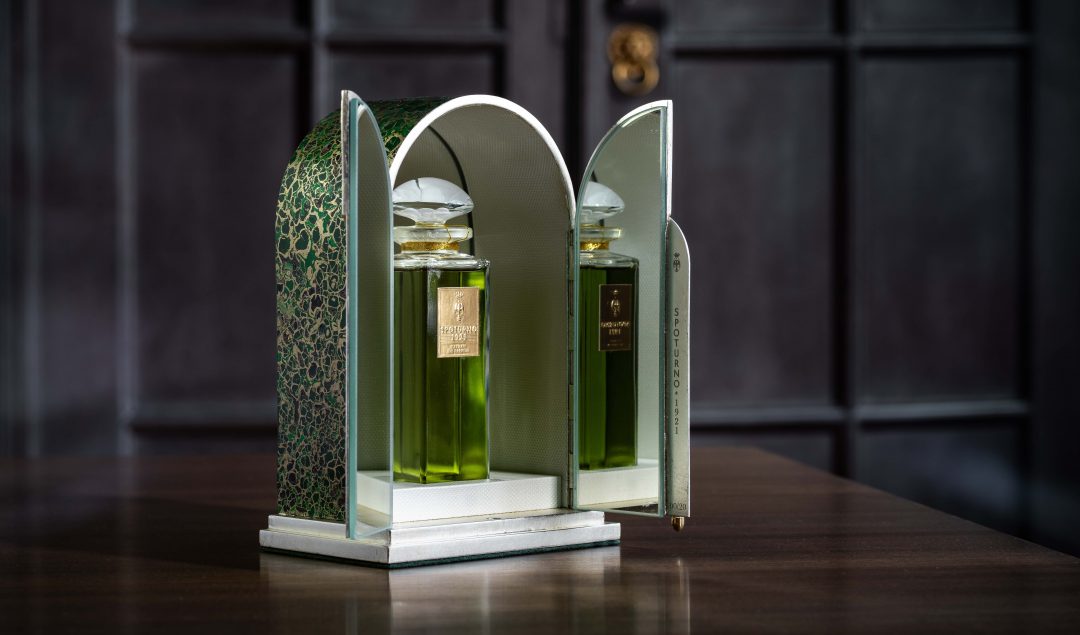 SPOTURNO 1921
ICONIC HISTORY
By Véronique Coty
Made in France
-La Cité des Parfums-
The Rebirth of a Masterpiece 100 years later…
From the altar-box to the crystal bottle, topped with a decorative glass stopper, Tristan Auer has restored to its former glory the iconic perfume, created by the Father of Modern Perfumery in 1921.
This olfactive masterpiece pays tribute to its visionary creator whose family crest features a phoenix, a unique bird with the incredible power of being able to rise from the ashes.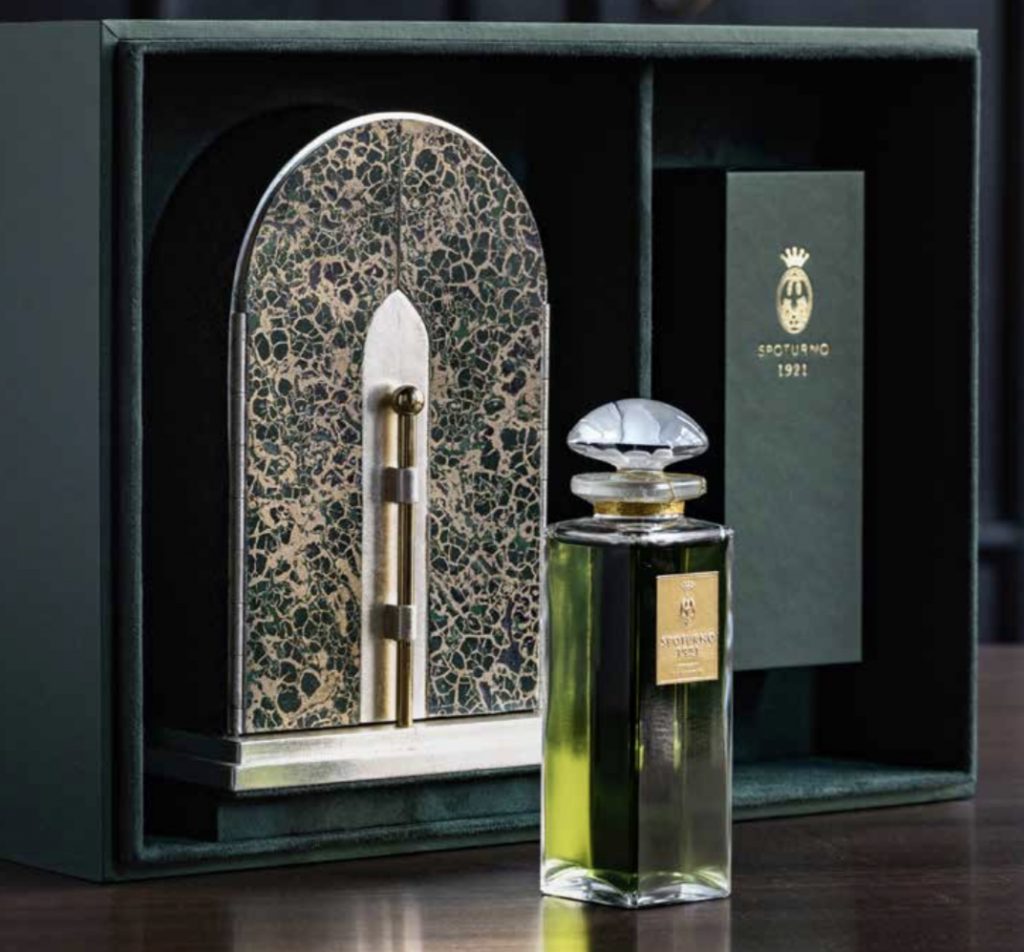 THE EXTRAIT DE PARFUM
The original formula of Spoturno 1921 comes from the modern perfumery founding father's archives of olfactory creations, of which Véronique Coty is the heir.
A subtle fragrance, the visionary creator and aesthete found the perfect balance of powdery, floral and citrus notes highlighted by the traditional animalic infusions of the era.
Its composition has been adapted and sublimated according to modern material considerations and reglementations by the House Parfum Cosmetic World France, under the remarkable direction of Patrice Blaizot.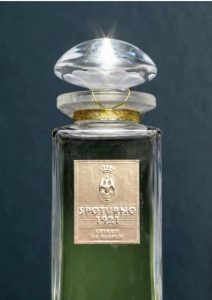 THE BOTTLE & STOPPER
A crystal bottle with square cross-section – WALTERSPERGER – the interior body in the form of a cubic column with a protruding carnette, its polished glass stopper with an inlaid blooming lily made of white glass created by ADRIAN COLIN, and a gold embossed label.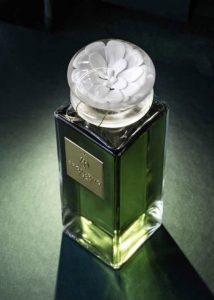 Numbered : 00/20 13,5 cm x 3,9 cm x 3,9 cm
The accomplishment of this masterpiece would not have seen the light of day…
TRISTAN AUER
Contemporary interior architect and emotion creator, Paris 9th / Designer of the titled and numbered work.
Tristan Auer designs interiors of sensual and singular beauty. His luxurient aesthetic vision is reflected in his mix of vibrant colours, light and eras.
From the Hôtel de Crillon and Les Bain-Douches in Paris to his prestigious private property projects in London, New York and as far as Mustique Island, he works in the way a stage director does, his client being both the main actor in his screenplay and accomplice in his continual quest for elegance. As an ambassadeur of the French ''art de vivre'', Tristan Auer combines his own modern vision with arts and crafts excel- lence, to design a new style of contemporary luxury.
Tristan Auer grew up in Aix-en-Provence. After graduating from ESAG-Penninghen, he joined the Christian Liaigre team, then Philippe Starck before creating his own interior design company in Paris in 2002.
ATELIER L'ÉTOILE
MATHIAS GAILLAGUET, artist, and STÉPHANIE LAY, a graduate of the École Nationale Supérieur des Arts Décoratifs – Exterior decor of the altar-box, small and large emerald crazing with white gold kintsugi.
Their vision : naturalist, mainly figurative art. Their taste for refinement has led them towards Chinese art and Asia on a broader level. They are also greatly inspired by the expressionist movement. They are fans of Peter Doig or Jonathan Meese.
They work for interior architects and designers such as Charles Tassin or Tristan Auer. For the latter, they imagined a curved backdrop, a sky of painted brass sprayed with cerulean blue for the new restaurant Astair in Paris. They also work for institutions…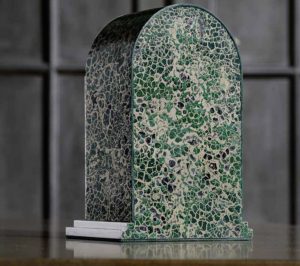 ADRIAN COLIN
Glass Artist, awarded ''Meilleur Ouvrier de France '', Dinan Conception and design of the stopper cap with inlaid lily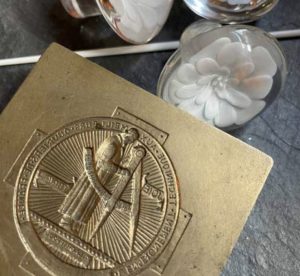 Born in 1984, Adrian Colin, graduated as a torch blowing glass artist from the Lycée Dorian in Paris. He established his galery and workshop in the town of Dinan (labelled « Town of Art and History » and one of the « Most Beautiful Detours of France »).
In 2011, his passion for his work was rewarded by being nominated for Meilleur Ouvrier de France, thus joining an exclusive circle by becoming the 17th winner in the ''Torch blowing'' category since the competition was created in 1924. Adrian Colin works with various creators, designers and luxury brands (CHANEL, DIOR, GUERLAIN, CARON, CARTIER AND TAITTINGER).
His pieces are fused together with a torch and hollow pieces are shaped using a blowpipe, or manually for larger pieces.
EPM
(Emportes-Pièces des Mauges in Sèvremoine). Creation of altar-box metal structure.
EPM works with dynamic and competent professionals whose cutting expertise is renown and recognised in the luxury leather goods (Hermès, Vuitton…), thermoforming, packa- ging and printing sectors.
Founded in 1916, Waltersperger was the first to install semi-mechanised glass machines, thus allowing glassmaking to enter into a new era. Today, Waltersperger embodies the craftmanship and quality that are hallmarks of the Bresle Valley tradition.
DARDEL
Since 1895
Case design and creation (Paris) / Box casing
Due to a continuous transmission of know-how, from craftmanship to modernity, every effort is made to meet their clients' requirements.
For several years now, the packaging business has evolved and the House has successfully adapted to current trends by creating a host of new technologies.
For more than 60 years, Ateliers Gohard have been passionately creating exceptional and bespoke finishes based on a unique know-how of craftmanship. Located in Paris, London, New York and Geneva, the company has become a reference in the field of gilding, material creation, painting and decorative painting. A living heritage company, Ateliers Gohard works in the luxury domain for renown designers, prestigious hotels and historical monuments such as the Statue of Liberty, Versailles Palace, Place de la
Concorde or the Dome of The Invalides. In 2011, Baptiste Gohard formed a partnership with FRANCK DEBETS and the com- pany diversified their activities, integrating painters, decorator painters and new techniques such as metallization, varnish and contemporary gilding.
SPOTURNO 1921
A generous floral, vanilla, powdery bouquet.
A feminine fragrance, enveloping, optimistic and luminous.
TOP NOTES
The crispness of bergamot and lemon complemented by a fresh powdery aromatic touch of lavender, and clean frosty notes of caraway seeds reveal the floral heart of
the fragrance.
HEART NOTES
A rich, sensual, feminine, addictive floral bouquet with extracts of jasmine, ylang-ylang, rose, violet and orange blossom.
BASE NOTES
A warm accord of soft wood ; sandalwood, vetiver and patchouli on a powdery bed of heliotrope, tonka beans and vanilla with notes of musk.
NOTES
Egyptian Jasmine
Ylang-ylang from the Comoros
Turkish Rose Asolute
Tunisian Orange Blossom
Australian Indian Sandalwood
Haitian Vetiver
Indonesian Patchouli
Venezuelean Tonka Beans
LA CITE DES PARFUMS
BP16 – 37120 Richelieu – Véronique Coty +33 (0) 6 16.41.41.92