Groupe GM announces collaboration with Caudalie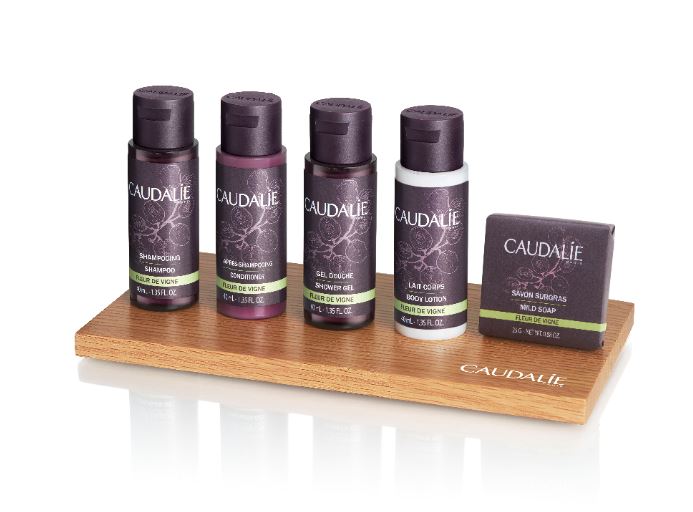 Groupe GM, a leading international amenities player, will soon offer hotel guests around the world a brand-new range of cosmetic products through its first collaboration with Caudalie. 
The award-winning French skincare brand, known for pioneering the use of grape-seed polyphenols in facial treatment products, uses the beauty benefits of the grapevine through patented active ingredients that provide natural and effective care to the skin. By using the many treasures of the vine and grape seeds, Caudalie's products make your skin look and feel better.
Caudalie's technology and innovation have made it one of the world's leading skincare brands, whilst uniquely remaining a 100% independent family owned business for more than 20 years.
Caudalie is also an ethically engaged brand: natural, eco-friendly ingredients are always used during all products formulations. All raw materials used are of controlled origin. The vine extracts used come from vineyards in the Bordeaux, Champagne and Burgundy regions, and all products sold are made in France. Caudalie is also against animal testing for ingredients and finished products.
Mathilde Thomas – co-founder of Caudalie with her husband Bertrand – has always been convinced that it is possible to combine Cosm'ethics and pleasure in formulas that make the skin look more beautiful and younger, for longer.
"Caudalie's products harness the power of nature, while respecting our planet", President of Groupe GM Laurent Marchand commented. "These products are composed of natural-origin ingredients (up to 97%), which is completely in line with our own commitment to the environment. We are excited to have the opportunity to share one of France's favorite skincare brand with our international clients."
For this amenity line, Groupe GM and Caudalie have developed a bath-range inspired by their Vinothérapie Spas and featuring the emblematic Fleur de Vigne scent. The fragrance includes notes of white rose, watermelon, pink peppercorn as well as an energising citrus burst.
The new product range features 40ml shower gel, shampoo and conditioner that come in clear purple-tinted bottles, as well as a body lotion offered in a clear non-tinted bottle. All bottles have opaque engraved front flip-top caps.
These are complemented with two gentle botanical solid soaps, available in 25g and 50g, packed in a sleek, opaque paper-wrap. Soaps are enriched with avocado butter.
The line also includes six 300ml Ecopump of shampoo & body wash, shampoo, conditioner, shower gel, body lotion and hand wash. A 205 x 110mm wooden tray, with the Caudalie signature, is also available.
All these formulas comply with the European cosmetic regulation and with Caudalie's Cosm'Ethique formulation charter. The products are free from phenoxyethanol, parabens, phthalates, mineral oils, sodium laureth sulfate, colorants or animal ingredients.
Thanks to Groupe GM's network of distributors, Caudalie's amenity line will be soon available in four and five-star hotels worldwide.
Discover all the brands offered by Groupe GM at: http://www.groupegm.com/ – or alternatively contact your local distributor.
For the US, contact the TY GROUP on + 1 305 805 8085 or visit their website: http://www.t-ygroup.com/.