Peter Thomas Roth: The Potent C Skin Care Collection
NEW FROM PETER THOMAS ROTH…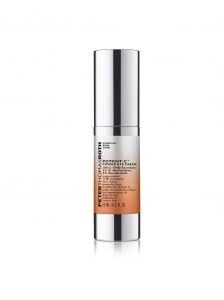 POTENT-CTM POWER SERUM: a rich yet fast-absorbing serum that is formulated to improve the look of wrinkles, firmness and brightness*, unleashing the strength of THD Ascorbate—a mega-potent gold standard Vitamin C that is 50 X more powerful than traditional Vitamin C. Packed with a jaw-dropping concentration of 20% THD Ascorbate, this serum's efficacy is amplified by the addition of two ultra-powerful antioxidants (3% Vitamin E and 2% Ferulic Acid), delivering a complete and advanced anti-aging, firming and brightening treatment.
POTENT-CTM TARGETED SPOT BRIGHTENER: a spot brightener that reduces the size of dark spots by up to 75%** using Gwennis, a type of brown algae. Also contains Angelys, Angelica root extract, to help camouflage age and reduce the appearance of dark spots—plus the powerful Potent-C trifecta of 10% THD Ascorbate (mega-potent gold standard Vitamin C), 3% Vitamin E and 2% Ferulic Acid. Aloe and Allantoin help soothe the appearance of skin. Use sunscreen daily to maintain your results and prevent future discoloration.
POTENT-CTM POWER EYE CREAM: an eye cream that helps brighten, firm and smooth the look of dark circles, puffiness and crow's feet instantly and over time. Caffeine and Phyco'derm help reduce the look of under-eye bags, and Filmexel acts like a second skin to help protect the delicate eye area and diminish the look of fine lines. Powerful 10% THD Ascorbate (mega-potent gold standard Vitamin C) works synergistically with 3% Vitamin E and 2% Ferulic Acid to leave eyes appearing youthfully bright.
THD ASCORBATE VS. TRADITIONAL VITAMIN C: Unlike traditional Vitamin C, (Ascorbic Acid) which is water-soluble and absorbs less easily into skin, THD Ascorbate is oil-soluble for a higher rate of penetration. Traditional Vitamin C is also less stable and more acidic, which means it can irritate skin and become less effective with time. This is not the case with THD Ascorbate, which is non-irritating and works for most skin types.
THE MAN BEHIND THE BRAND: An influential segment leader in the beauty industry, Peter Thomas Roth continues to corner the clinical market as a groundbreaking, results- focused innovator. With endless awards for dozens of products over the years, Peter is committed to delivering on his brand philosophy: Breakthrough formulas. Astonishing results.