Origins x Four Sigmatic at Sephora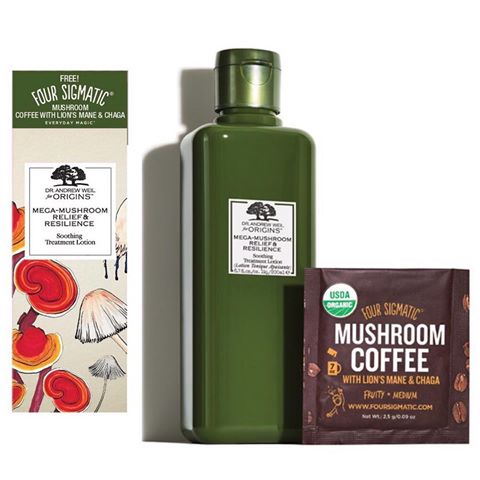 Origins has partnered with Four Sigmatic, a company specializing in superfoods and functional mushrooms, to offer Four Sigmatic Coffee with the Origins Mega-Mushroom Treatment Lotion sold exclusively at Sephora starting June 28, 2018
Origins, known for natural skincare, celebrates Origins #1 global bestseller with a special limited-edition partnership with Four Sigmatic at Sephora stores and on Sephora.com. When you purchase a bottle of the Origins Mega-Mushroom Treatment Lotion consumers will receive a packet of Four Sigmatic Mushroom Coffee with Lion's Mane & Chaga. Both Four Sigmatic and Origins utilize mushrooms as the main ingredient to deliver beauty and overall wellness benefits. Four Sigmatic, known as a leader in the mushroom wellness, enters the beauty space with the Origins partnership and recent new product launches including Golden Latte, with skin benefits, and Chai Latte, delivering gut health benefits that supports overall wellness and beauty.
Origins knows that inflammation is a root cause of visible skin concerns like dehydration and irritation. Their Mega-Mushroom superfood formulas address these concerns to help keep skin strong, hydrated and healthy looking. The Origins Mega-Mushroom Treatment Lotion is offered with the Four Sigmatic Mushroom Coffee with Lion's Mane & Chaga that has half the caffeine and double the benefits of your standard coffee. The mix uses Lion's Mane extract to support memory and concentration and Chaga for its immune system support. The Origins Treatment Lotion also uses Chaga, as it is a powerful anti-irritant with specialized antioxidants known to have "life-extending" properties.
"We're excited to partner with Origins to bring mushroom skincare and edible mushroom wellness to everyone who has an interest in natural beauty and overall wellbeing," says Four Sigmatic Founder and President, Tero Isokauppila. "Mushrooms are powerful superfoods that many not be familiar with; we're looking forward to sharing our knowledge about mushrooms and their beauty benefits with this special Four Sigmatic x Origins offering at Sephora."
"Mega Mushroom Relief and Resilience Soothing Treatment Lotion is Origins' global #1 selling product and we are thrilled to be bringing this product's powerful ingredient to the forefront nationwide at Sephora. We have long admired the way Four Sigmatic shares the powerful benefits of mushrooms and are excited to be partnering with them to continue to educate on the importance of wellness, inside and out."
The Mega-Mushroom Treatment Lotion with the Four Sigmatic Mushroom Coffee will exclusively be available at Sephora and Sephora.com starting June 28, 2018 and will retail for $34.
All of Four Sigmatic's products are made from a simple list of vegan and Paleo-friendly ingredients without any fillers. They are sold in 28 countries (ship to 55), including national retailers in the U.S., such as Whole Foods, Sprouts and other natural retailers, as well as online at FourSigmatic.com.
Follow @Origins on Instagram, @Origins on Twitter and /Origins on Facebook.