Race of HOPE Kick Off Dinner in Palm Beach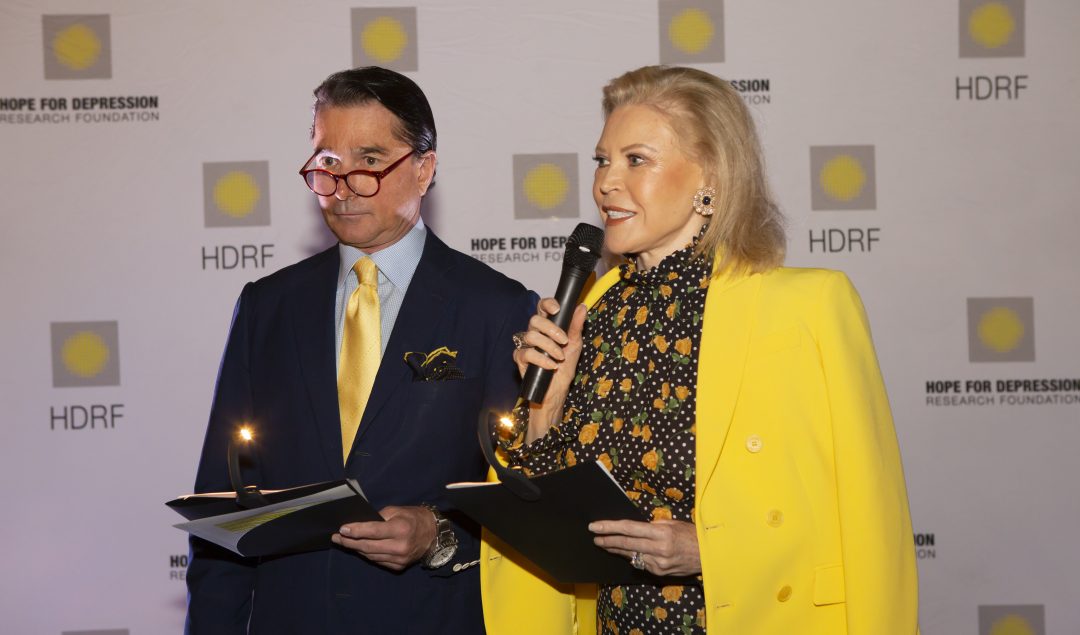 Hope for Depression Research Foundation Hosted Kick Off Dinner for Its First-ever Palm Beach Race of HOPE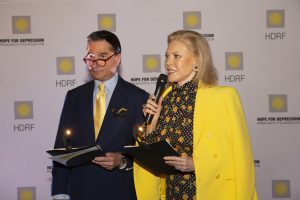 On Friday December 7th, Hope for Depression Research Foundation (HDRF) held a festive cocktail party and dinner at the Royal Poinciana Plaza to announce its upcoming Palm Beach 5K Race of HOPE on January 27th.  (See below for details.) The event was hosted by HDRF Founder and Chair Audrey Gruss and Scott Snyder, who are Co-Grand Marshals of the Race of HOPE, the first of its kind in Palm Beach.
More than 200 people gathered under the night sky in The Royal Poinciana Plaza's courtyard for a cocktail reception from 6 to 8 pm. They mingled and enjoyed passed hors d'oeuvres while HDRF staff registered walkers and runners for the 5K Race, which comes to Palm Beach after three years of success in Southampton, NY. The Race raises awareness and funds for urgent depression research.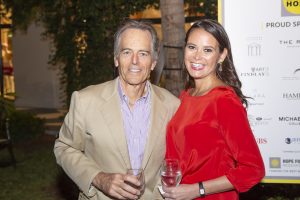 "You can run, you can walk, you can stroll, you can bring your children, your babies in strollers, your dog – whatever keeps you moving!," said Scott Snyder about the Race, which will be held on Sunday, January 27 in the town of Palm Beach.
Audrey Gruss added: "The point is to come together and give each other positive energy to defeat depression, the number one cause of disability worldwide."
 After the cocktail, 90 Race Committee members and top sponsors filled the entire Sant Ambroeus Restaurant at long tables bedecked with yellow flowers for a celebratory four-course dinner. Guests included Gigi and Harry Benson, Phillipe and Debbie Dauman, Jackie Weld Drake, Llwyd Ecclestone, Mary and Mark Freitas, Myrna Haft, Candy Hamm, Jane Holzer, Susan Lloyd, Nicola and Jeff Marcus, Bonnie McElveen-Hunter, Tatiana and Campion Platt, Gene Pressman, Alexia Ryan and Felicia Taylor.
Once guests were seated, Audrey and Scott welcomed them, thanked them for their support, and introduced the evening's top sponsor, Graham Gaspard, CEO of Black River Caviar.  The guests savored a Black River Caviar sampler of: Tradition Oscietra with toasted brioche and creme fraiche, Royale Oscietra with quail egg and creme fraiche, and Imperial Oscietra on blini and mashed potato, paired with prosecco. Each guest was gifted a mother of pearl caviar spoon and black velvet pouch to take home.
 Graham Gaspard then announced to a burst of applause that he would happily take orders of caviar during the evening and donate 50% of the proceeds to HDRF. This resulted in donations totaling $17,000 to the Foundation by the end of the night.  100% of all gifts will go directly to advanced depression research.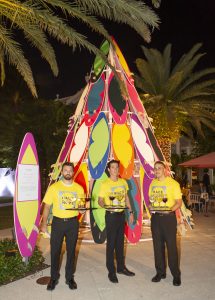 The sampler was followed by a Caprese salad of Kumato tomatoes, bufala mozzarella and fresh basil, before the main course of Veal Scaloppine, served with small roasted potatoes, mushrooms ragu and sautéed spinach. Dessert was a hazelnut sponge, hazelnut wafer, gianduia mousse and hazelnut cream layers. The dinner was paired with two wines: Brunello De Montalcino Castiglion del Bosco (2013) Sangiovese Gavi "Monterotondo", Villa Sparina (2013) Cortese.
Additional guests at the cocktail included Julie Araskog, Tammy Fender, William Finneran, Jill and David Gilmour, Lisa Kerkorian, Louise and Christopher Lewinton, Michael McCarty, Lynne Wheat and Thomas Peterffy, Gene Pressman, Ava Roosevelt, Randall and Barbara Smith, and Betsy and Wally Turner.  
 The event was also sponsored by: Art Findlay, Art Miami, Livingston Builders, La Clara, Contessa Gallery, Tammy Fender, Hamilton Jewelers, Meyers Auto Group, The Silver Fund, Jefferson Capital, and AirTab.
First Annual Palm Beach 'Race of Hope' will take place on January 27th
 On Sunday January 27, 2019, lace up your sneakers and join Hope for Depression Research Foundation (HDRF) as they set out on their inaugural Palm Beach Race of Hope + 5K Walk. The event will raise awareness and funds for advanced depression research, with every dollar raised going directly to research.
This high-spirited, family-focused and inspiring event is all about uniting as a community to raise awareness about depression, the leading cause of suicide and disability worldwide. HDRF funds groundbreaking research that will transform the way depression is viewed, diagnosed, treated and prevented. 
 All participants will receive a finisher hat, jacket, shirt and medal. Prizes will be awarded for best time in different age categories as well as for the top individual fundraiser and top fundraising team.
To participate, please visit www.hopefordepression.org/events.
Audrey Gruss founded HDRF in April 2006 in memory of her mother Hope, who struggled with clinical depression. Today, HDRF is the leading nonprofit organization focused solely on depression research.  Over 350 million people annually struggle with depression globally, but despite its prevalence, depression is still misunderstood, underfunded and under-researched. The mission of the HDRF is to fund cutting-edge neuroscience research into the origins, medical diagnosis, new treatments, and prevention of depression and its related mood disorders, including bipolar disorder, postpartum depression, post-traumatic stress disorder, anxiety disorder and suicide. To date, HDRF has provided more than $30-million through over 125 grants for accelerated breakthrough depression research that promises to lead to new and better medications and treatments. 
 Registration Information:
•   Date: Sunday January 27, 2019
•   Time: Check-in begins at 7:00 am and the Race of Hope begins at 8am 
•   Meeting Point: The Royal Poinciana Plaza, Palm Beach, NY
•   Cost:  $40 per adult through Wednesday, January 2; $50 per adult after January 2, $25 per student and $15 per child (9 and under).
•   Strollers and dogs welcome