American Influencer Association Hosts Launch Event in NYC sponsored by Symrise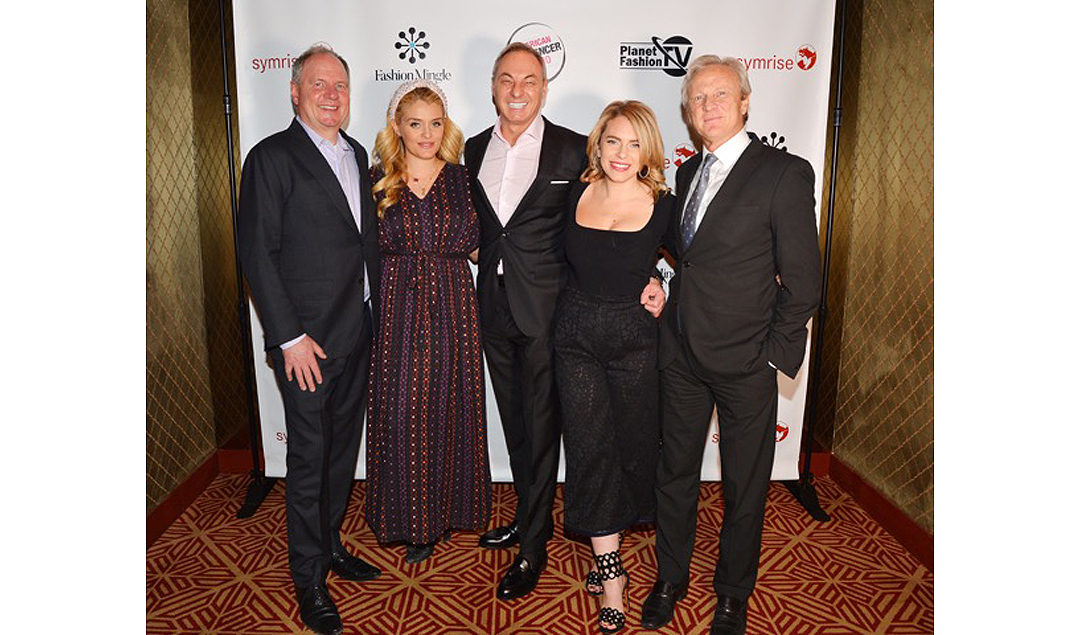 The American Influencer Association, which aims to educate, inspire and advocate for the diverse global community of social media influencers, launched with a cocktail reception kicking-off New York Fashion Week, on Wednesday, February 6th, at The Doubles Club in New York City.
Hosted by Christopher Crellin, Founder and CEO, American Influencer Association & Awards; Christine Ledes, Founder and President, American Influencer Association; Melissa Shea, Founder and CEO, Fashion Mingle; and George Ledes, Founder and Publisher, This Week with George Ledes and TheBeautyInfluencers.com; the well attended event was sponsored by Symrise – the leading edge global fragrance company.
A panel discussion on Luxury, Lifestyle & Loyalty featuring Emmy Award-winning lifestyle and wellness influencer Daphne Oz, cohost of The Dish on Oz —a weekly series on The Dr. Oz Show; along with other beauty, fashion and lifestyle influencers and experts including Harper's Bazaar's  Ann Caruso; The Uncommon Magazine's Walter Harvin; Influence Marketer Jeff Katz; and CreatorIQ's Jon Kroopf, was moderated by actress and influencer Renée Willett.
The fragrance influencer known as @JeremyFragrance – who recently broke a Kickstarter campaign record raising more than $850,000 in just 30 days to launch his first fragrance, Fragrance One – Office for Men, was in Germany celebrating his birthday, but sent a congratulatory video.  Jeremy will also appear in an educational video produced by Yellowbrick for the American Influencer Association later this year.
Guests included: Coty's Edgar Huber, Andra Mielnicki and Simona Cattaneo; Estee Lauder's Daniel Rachmanis and Damon Burrell; Symrise's Achim Daub; Peter Price; FIT's Virginia Bonofigliio; Gloss Genius's Danielle Cohen-Shohet; Creator IQ'S Nate Harris; Yellowbrick's Rob Kingyens; Fragrance Foundation's Linda Levy; Erica LaSala, The Sexiest Beauty's Heather Fink; Laubahn Perfume's Stacey Bresnahan; Sky Advertising's Phil Kaminowitz; Kamil Schuetz; Brandsway Creative's Kelly Brady; Film Director Foad Farid; Buchwald's Scott Kaufman; Fashion Illustrator Danielle Final; Whitney & Meredith Schott; Eldonie Mason; Connie Chi; R. Couri Hay; Vinnie Potestivo; Batsheva Weinstein; David Melnik; Stylez; Liana Zavo and others. 
Product for gift bags were donated by Bond No 9, Elysée, Maybelline, Mugler, Hanami, One Ocean, Peter Thomas Roth, The Sexiest Beauty, Spritzing to Success by Annette Green, and Symrise.
Sketch Artist Danielle Final and Bennett Sobel charmed guests with Fashion Week sketches they could take home.
The American Influencer Association will connect its members with established brands and industry leaders for the purpose of providing educational seminars, professional certification, exclusive networking events, and career advancement opportunities.
The organization also plans to vet its members for fake followers, fake engagement and other criteria, helping to bring some standards to this "wild West" of an industry — currently estimated at $2 billion and expected to grow to $10 billion by 2020.
"We plan to be like the 'Good Housekeeping Seal of Approval' for influencers," stated Christine Ledes, President of the American Influencer Association. "Its an enormous undertaking, but one we hope will not only be of great service to the emerging community of social media influencers, but to the brands who support them, and ultimately, the consumers who trust in them as well," she continued.
Introductory membership to the Association is now available at
www.AmericanInfluencerAssociation.org and includes:
           Invitations to member-only networking events with brands and industry leaders
          Access to online influencer certification courses by accredited universities
          Subscriptions to AIA News and The Beauty Influencers – the official newsletters of the                                  American Influencer Association & Awards with a combined circulation of more than 125,000       
          Alerts to AIA Radio podcasts featuring interviews with top influencers and brand representatives
          And, the opportunity to be nominated for the American Influencer Awards which honors the                    greatest contributors on social media each year.
For more information, please visit: www.AmericanInfluencerAssociation.org
And follow us on social media @aiaawards
Folllow our Panelists and Sponsors:
Daphne Oz @daphneoz , Ann Caruso @ann_caruso, Walter Harvin @soberyungwalter, Renée Willett @reneewillett, Fashion Mingle @fashionmingle, Symrise @symriseAG, CreatorIQ @CreatorIQ
For additional information, please contact: Christine@AmericanInfluencerAssociation.org