Trish McEvoy featured on Where Brains Meets Beauty Podcast at Saks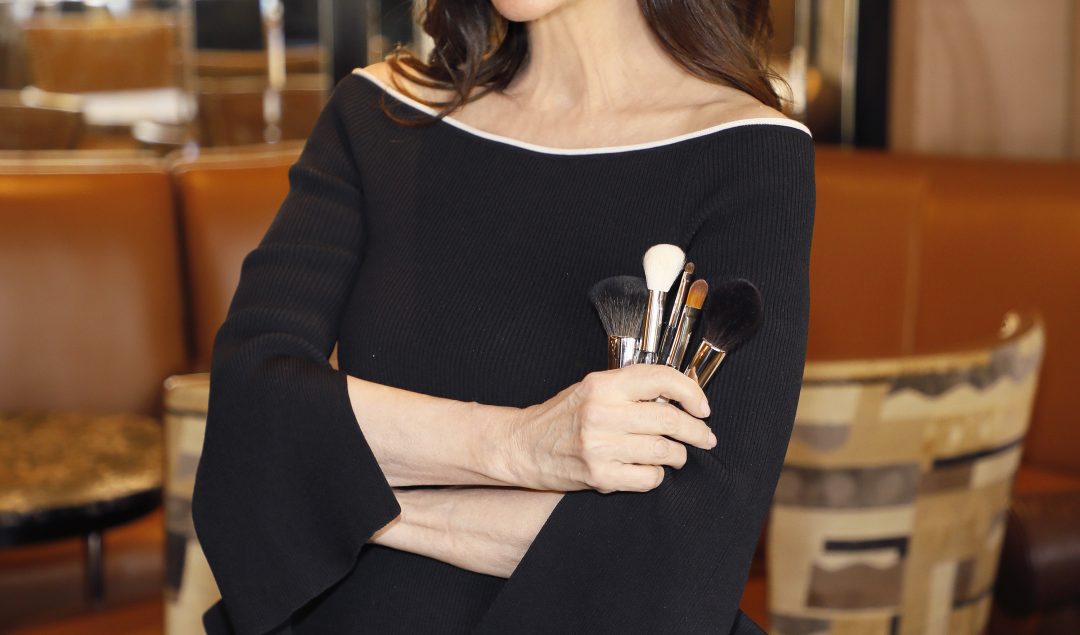 This week, makeup artist turned mogul Trish McEvoy was interviewed by Jodi Katz for her Where Brains Meets Beauty Podcast at Saks Fifth Avenue's Beauty on Two. This was Jodi's third live recording of the Podcast in Residence program.
Trish spoke about her passion for makeup and philosophy of beauty.
We learned that she "learned the joy and power of beauty from her grandmother who owned a parfumerie."
And that Trish herself is an immigrant born in Ireland, raised in Germany –and then upon immigrating to the U.S.. in Georgia, who has made the "American Dream" come true!
One of her relatives was a German Holocaust survivor and her parents taught her at an early age that "material things can be taken away and that all that really matters is who you are and how you feel about yourself!"
You can learn more about Trish and her inspiring story by listening to the podcast                                                                     yourself at
www.wherebrainsmeetsbeauty.com/
Or read further…
"When people ask me what I do, my first instinct is, "I'm a Makeup Artist." I adore running my company, making products, and performing on stage or screen, but my happiest place of all is with a woman in my chair, teaching her about makeup, and watching her confidence meter rise," says Trish McEvoy.
"I love everything about the beauty business, the behind-the-scenes work all in preparation for the glamour of a moment. The craze of the cosmetics floor, of being surrounded by my team and shoppers, the all-around thrill of beauty. In a lifetime of "playing with makeup," I have never tired of seeing a woman's eyes widen in admiration at her new reflection."
"As a little girl, my first toys were the products in my grandmother's Berlin perfumery. This early exposure to the sheer fun of beauty, to the way it bonds women to each other, taught me that makeup is far more than a luxury."
"I went on to dedicate my life to urging women to take their MirrorTime—a moment to collect themselves before facing each day—and to teaching them how to use it well. Because I've seen it time and again: a client starts prioritizing beauty self-care and a host of positive change ensues."
"Personality-wise, my glass is always full. But I'm also someone who walks into a room and sees what could be better. Everything I've ever made was in response to a problem that needed solving. When there were no worthy makeup applicators on the market, I made the brushes with which I founded my company. When my husband Dr. Ronald Sherman and I imagined what was possible if we united beauty and dermatology, we opened one of the nation's first medi-spas. With a market full of fragrances that were overwhelming or unmemorable, I came out with a range of mood-lifting scents that touch emotions deeper than skin. When I observed the stress caused by cluttered vanities, drawers and bags, I invented my Makeup Planner® portable makeup vanity. The pairing of magnetic refillable "pages" with a ringed binder opened up a world of possibilities: more space, less waste—beauty simplified, customized and organized like never before!"
"Aesthetically I'm true to my European-American roots—I love the chic simplicity of Europe and the au-naturel edge of America. Long before the "Nude Nineties," I was mixing skin-like face makeup and promoting a fun but flattering use of color. Today I'm relentless in pursuit of technologies that mimic nature at its best. And when it comes to Father Time, I'd rather embrace than race him! The term "anti-age" truly makes me cringe—today is as young as we'll ever be, so let's get busy LIVING!"
"More than forty years ago my husband and I opened the doors of The Dr. Ronald Sherman/Trish McEvoy Skin Care Center. I feel so blessed to have watched generations of clients embrace our methods as a positive way of beauty and life. Today those clients visit my 57th Street Studio and their sense of beauty fulfillment remains one of my greatest joys."
"In the world of the major conglomerate, I am proud to be independent and to feel so intimately connected to my team and artists, my labs and artisans, to each pigment and every drop. What'll be next? One thing is certain: getting more and more women into a good beauty groove, women who are confident they are putting their best face forward and who are raring to seize each day."
We loved meeting Trish McEvoy.
For more information on her products, please visit www.trishmcevoy.com