Fragrance Foundation Inducts Carol Hamilton into Circle of Champions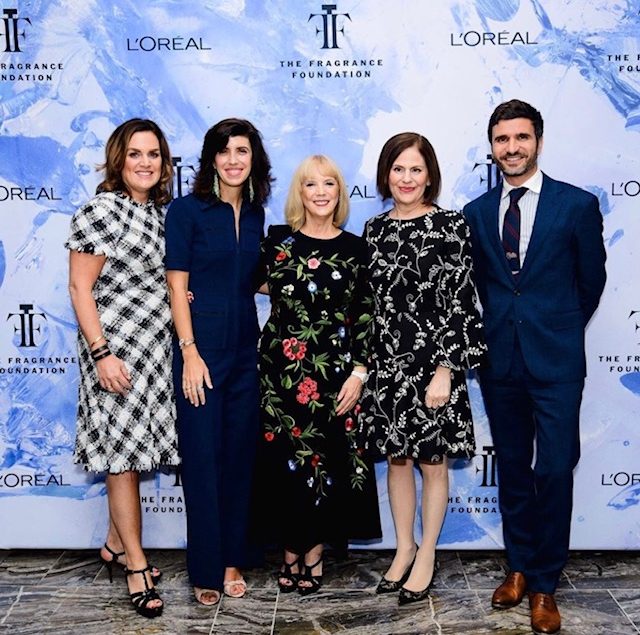 On October 30th, The Fragrance Foundation honored Carol Hamilton at the 20th Annual Circle of Champions event at the New York Park Hyatt Hotel.
Hamilton, who currently serves as Group President of Acquisitions, has worked for L'Oréal Paris for more than 34 years, and earned the reputation as an exceptional leader with relentless energy, but also humility and kindness.
"This woman might be tiny in size, but she's a giant," said Alexandre Choueiri, Global President, Ralph Lauren Fragrances. He praised her sterling work ethic, her unfazed poise amongst Hollywood celebrities, her philanthropic accomplishments, and her sense of fun, recalling how she once opened a bottle of wine in the back of a black car on the way to an event, gleefully creating "a true New York moment" for her team.
Sylvie Ganter, founder and creator of Atelier Cologne, characterized Hamilton as a "superhero" whose passion and sunny optimism was instrumental in bringing the fragrance brand into the L'Oréal fold. "If Carol was an Atelier Cologne," Ganter said, "She would be Clementine California."
Leslie Marino, General Manager, Redken and Pureology, presented Hamilton with her Circle of Champions Award, praising her as a tenacious leader and steadfast champion for gender equality, and recounting how the fuse of Hamilton's dazzling career was lit when she heard Meredith Baxter Birney uttering "Because I'm worth it" in a L'Oréal ad during her junior year at Vassar—a moment that led her to apply for a job, and ultimately become the powerhouse who built L'Oréal Paris into the biggest beauty company in the world. Marino also noted of how Hamilton had impacted her personally as a generous and invaluable mentor. "She has made women thrive at L'Oréal," Marino said, "and when I look around this room, I see so many who have been touched by Carol's leadership." Hamilton initiated L'Oréal's Women of Worth campaign, and by spearheading L'Oréal's charitable efforts for Ovarian Cancer research, she has helped raise over $15 million. "Carol is extremely kind and extremely generous," Marino said. "But what I love most is her fabulous sense of humor—and her belly laugh."
Upon accepting her honor, Hamilton revealed that when she joined L'Oréal's luxury division in 2008 she knew "nothing" about fragrance, but she set about educating herself, and took on Viktor & Rolf's Flowerbomb as her personal project, transforming it from a niche brand into a top ranking fragrance within five years.  Hamilton thanked her mentors — the talented perfumers whose artistry drives the industry, as well as Fragrance Foundation President Linda Levy, saying,  "I want to say how much I appreciate the elevation and the stature that you're bringing to the Fragrance Foundation. Your leadership is phenomenal."
Levy closed the evening by announcing that in 2020, Fragrance Day will go global, and that New York City will celebrate Fragrance Week on Madison Avenue from March 19th to March 28th. And on March 21st The Fragrance Foundation will ask retailers to donate 15 percent of fragrance sales to NEXT for AUTISM. "We anticipate a tremendous amount of media, with the goal to increase our reach to consumers" she said. To underline the importance of NEXT for AUTISM, Levy welcomed the charity's indomitable founder, Laura Slatkin, to the stage, and called upon everyone present to join the Power Pedal event on December 10th, when Fragrance Foundation members and others will come together at AARMY to work up a sweat to raise money and awareness for the cause.
For more information, visit the new Fragrance Foundation web site at www.fragrance.org