First Ever YSL Beauty Station in Travel Retail Worldwide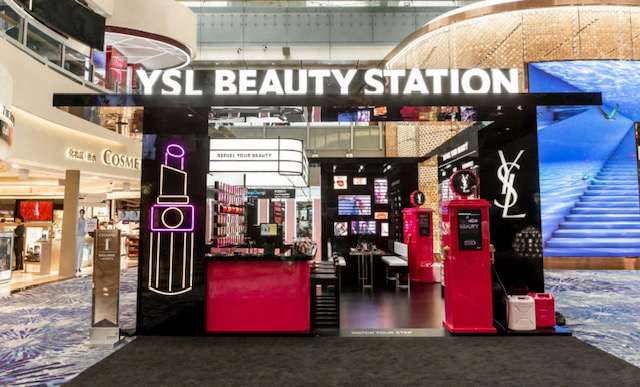 THE 1ST EVER
YVES SAINT LAURENT
"BEAUTY STATION"
IN TRAVEL RETAIL WORLDWIDE
LANDS AT THE SHILLA DUTY FREE CHANGI AIRPORT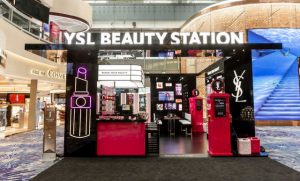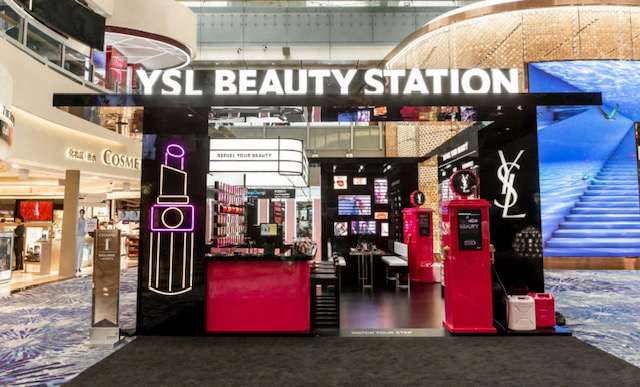 Ever since its debut at the Coachella Festival earlier this year at the heart of Palm Springs, the YSL Beauty Station's incontestable success is now set to the tropical surroundings of Singapore Changi Airport's Terminal 3.  As the very first YSL Beauty Station pop-up in Travel Retail, the grand opening ceremony on 22 October – in association with Changi Airport Group and The Shilla Duty Free Singapore – was one of the most exciting and sparkling beauty event of a united 3-way partnership.  The event successfully attracted hundreds of people to attend, and 19 KOLs from Asia were invited to be part of this event to create unforgettable memories at the outpost.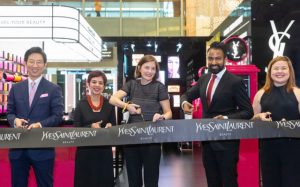 Trinity partnership (L-R): Jeff Lee (Managing Director of The Shilla Duty Free Singapore), Chandra Mahtani (Vice President of T5 Commercial Planning Changi Airport Group), Emily Coleman (General Manager- YSL BEAUTÉ Travel Retail Asia Pacific), Rajesh Nair (South East Asia Area Manager of YSL BEAUTÉ/Biotherm Travel Retail Asia Pacific), Joanne Ng (Southeast Asia Regional Manager of YSL BEAUTÉ/Biotherm Travel Retail Asia Pacific)
"YSL has been pushing our boundaries in creating out-of-the-box retailtainment for all beauty savvy travelers.  Through many previous successful collaboration with The Shilla Duty Free and Changi Airport Group, we are happy to once again bring such an exclusive and creative pop-up concept, YSL Beauty Station, in reinforcing our brands' edginess and industry-leading position," says Emily Coleman, General Manager at YSL Beauté Travel Retail Asia.
"We're very excited to bring this exciting Beauty Station pop-up to elevate the shopping experience and engage our customers here at The Shilla Duty Free Changi Airport store. We are looking forward to delighting our customers traveling through Changi Airport with this innovative new concept," says Mr. Jeff Lee, Managing Director of The Shilla Duty Free Singapore.
"Changi Airport Group is thrilled to partner The Shilla Duty Free Singapore and Yves Saint Laurent to present this exclusive experiential pop-up at Terminal 3. Travellers get a unique chance to experience beauty in a multi-dimensional environment, such as challenging themselves at a digital game to redeem products, or interacting with professional make-up artists, creating memorable moments at Changi Airport." says Teo Chew Hoon, Group Senior Vice President of Airside Concessions, Changi Airport Group.
The YSL Beauté Beauty Station pop-up brings EXCLUSIVITY to the fore. As the first of its kind in Travel Retail, it pioneers the #FuelYourBeauty digital game and Beautymatic machine concept. The prominently displayed #FuelYourBeauty digital game draws customers into the pop-up's welcome area. Encouraging customers to link their phones to the on-site digital "Fuel dispenser" via a QR code, participants are challenged to "fuel" a virtual lipstick via a digital pump in order to get the YSL coin token. With the YSL coin inserted at the "Beautymatic" machine, customers will be able to redeem gifts such as lipstick sampling cards, fragrances, and mini charms.
Moving on to the attractively designed "Beauty Market" section, customers will browse through a curated selection of YSL Beauté's signature face products, along with Rouge Volupté Shine lipsticks and Mon Paris perfumes, before heading to "The Diner" area to try the products for themselves.
POWDER ROOM: GET READY TO FLY
The "Powder Room" & "Diner Area" offer three-minute touch-ups by experts – ideal for jetsetters seeking to look their best with YSL star products before they get on-board.
"MAKE IT YOURS BAR": BESPOKE GIFTING BEAUTY EXPERIENCE REDEFINED
Chic temporary tattoos offer the perfect branding opportunity, while the "Make It Yours Bar" allows customers to enjoy a fully bespoke beauty experience, with personalized engraving and gift-wrapping of their purchases.  Adding to the vibe of the Station, live band music performances were held during selected weekends in October while drinks were served.