Bond No 9 Founder Laurice Rahmé Makes Personal Appearance at Saks Dadeland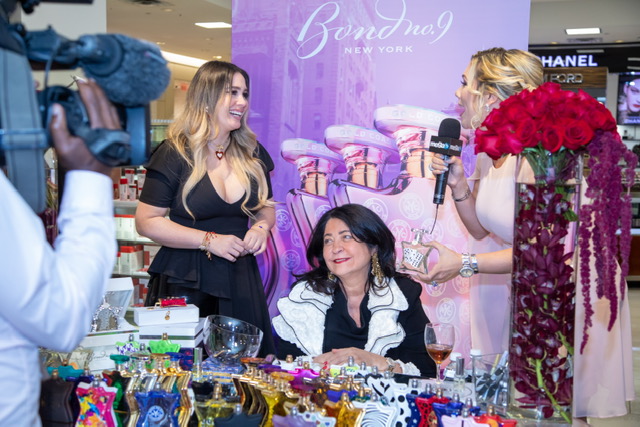 Just in time for the holidays, Saks Fifth Avenue – Dadeland welcomed Bond No. 9 Founder, Creator & President Laurice Rahmé for a personal appearance and bottle signing event from December 5th to December 7th.
Rahmé's appearance coincided with the launch of the latest fragrance to the collection, Gold Coast.  Gold Coast is a soft, yet energetic modern rose scent composed as an elegant ode to old – and new – New York.
"The Dadeland market is a very important market for Bond No. 9.  The local clientele is very fashion-forward and appreciate uniqueness, which plays well into the Bond collection" stated Rahmé. "I was thrilled to be in Dadeland at Saks Fifth Avenue for the meet-and-greet and bottle signing event, bonding with existing and new clients.  I was very pleased with the turnout for the PA, which demonstrates how beloved the brand is in Dadeland!"
The event took place during Art Basel, which is fitting as art aficionados love Bond No. 9. Each Bond No. 9 bottle is a beautiful work of art, a collector's piece, setting Bond No. 9 apart from other perfume companies.  "Over the past 10 years, it is very hard to find vintage bottles.  Bond No. 9 is the alternative to vintage – and women and men are collectors.  Our packaging and our fragrances celebrate the uniqueness that is found in each neighborhood and the unique decorations on opaque paint, make them collectibles.  Like the arts, we have collectors, not consumers!"