Karl Lagerfeld x L'Oreal Paris Makeup Collection at Travel Retail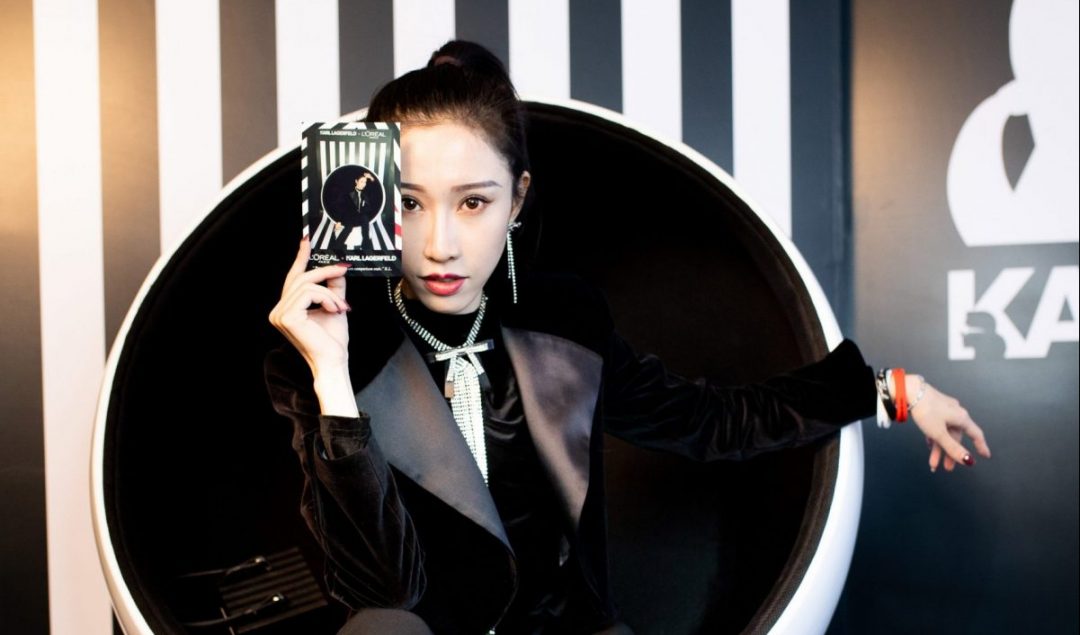 L'Oréal Paris Travel Retail Asia Pacific, in partnership with Lotte Duty Free, celebrated the launch of the limited edition, Karl Lagerfeld x L'Oréal Paris makeup collection with an exciting event generating more than 222 million online views. Theming around 'We all have a touch of Karl', the pop-up opened its doors to beauty and fashion savvy travelers at Star Lounge located at Lotte Duty Free Main Store in Seoul from December 6-8, 2019.
Karl Lagerfeld and L'Oréal Paris share a Parisian heritage, a pioneering spirit and commitment to strong women. The Karl Lagerfeld x L'Oréal Paris collaboration is an initiative by Karl Lagerfeld, taking on his legendary rock and chic style with a touch of classic, effortless Parisian elegance, and developed with the scientific care and color expertise of L'Oréal Paris.  The collection is complemented by an impressive campaign based on Karl Lagerfeld's most famous quotes and his unmistakable style.
"We are proud to launch this exclusive collection in collaboration with our strategic partner, Lotte Duty Free. The beauty collection truly reflects the style and work of the legendary fashion icon, Karl Lagerfeld, and celebrates everything L'Oréal Paris stands for – beauty, fashion and women                                                                                                      empowerment," said Olivier Tessler, General                                                                                        Manager of L'Oréal Paris Travel Retail Asia                                                                                                Pacific.
The We All Have a Touch of Karl event journey began with the impressive campaign visual of spokeswomen, Soo Joo Park, Ming Xi and Luma Grothe, playing their own Karl characters as a tribute to the fashion icon. Global travelers can immerse themselves in the black and white ambience that represents "The World of Karl."
Travelers can pick their favorite Karl-themed makeup look and receive a flash makeup service by the makeup experts. They also get the chance to be the first to try the products at the Provokative, Ironik and Kontemporary makeup zone.
At the event, L'Oréal Paris x Lotte Duty Free were proud to launch the Modiface app, an AR technology that offers consumers the opportunity to experience this exclusive makeup collection via the virtual application.
Travelers also had access to a photo area where they may picture with Karl's iconic oval chair and received an instant photo with a special photo frame and quotes from Karl Lagerfeld. 
The three-day event was kicked off with a glamorous launch party on 6th December attended by 26 local and international key opinion leaders. Besides, L'Oréal Paris collaborated with renowned celebrity makeup artist Andy Koh showcasing 10 special curated Karl Lagerfeld x L'Oréal Paris collection looks on a makeup runway show with a live performance of electronic violin to replicate the soundtrack of the campaign video.
The second day, Lotte Duty Free's ambassador, @PonysMakeup, hosted a private makeup show exclusively for 50 Lotte's VVIP guests, featuring the two "Karl" looks that she created and posted on her YouTube channel with over 5 million followers. During this makeup show, she demonstrated the looks she created to the VVIP customers.
The 'We all have a touch of Karl' event was open to customers and fans December 7-8th, attracting hundreds of travelers.