Aerin Pink Ribbon Product: Rose Balm Lipstick & Amber Mush Travel Spray Set for BCRF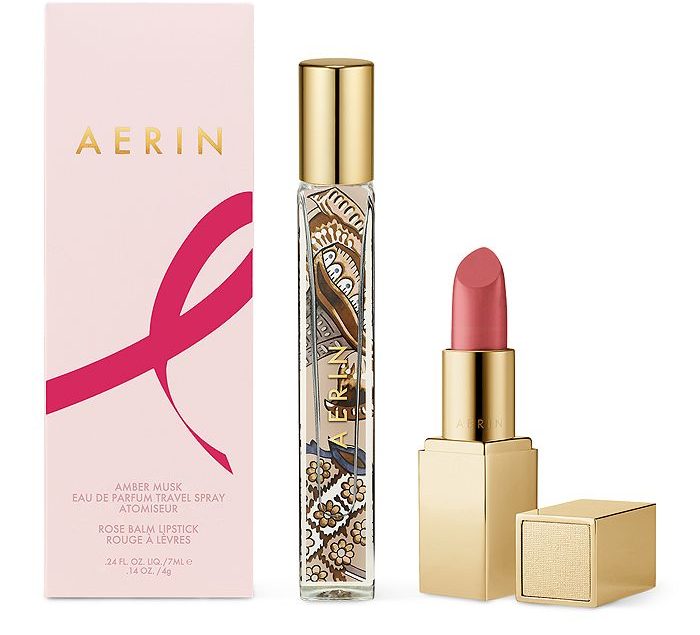 AERIN is proud to support breast cancer research with a limited-edition Amber Musk Travel Spray & Rose Balm Lipstick Set.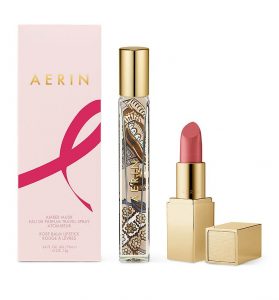 The Amber Musk Travel Spray blends sensual notes of florals, and distinctive Amber and creamy Musk, infusing the fragrance with warmth. The Rose Balm Lipstick in a soft pink features a luxe balm texture, medium coverage, and a shine finish."My aunt, Evelyn H. Lauder, dedicated her life to raising breast cancer awareness. I am proud to be supporting BCRF in her honor, continuing her mission to find a cure in our lifetime." – Aerin Lauder
Size: 7 ml (Amber Musk Travel Spray) & 4g (Rose Balm Lipstick)
Suggested Retail Price:$50.00
Amount of Donation: In support of The Estée Lauder Companies' Breast Cancer Campaign, AERIN will donate 100% of the purchase price of the AERIN Rose Balm Lipstick and Amber Musk Travel Spray Set with a maximum of $20,000 to the Breast Cancer Research Foundation® from 9/1/20 to 6/30/21, or until supplies last.
Available at: NeimanMarcus.com, Nordstrom.com, VonMaur.com, Bloomingdales.com,AERIN.com, Esteelauder.com, Saks.com
Website: Esteelauder.com