Diesel's metal rocket enters orbit with an assist from Cosfibel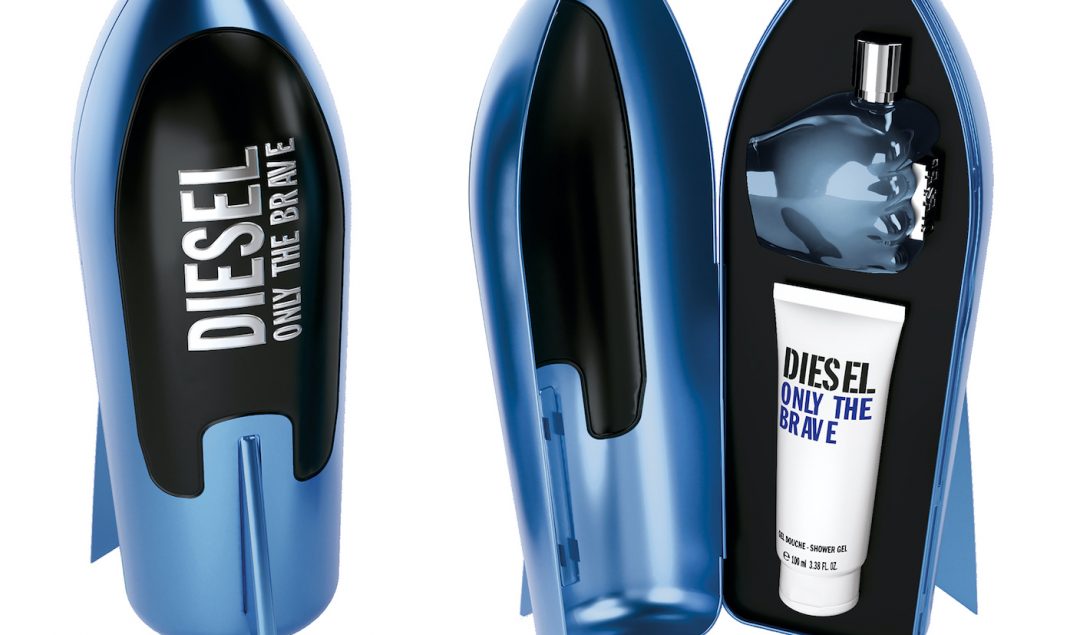 Only the Brave, Diesel's star fragrance, takes its fans on an adventure into space. For this holiday coffret, Cosfibel rose to the challenge, embracing the brand's demand for a complete eco-design approach.
Made up of two parts, this tin-plate coffret has three cutout and folded fins that are both decorative and functional: they serve to hold it upright or on its side. The base and the lid are printed both inside and out and protected by a high-shine varnish. The coffret closes thanks to four rice-grain shaped protrusions, with its opening facilitated by a finger groove.
A cardboard interior
The chock that hold the products (a flacon of fragrance and a shower gel) in place is made from corrugated FSC cardboard. It is coated with shiny printed black paper. This bespoke chock was a complex development that combines solidity with the need to hold the products firmly in place.
An exercise in eco-design
To protect this coffret, Cosfibel developed a case in Cheverny cardboard made from 50% recycled material, four-color printed with illustrations featuring the space theme. It has a window that allows the consumer to see the products inside at the point-of-sale. Delivered flat, it is assembled by the filler.
This original creation had a strict brief when it comes to CSR. For the occasion, Cosfibel personalized its popular cardboard chock concept. Combined with tin, the choice of recycled cardboard reduces the product's environmental footprint while being fun and easily reusable, another benefit in the fight against plastic waste.