AWARD WINNING GROOMING BRAND SCOTCH PORTER TO LAUNCH FIRST FRAGRANCE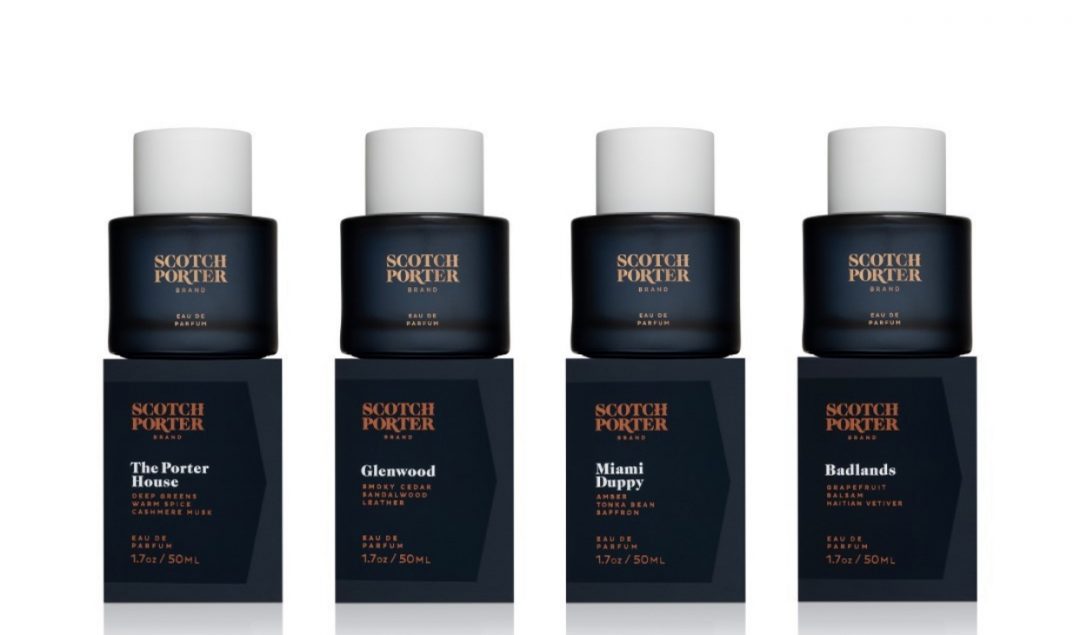 Black Owned indie grooming brand expands its beauty offerings with
 'It Hits Different' Eau de Parfum
Award winning grooming brand Scotch Porter announced today the introduction of its first-ever fragrance collection ​It Hits Different.​ The four scent collection is the brand's first endeavor into the fragrance category.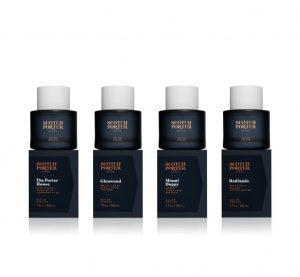 Founder Calvin Quallis teamed up with expert fragrance designers, Takasago and J&E Sozio to create four unique scents that range from earthy accords mingling with dark greens and slightly smoky notes, mysteriously subtle spices grounded with woody undertones and invigorating citrus lifted by fresh salty air. Each fragrance within the distinctively daring scent collection is titled to capture the many elements that make up the Scotch Porter brand: ​Glenwood​ and ​The Porter House​ created by Sozio's Dominique Bouley, alongside ​Miami Duppy​ and ​Badlands​ created by Takasago's Catherine Selig with fragrance development support by Bart Schmidt. The collection is masterfully created to inspire users to push boundaries and retreat based on their mood.
"Since our inception, Scotch Porter has been committed to promoting 360 degree wellness through our offerings in the beauty category. Our newest fragrance collection, ​It Hits Different​, is a natural extension of that commitment and an indication of our increased focus to enhance the everyday guy's experience," says Quallis​. "We believe fragrance has the ability to be the conduit to transport and change our moods and feelings, just like a fresh cut has the ability to turn a funky mood around, and instill self-confidence. This very belief is what inspired the creation of our ​It Hits Different ​eau de parfum collection. With all that has transpired in 2020 alone, there isn't a better time for our customers to find moments to escape, unwind, be inspired to take risks, indulge in self-care and ultimately find joy in the many treasures of life. Each fragrance profile in the collection embodies these very elements."
The It Hits Different collection of fragrances will be sold exclusively at scotchporter.com beginning on November 27, 2020. The collection will participate in the brand's Black Friday Sale with special discounted pricing.
Scents include:
Glenwood ($69.99 Full Price; $54.99 Black Friday Price; 1.7 oz. / 50 mL)
Top Notes:​ Cardamom, Pink Pepper, Coconut Milk
Middle Notes:​ Smoky Cedar, Deep Greens, Amyris, Violet Leaf
Base Notes:​ Sandalwood, Leather, Patchouli, Amber, Frankincense, White Musk
The Porter House ($69.99 Full Price; $54.99 Black Friday Price; 1.7 oz. / 50 mL)
Top Notes:​ Warm Spices, Coconut Milk
Middle Notes:​ Fresh Greens, Violet Leaf, White Florals
Base Notes:​ Cashmere Musk, Amber, Sandalwood, Vanilla Orchid
Miami Duppy ($69.99 Full Price; $54.99 Black Friday Price; 1.7 oz. / 50 mL)
Top Notes:​ Saffron, Tonka Bean, Licorice Middle Notes:​ Pepper, Passionfruit, Jungle Lily Base Notes:​ Amber, Vanilla, Dark Chocolate
Badlands ($69.99 Full Price; $54.99 Black Friday Price; 1.7 oz. / 50 mL)
Top Notes:​ Grapefruit, Bergamot, Gurjum Balsam
Middle Notes:​ Verbena, Lotus, Incense
Base Notes:​ Haitian Vetiver, Oakmoss, Musk
The full collection will also be available for purchase with a retail price of $279, and a Black Friday discount price of $139.50. To learn more about SCOTCH PORTER please visit: ​www.scotchporter.com​, follow the brand on Instagram/Twitter (​@scotchporter)​, Facebook (​scotchporter​).