GUCCI BEAUTY ROUGE DE BEAUTÉ BRILLANT INTRODUCES THREE NEW SHADES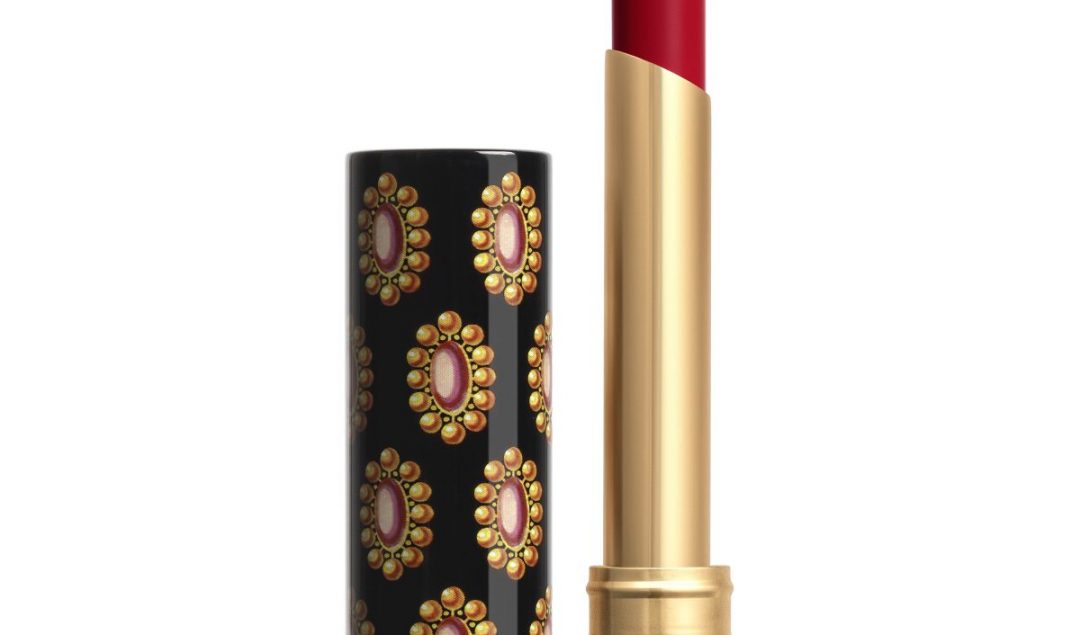 Following the success of its launch in April 2021, Gucci Beauty adds three new shades to the Rouge De Beauté Brillant line.
Extending the range to 18 shades from September 2021, the hybrid lipstick – where vibrant, glowing colour meets deeply moisturising, long-lasting care – introduces 308 Lucy Dark Orange, 508 Diana Amber, and 517 Abbie Maroon Red as Gucci continues to disrupt the makeup industry with Creative Director Alessandro Michele at the helm. In the new campaign, a selection of Rouge De Beauté Brillant lipsticks are showcased in a scene recalling a dinner party in the 70's, a fitting habitat for this glamourous lipstick that epitomes an era in which more was always more.
The Extended Shade Range
Beautiful shine and glowing colour combine in a vibrant range of 18 reds, pinks, corals, plum and natural shades. The three new shades include Lucy Dark Orange, a sultry burnt orange, for the cocktail hour, playful Diana Amber, a darker pink hue for the dinner party that turns into dancing, and Abbie Maroon Red, the perfect red shade with hints of purple to ensure all eyes are on you when it's time for the party games to start. With brilliant colour and nourishing properties all in one, the cherry on top of the trifle is the aesthetic beauty of these lipsticks: in a nod to the Creative Director's passion for collectable objects of desire, the lipstick is encased in an elegant slim gold bullet with a unique gold and black vintage brooch print.
The Formula
Serving as in-between for a sheer and satin lipstick, Gucci Beauty Rouge De Beauté Brillant delivers 24 hours of moisture and beautifully pigmented shine at once. With the caring properties of a balm and lipstick levels of pigmentation, Rouge De Beauté Brillant delivers a veil of vibrant, glowing colour with an instant sensation of moisture. To nourish lips, the formula is infused with luxurious and moisturising Black Rose and Peony Oil combined with Jojoba Seed Oil and Karité Butter, while Hyaluronic Acid not only provides immediate hydration, but longlasting hydration too, as well as a subtle lip-plumping and smoothing effect.
The Campaign
As Rouge De Beauté Brillant expands its range, so is Gucci Beauty's cast of characters, featuring iconic Italian model and actress Benedetta Barzini. Following her debut in Gucci's Cruise 2020 advertising campaign, she is captured alongside model Cara Ekwueme in a shot expressing the vitality of 70's dinner parties, joining the Gucci Beauty family for the first time. Moving from breakfast in bed to dinner in the living room, images shot by Mark Peckmezian, with art direction by Christopher Simmonds, recall sumptuous tables from the past, with their rainbow food and drink, from layered trifles to set salads, mini meringues and fruit jellies. The collection of Rouge De Beauté Brillant lipsticks appear nestled amongst an array of colourful confectionary, on a table set with cut glass crystal and silver rimmed serving bowls, surrounded by lush velvet curtains.
The Line-Up
Gucci Beauty Rouge De Beauté Brillant –
Glow and Care Lip Colour 3 new shades
308 Lucy Dark Orange, 508 Diana Amber and 517 Abbie Maroon Red
Pricing and Availability
Gucci Beauty Rouge De Beauté Brillant $42.00
The new shades of Gucci Beauty Rouge De Beauté Brillant are available beginning September 2021 at Sephora.com