VANILLA DIORAMA By Dior Perfumer François Demachy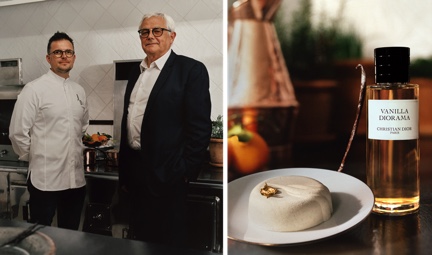 VANILLA DIORAMA, THE LATEST CREATION BY FRANÇOIS DEMACHY, DIOR PERFUMER-CREATOR, IS A WARM AND JOYFUL ODE TO VANILLA. FOR THIS NOBLE BEAUTY, HE COMPOSED A FRAGRANCE THAT IS INSTANTLY PLEASING, ROUND AND SEDUCTIVE, BOTH RICH, AND SHOT THROUGH WITH FRESHNESS.

 VANILLA DIORAMA IS NOT ONLY A PORTRAIT OF VANILLA, BUT IS ALSO A SCENT THAT PAYS TRIBUTE TO ONE OF THE EPONYMOUS DESSERTS THAT CHRISTIAN DIOR LOVED TO EAT. THAT WAS ALL IT TOOK FOR LA COLLECTION PRIVÉE CHRISTIAN DIOR TO ASK THE GREAT CHEF PÂTISSIER JULIEN DUGOURD TO BRING THIS DELECTABLE LEGEND TO LIFE, A SUMPTUOUS DELICACY INSPIRED BY THE COUTURIER-PERFUMER'S GOURMANDISE.

 THIS GOURMET ODE TO VANILLA AND CITRUS FRUITS ALSO EXPRESSES THE SPIRIT OF DIOR, IN PERFECT HARMONY WITH THE VANILLA DIORAMA FRAGRANCE COMPOSED BY FRANÇOIS DEMACHY. ON THIS OCCASION, THE TWO CHEFS MET TO SHARE A MOMENT DISCUSSING THEIR RESPECTIVE CREATIONS IN MONSIEUR DIOR'S KITCHEN AT THE CHÂTEAU DE LA COLLE NOIRE.