LUXE PACK Monaco celebrates its 35th edition in October 2022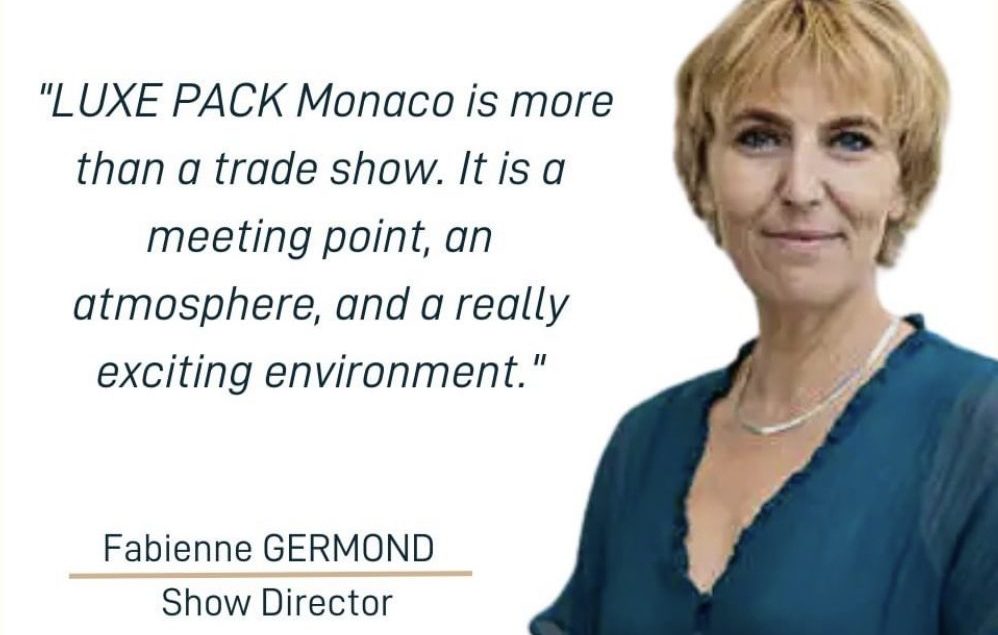 LUXE PACK Monaco celebrates its 35th edition in October 2022
Here's what's in store
One month ago in Paris, the Edition Spéciale by LUXE PACK closed its doors on an event which saw a 3% rise in visitor numbers. Meanwhile, visitors to LUXE PACK New York, which has only just ended, were up by 18%. After two years of the pandemic, all indicators are showing green for the LUXE PACK trade fairs. The next stop is LUXE PACK Monaco, the high point of the luxury packaging calendar, which promises an unmissable 35th edition this year.
Interview with Fabienne Germond, Show Director.
What can you tell us about the forthcoming event for 2022?
This year, we are marking the 35th LUXE PACK Monaco trade fair. We can be proud of such a longstanding event, which still attracts the same success and enthusiasm from exhibitors and visitors. For all these years, the show has been the stage for major launches within the industry. Most exhibitors use the trade fair as an opportunity to unveil new developments.
We have 450 exhibitors to date, including around 50 new arrivals from more than 30 different countries. The key players in luxury packaging are obviously in attendance, but there are also designers, manufacturers of wooden, china and leather packs (the most original materials), as well as specialists in decorative finishing, 3D printing and promotional items.
Not forgetting those who rarely exhibit but remain loyal to us in Monaco, including SAVERGLASS, ATELIER ECR1, PORCELAIN MANUFACTURER BERNARDAUD, LES EDITIONS DU CHOCOLAT, ESKA, IMPRIMERIE DU MARAIS, IDSCENT, LES BOUCHAGES DELAGE, etc.
It is also worth noting that the trade fair's exhibition of packaging is complemented by a digital section with its own dedicated space: our DIGITAL VILLAGE located in the Atrium gives an overview of the latest digital, smart solutions for luxury packaging.
A particular feature of the Monaco fair is the LUXE PACK Formulation Room devoted to formulation and all-round services.  It will allow beauty professionals to find their packaging and formula suppliers in one place.
The undisputed advantage of LUXE PACK Monaco is that it showcases the international leaders in luxury packaging alongside small companies offering very specific expertise. We always exercise great care when selecting our exhibitors, and our community is very committed to providing visitors with a high-quality, diverse industry offering every year.
35 years is a fantastic shelf life! How does the event maintain its appeal?
LUXE PACK Monaco is more than a trade fair. It is a meeting point, an atmosphere, and a really exciting environment. It is an all-in-one site that does everything to impress our participants, who are completely immersed in a unique setting. The leading decision-makers are in attendance, representing both brands and suppliers: this means decisions are made much more quickly, and it makes the event particularly effective at consolidating relationships and driving up business.
The pandemic brought home to us the value of face-to-face communication. Even if participants are disconnected from their emails for three days, they get a dose of inspiration instead, boosting their business much more than they could have by staying at their desks. Last year, some visitors told us they managed to resolve supplier issues that had lasted several months, thanks to the presence at the fair of all parties concerned. Others tell us that they have integrated new recruits much faster as a result of their visit to the trade fair, which gave them a uniquely exhaustive view of what is currently on offer. We were all definitely suffering from a lack of creativity and inspiration after pretty much two years locked down. But now we know the collaborative nature of brand-supplier relationships is the key to their success. There's no better way to strengthen a partnership than a meeting, lunch or dinner in a unique location.
 What is in store for us this year?
The last two years have seen events of such magnitude that they have exponentially accelerated the transformation of societies and economies on a global scale.
Supply chain and procurement issues, added to growing consumer demand for products with a smaller impact on the environment, are driving brands to increase their research into sustainable development.
New consumer behaviours are emerging as a result, which will become the norm with the arrival of Generation Alpha: e-commerce, selling directly to the consumer, personalisation, and an even greater taste for the exceptional and unique are all new trends that brands are making their own.
So how does the packaging industry respond to these different challenges and opportunities? How can it package for a new world?
Our conference programme will cover all of these issues with interventions from experts and pioneering brands in these areas, such as REMY COINTREAU, CARTIER PARFUMS, COTY, VEUVE CLICQUOT, BLISSIM, MOET HENNESSY, CHANEL, and more.
We have handpicked over 50 speakers to appear at the event. By and large, these are speakers who rarely attend conferences and the content they provide will be entirely exclusive to our trade fair. It will be structured around five main pillars:
GOING BIG: trends and forecasts
GOING GREEN: towards circularity
GOING TO CUSTOMERS: packaging for new markets, new customers and consumer behaviours
GOING LOCAL: transition to virtuous sourcing models
GOING DISRUPTIVE: materials and technology
Any Other Special Highlights?
The United Nations declared 2022 the International Year of Glass.  This is an opportunity for us to raise awareness of a material which is so close to our DNA, to highlight its diverse capacities, and to contribute an informed view of the future that glass can offer luxury brand packaging. We will celebrate our 73 glassmaker exhibitors  from all over the world, giving them a special place in our conference program and making them integral to our trade fair signage information. We are also working on a demonstration with the European Federation of Glass Packaging Makers and the agency Cent Degrés, and will be able to tell you about this in more detail shortly…
Let's also not forget our LUXE PACK in Green Award, which we have now been running for 13 years and has become a benchmark promoting the best ethical solutions and initiatives from our exhibitors. We have received a record 73 entries, promising a whole new level of environmentally-friendly design! Exhibition space, dedicated conferences, and awards ceremonies are all means by which  visitors can effectively gauge the ecological trends under way around the world.
In short, visitors to this year's fair will once again have a lot to do between discovering the expertise of 450 exhibitors, the program of high-level talks and creative exhibits tailor-made for the event!
For more information, or to register, visit LuxePackMonaco.com