AERIN Celebrates 10 Years with Rose de Grasse Joyful Bloom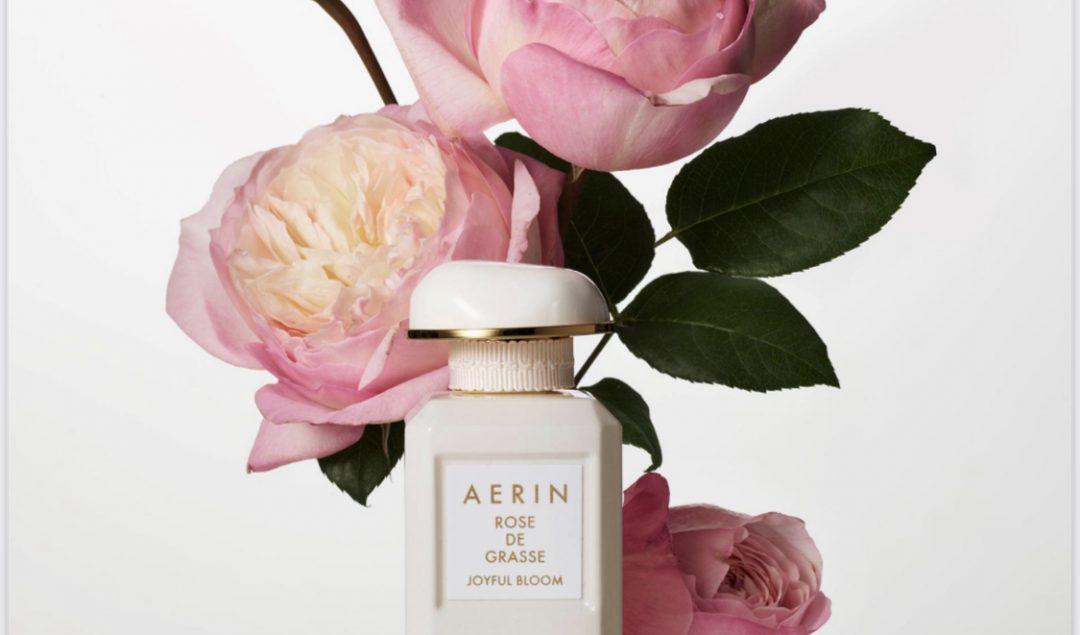 "Roses are my favorite flower and such a classic symbol. There are so many varieties and so many incarnations of rose—something to fit every mood and season. The concept of 'blooming' makes me think of possibilities, growth and beauty. The blossoming of a flower is all about starting fresh and the joy that comes with that. Joyful Bloom is a modern rose in full bloom—happy, vibrant and colorful."— Aerin Lauder, Founder and Creative Director, AERIN
Rose de Grasse Joyful Bloom is the newest addition to AERIN's Premier Rose Collection on the occasion of the brand's 10-Year Anniversary. With the vibrancy and lightness of a flower entering full bloom, the fragrance transports us to a dreamy garden, heavy with the scent of rose, each bud flourishing, cloud-like and bursting with scent. Joyful Bloom embodies the moment when the bustle of a day's routine fades away, allowing you the pleasure of wandering free in imagination.
A sister fragrance to both Rose de Grasse and Rose de Grasse Pour Filles, Joyful Bloom is inspired by the birthplace of the AERIN brand, New York City, and is an emblem of creativity and Aerin Lauder's heritage. "My grandmother, Estée, loved roses. The rose continually inspires me, because not only do I love the way it smells, but I love the meaning behind it," says Aerin. "To me, roses signify friendship, love and femininity."
The essence of happiness lies in Joyful Bloom's heart of lush pink Indian Rose Bourboniana. Harvested in Tamil Nadu in Southern India, the vibrant blooms have a honeyed fragrance that flourishes into a dreamy, ethereal cloud as time progresses. Sparkling Italian Bergamot brings freshness to the mix while spicy green Blackcurrant Bud adds minerality and Pink Pepper infuses vibrance. For warmth, Australian Sandalwood comes to bear, while Turkish Rose adds depth and Benzoin a spiced resinous quality.
Created by Firmenich Master Perfumer Honorine Blanc, Joyful Bloom enters the Premier Rose Collection alongside Rose de Grasse pure Parfum and Rose de Grasse Pour Filles Eau de Toilette, two expressions of the world's most beloved flower. The former is centered around the rare, hundred-petaled Rose Centifolia from Grasse, the heart of French perfumery, and evokes singular sophistication and timeless elegance. Delicate and dewy, Rose de Grasse Pour Filles recalls the freshness of youth, with notes of Pear and soft Musk. Each perfume in the Premier Rose Collection represents a different manifestation of the rose's complexity and versatility.
Packaged in keeping with the Collection's classic white and gold cues and signature beveled bottle, Joyful Bloom is topped with a fresh, modern white cap and gold detailing, its neck encircled by a white grosgrain ribbon for a touch of romance and femininity. The carton is patterned with the classic Rose de Grasse soft pink background, embossed with a crisp white rose print.
Joyful Bloom is a carefree and romantic fragrance for the woman who approaches each day with utter delight in the color, spirit, and energy of a city like New York. She feels an exuberance for discovery and the total joy of being oneself. The next progression of AERIN's timeless Premier Rose Collection, it's the perfect symbol— seasonless, elegant and eternally wearable—of the brand's 10 years of history and heritage as a lifestyle concept all its own
AERIN Rose de Grasse Joyful Bloom Eau de Parfum, 50ML /1.7 FL.OZ. AERIN Rose de Grasse Joyful Bloom Eau de Parfum, 7ML /.24 FL.OZ