LUXE PACK Monaco Announces the Luxe Pack in Green 2022 Award Winners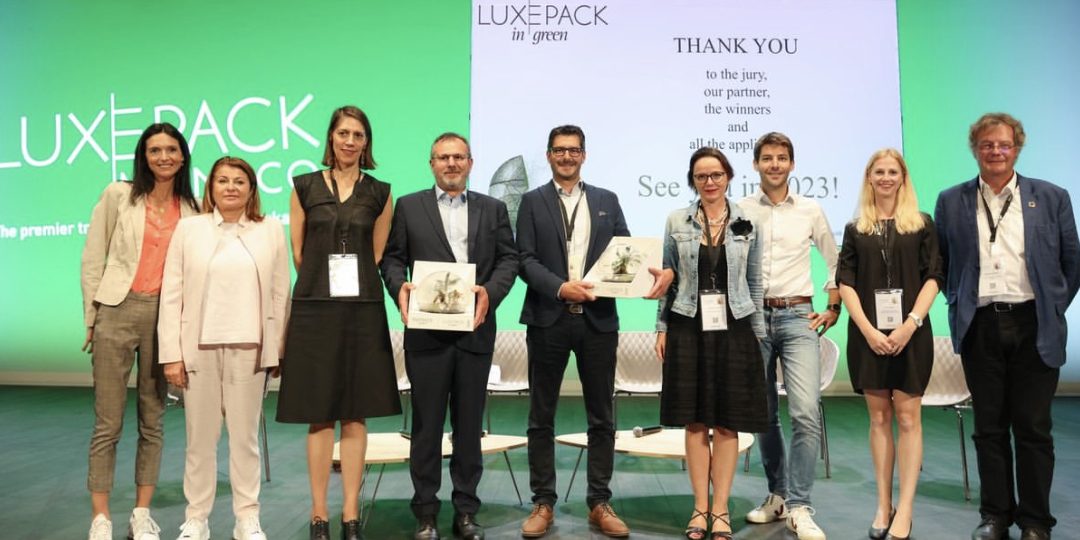 LUXE PACK Monaco unveils the LUXE PACK in Green 2022 Finalists and Winners
Pioneering in showcasing sustainable packaging, LUXE PACK understood a long time ago that sustainability and environmental conservation are among consumers' biggest concerns.
For 13 years, the LUXE PACK in Green Awards have highlighted and rewarded the best sustainable packaging innovations and responsible initiatives presented during the show.
In 2022, they pursued efforts to make sustainable development an integral part of the show with the aim to become "the" global barometer of eco-responsible packaging trends for luxury brands.
This year, the jury welcomed the profusion of entries received from the show's exhibitors; the selection exercise according to the LUXE PACK in Green Charter and its precise criteria was not easy.
LUXE PACK MONACO unveils the finalists of the LUXE PACK in Green Awards and then announced two winners on Tuesday, October 4th, during the conference.
This year, the LUXE PACK IN GREEN ceremony was moderated by Alice Vachet, host of the podcast L'empreinte, who announced that out of the following well qualified candidates – all of whom offered interesting solutions to consider…
ARJOWIGGINS Graphic – The Leading Provider of Innovative Environmental Paper Solutions, and ALTUS Coating
Congratulations to all!
Easily identify participants with this sticker on their booths!
Catégorie 1: Eco-Conceived Packaging Solutions
EXHIBITION

The 60 candidate innovations of category 1 have their dedicated exhibition in a new area in the heart of the show! 
 📍 Entrance Hall Ravel
CLICK HERE TO LEARN MORE ABOUT THE FINALISTS' APPLICATIONS 
Catégorie 2 : Corporate Social Responsibility approach
MILL
1st SME in the Pays de la Loire region to be triple certified ISO 9001 (Quality) / ISO 14001 (Environment) / OHSAS 18001 (safety) since 2003.
– Integration of their own water treatment plant in order not to impact the municipal plant and our ecosystem (5200 m3 of treated water per year).
– Carbon footprint achieved (2432 tons of CO2 eq of which 80% is from our inputs)
– All investments integrate the environmental dimension from the specifications (e.g.: latest generation varnishing machine, digital printing and impact on ink consumption)
ALTUS COATING
Low environmental impact for customers/applicators:
– Specialized since its origin in the field of UV curing polymers chemistry, with undeniable technical and aesthetic performances, ALTUS Coating anticipated the necessary energy savings in doing so: radiation replacing convection, thus strongly reducing consumption.
– ALTUS Coating has created its own environmental charter in 2019 to highlight the development of more sustainable solutions. This charter is based on 3 criteria:
*Products with a maximum of 10% volatile organic compounds
*Products with at least 10% of bio-based substances (ALTUS Coating prefers to use bio-sourced components from secondary materials in the food industry, avoiding the use of primary materials as much as possible)
*Products that can be dried under LED lamps
– In 2021, more than 40% of the projects have followed at least one criterion of the charter.
KURZ
In March 2022, LEONHARD KURZ celebrated the official commissioning of its new photovoltaic system in Sulzbach-Rosenberg. On an area of around 8.5 hectares, this means that after two years of planning and construction, one of the largest solar power plants in the region has been built.

It will enable KURZ to cover around a quarter of its electricity requirements on site. And with the photovoltaic system, KURZ can save around 6,000 tons of CO2 per year.

But even further to the system in Sulzbach-Rosenberg KURZ installed their first solar system at the plant in Malaysia in parallel and are also in the process of commissioning a large cogeneration plant.
________________________________________________________________________________________
THE JURY
Helene VILLECROZE

Ecodesign Manager

CHANEL PARFUMS BEAUTE

Arnaud LANCELOT

Co-founder

COZIE

Sandrine SOMMER

CSR and Sustainable Development Director

MOET HENNESSY

Candice COLIN

Co-Founder & CEO

LITICA LABS

Maurille LARIVIERE

Co-founder & CEO

Sustainable Design School

Lina HANSSON

Coordinator of Initiatives & Co-Secretary, Monaco Blue Initiative

Prince Albert II of Monaco Foundation, Principality of Monaco