TFWA World Exhibition & Conference 2022 welcomes 6,000 delegates to Cannes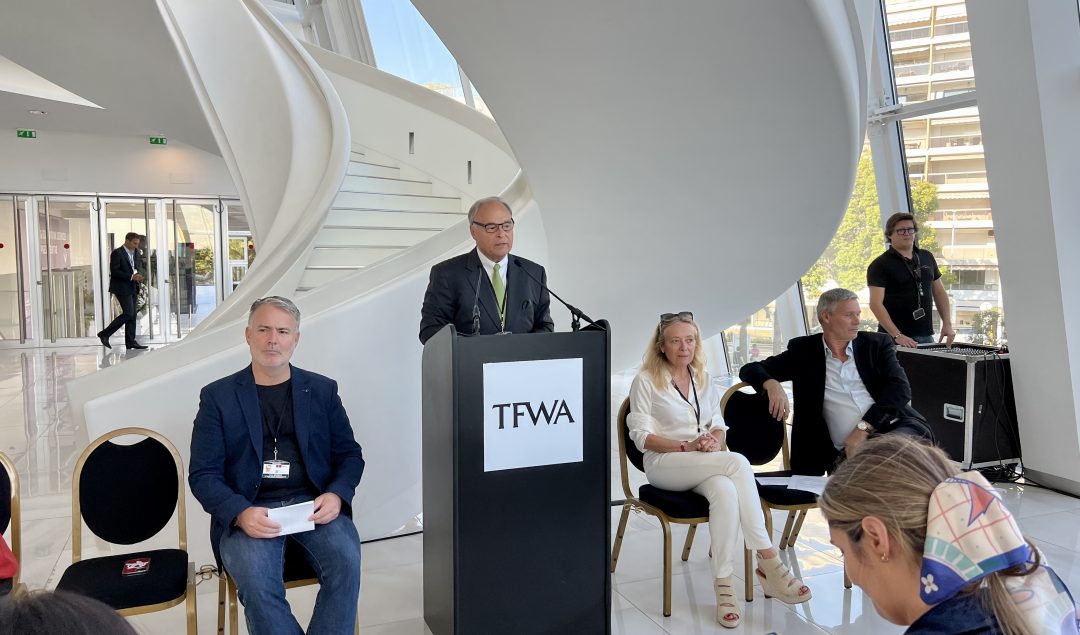 TFWA World Exhibition & Conference 2022
welcomes close to 6,000 delegates to Cannes
The 37th TFWA World Exhibition & Conference drew to a close today, with the event hosting a total of 5,983 visitors up to midday on Thursday 6th October – a figure that is up 77% from 3,373 in 2021. The figure compares to 7,215 visitors at the equivalent point in the 2019 event, which was a record attendance.
This total included 2,095 representatives from duty free operators and landlords, more than double the 2021 total, and down by 12% compared to 2019. 1,179 delegates were in the audience for the TFWA World Conference, which took place on Monday 3rd October and saw TFWA President Erik Juul-Mortensen joined on stage by a selection of speakers from within and beyond the industry. 177 delegates attended the Airport Forum workshop, sponsored by Kering Eyewear, on Tuesday 4th October, while 123 attended the Innovation in Action workshop on Wednesday 5th October.
With a large number of brands hosting larger stands, this year's exhibition occupied a total of 20,751m2, up from 12,190m2 in 2021. 387 companies exhibited, 57 of which were new exhibitors. These first-time exhibitors came from 8 sectors and from as far afield as Ghana, Saudi Arabia and Republic of Korea.
Having facilitated a total of 1,226 on-site meetings throughout the week, the TFWA ONE2ONE meeting service once again proved to be a welcome element of TFWA World Exhibition & Conference.
With innovation at the heart of this year's event, TFWA i.lab offered delegates and participating companies a wide array of opportunities to connect and collaborate. Subjects including mobile and digital technology, data analytics, e-commerce, traveller research, sustainability and corporate citizenship, were explored during the event.
Well-attended social events once again confirmed that face-to-face networking opportunities remain a top priority for industry colleagues across all sectors. Hosted at the Carlton Beach 1,600 guests attended TFWA's opening 'Get Together' event, while between 500 to 800 guests enjoyed the TFWA Lounge: after-work sessions and at the highest attendance peak on Wednesday night, 2,358 guests joined the TFWA Lounge: night-time session.
"In this, the 75th anniversary of the duty free industry, we're very happy with the outcome here this week, in terms of exhibitors, square metres of stand space, delegates and buyers in attendance. A real mood of confidence has been confirmed by the conversations taking place around the event all week. We look forward to the future with confidence and by the time we are back here in Cannes next year I'm convinced we will be flying at full height once again.
We closed our books today, and thanks to our prudence in the past, our finances are in a strong position. We are well placed to continue supporting the industry going forward to next year and beyond," stated Erik Juul-Mortensen, TFWA President.