Ashley Graham stars in Revlon's LIVE BOLDLY campaign; makes appearance at NACDS
Photo Revlon President Serge Jureidini, Spokesmodel Ashley Graham and George Ledes
REVLON'S annual NACDS party at The Breakers Palm Beach included a surprise appearance by their latest Global Brand Ambassador, Model, Designer, Author and Body Activist Ashley Graham.
Graham who stars in Revlon's latest LIVE BOLDLY campaign welcomed party goers and gave inspirational remarks about the importance of representing all women in today's beauty space.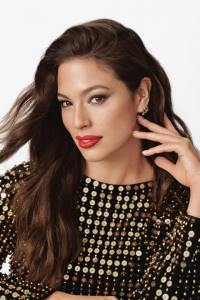 Ashley Graham, 30, was born in Lincoln, Nebraska and discovered in a mall at the age of twelve. She signed with an international modeling agency at the age of 13, launching her successful, diverse career. Ashley has worked in numerous areas of the fashion industry including editorial, catalogue, runway, commercial, television and film. In February 2016, she was selected as a Sports Illustrated Swimsuit Rookie and also landed one of three covers for the magazine, making her the first size 14 model to ever be featured on the cover of Sports Illustrated.
A leader for the body positive movement, Ashley has been featured on the covers of Vogue, British Vogue, Cosmopolitan, SELF, New York Magazine, Maxim and many more. In January 2016, Ashley was named to Forbes Magazine's coveted "30 Under 30" list and was featured on the cover of the magazine's January issue alongside top celebrities and entrepreneurs. In November 2016, Glamour named her "Woman of the Year," while Mattel simultaneously created a one-of-a-kind Barbie in her likeness. In December 2016, People Magazine named Ashley one of the "25 Most Intriguing People of the Year" and in 2017, Time named her one of the 100 Most Influential People in the Word.
A business-savvy entrepreneur, Ashley has collaborated with Canadian brand Addition Elle on her own line of size-conscious lingerie available online and carried by prestigious retailers such as Nordstrom. In March 2016, Ashley launched "Beyond by Ashley Graham," an exclusive dress collection in collaboration with Dressbarn. Additionally, she secured an exclusive partnership with swimsuitsforall, for whom she designs annual swimsuit collections.
Additionally, Ashley is a sought-after television personality and has hosted Miss Universe 2017, Miss USA 2016, E!'s Oscar Red Carpet, a week-long "Body Proud" series on Good Morning America and guest hosted several national talk shows. She is currently a judge on VH1's America's Next Top Model where she provides her expert advice on how to become a boss, brand and a businesswoman.
As a role model and body activist, Ashley is regularly invited to speak at national conferences, high schools and girls' groups about body image, self-acceptance and female empowerment. Her first TEDx talk "Plus Size? More Like My Size" was given at TED x Berlee Valencia in April 2015.
Ashley's first book, A NEW MODEL: What Confidence, Beauty & Power Really Look Like, was published on May 9, 2017 with Dey Street Books.