CALVIN KLEIN WOMEN: The First Fragrance by Raf Simons; Campaign stars Lupita Nyong'o & Saoirse Ronan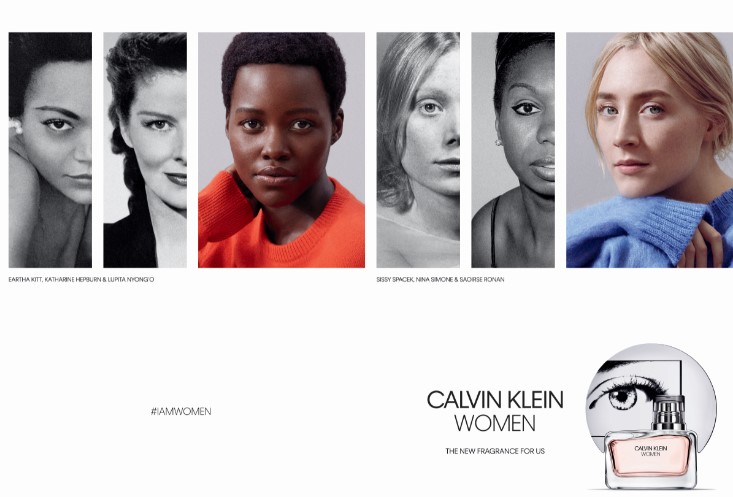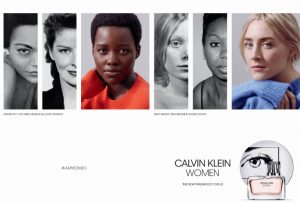 Calvin Klein Fragrances, a division of Coty Inc., has revealed the worldwide television advertising campaign for CALVIN KLEIN WOMEN – the first CALVIN KLEIN fragrance by Raf Simons, featuring the beautiful Lupita Nyong'o and Saoirse Ronan.
Directed by artist Anne Collier with creative direction from Lloyd & Co., the television campaign unfolds into a series of vignettes that provide a glimpse into Lupita Nyong'o's and Saoirse Ronan's creative inspirations. An extension of the print campaign, the commercial follows both women as they reflect on and embrace figures from the past that have inspired them and shaped their identities as women. Viewers see Saoirse playing a Nina Simone record and sharing admiration for Sissy Spacek, while referencing her on the cover of a vintage magazine, while Lupita draws inspiration from beautiful collaged photography of Eartha Kitt and Katharine Hepburn, as she works on a script.
The intimate apartment settings serve as the perfect backdrop to follow Lupita and Saoirse as they draw from these iconic women, to help write themselves – and define modern femininity:
"You can be whatever type of woman you want to be" – Saoirse Ronan
"You can be an individual but still be a part of something bigger than yourself" – Lupita Nyong'o
"In this campaign, Anne Collier brings to life a powerful narrative of confidence and self-expression, celebrating the profound inspiration women draw from one another. The support of this bond empowers a great sense of freedom," shared Raf Simons, Chief Creative Officer, Calvin Klein.  "The authenticity, vibrancy and strength of Lupita Nyong'o and Saoirse Ronan shine through as strong and beautiful voices of a new generation of modern femininity."
"With the launch of CALVIN KLEIN WOMEN, our goal is to make the message inclusive and inspiring.  To do that we broke with tradition —  from the distinct fragrance and packaging, to the campaign creative featuring Lupita and Saoirse and the icons that inspire them.  We also want to know who inspires women around the world, so we've created a digital call-to-action using #IAMWOMEN to celebrate the individual and the collective." said Simona Cattaneo, Chief Marketing Officer, COTY Luxury. "Partnering with Raf and Anne Collier to bring the CALVIN KLEIN WOMEN vision to life has been an incredible journey and we are excited to finally share it with the world and invite women to join this inspiring and empowering conversation."
The CALVIN KLEIN WOMEN fragrance is a play of contrasts, as infinitely varied as the personas of the women who inspire it. A woody floral, it fuses strength with fragility, freshness with sensuality. The light pink-hued fragrance builds around three core ingredients – fresh eucalyptus acorns, delicate orange flower petals and rich Alaskan cedarwood. The flacon blurs the boundaries between art and fashion, fusing quotes from the visual language of contemporary photography with age-old notions of the feminine. It is redolent of a timeless femininity, with an ergonomically rounded shape in weighted glass and silver collar and pump, drawing on traditional fragrance archetypes. It simultaneously disrupts aesthetic codes and respects traditions – the graphic, oversized disc-shaped cap designed in collaboration with Raf Simons, a canvas for a photographic print by Anne Collier.  
To view the CALVIN KLEIN WOMEN television commercial, click here.
Women around the world can join the campaign on social media by using the hashtag #IAMWOMEN to share a photo of females in their lives that have shaped them into who they are today. Photos can also be shared on calvinklein.com/IAMWOMEN.  The story continues with an exclusive look into Lupita and Saoirse's inspirations on Calvin Klein's social and e-commerce channels.
CALVIN KLEIN WOMEN is available on calvinklein.com, at CALVIN KLEIN stores and rolling out in retailers globally starting this month.