La Prairie Skin Caviar Remastered at Travel Retail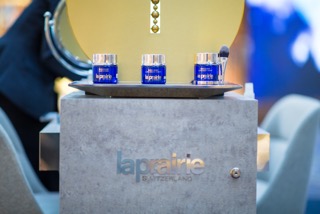 La Prairie celebrates the latest innovation of its iconic Skin Caviar collection with a full-scale installation in the airports of multiple international hubs.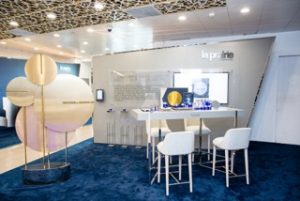 In its quest to create the most indulgent skincare more than 30 years ago, Swiss luxury skincare brand La Prairie unveiled to the world caviar's unique power to nourish and regenerate the skin, creating a masterpiece of design, science and indulgence with Skin Caviar.
Today, La Prairie remasters its masterpiece with the launch of Skin Caviar Luxe Cream Remastered with Caviar Premier. To mark the occasion, fully immersive installations are on display at both Shanghai's Pudong International Airport and Singapore's Changi International Airport.
The open circular structure invites passersby to explore the chapters that tell the story of the Skin Caviar Masterpiece: the icon, its design, its science and its indulgence.
  A Masterpiece begins by breaking the mold. This first section of the installation is an homage to Caviar Science and the audacity of La Prairie's innovation. In 1987, La Prairie broke the codes of skincare by being the first brand to introduce caviar – infusing skin with the very source of life. Today, with the scientific breakthrough of Caviar Premier, natural caviar is strengthened, augmented, magnified.
  A Masterpiece is an icon without striving to be one. Next, the visitor discovers the inspiration behind the Skin Caviar Collection's iconic design. The Skin Caviar jar became an immediate classic when it was launched and has been preserved these past thirty years as an homage to the heritage of the Skin Caviar Collection.
  A Masterpiece is an indulgence against which all else is measured. It is the culmination of artistry, indulgence and luxury. The visitor is invited to experience the Masterpiece Remastered for herself with an Art of Perfection – Indulgence skincare treatment.The installation will act as a centrepiece within the international travel hubs. Shanghai will see a 85 square metres space dedicated to the Caviar Masterpiece, while Changi will devote 36 square metres to the experience. The Asian airports are the first in a series of stops for this travelling exhibition, giving their travellers a privileged opportunity to experience the science, design and indulgence of caviar through this unique installation.About La PrairieLa Prairie is the leader in luxury skincare, present in 90 countries around the world. Synonymous not only with luxury, the La Prairie name evokes innovation, performance, high-touch service and Swissness — the purity, precision and excellence inherent to the extraordinary land that saw the brand's inception in 1978. La Prairie endeavours to fulfill a quest for timeless beauty through the highest standards of advanced technology combined with exquisite formulations and elegant packaging — elevating skincare to art.

Exhibition dates and locations

 Shanghai Pudong International Airport Terminal 1, 01.09.2018-31.10.2018

 Singapore Changi International Airport Terminal 3, 04.09.2018-15.10.2018

 Beijing Capital International Airport Terminal 3, 01.10.2018-31.12.2018

 Paris Charles de Gaulle Airport Terminal 2E, 27.09.2018-31.10.2018
  Zurich Airport
Level 1, 28.09.2018-11.11.2018
  Dubai International Airport Terminal 301.11.2018-14.11.2018 Terminal 1 01.11.2018-01.12.2018