Alana Stewart and George Hamilton informative reception on Stem Cells, Aging & Longevity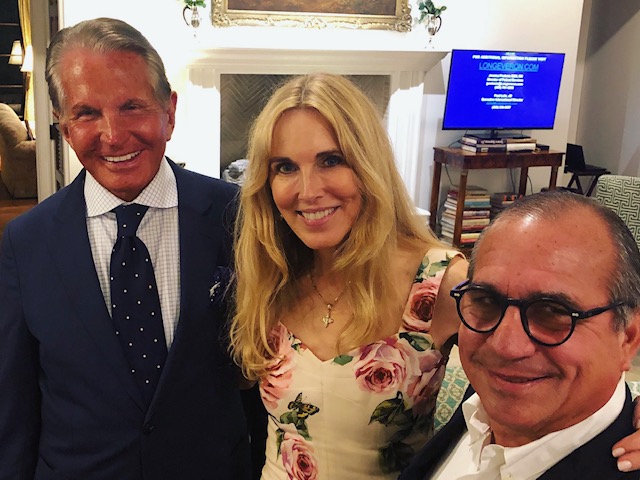 Alana Stewart and George Hamilton were joined by Stem Cell Expert Joshua M. Hare, M.D., of the University of Miami Miller School of Medicine, during a 'fireside chat' at the home of Marzia & Dale Precoda in Palm Beach. More than sixty guests defied the pouring rain to meet Stewart, Hamilton and Dr. Hare –one of the world's pioneers in stem cell therapy for heart disease and aging, at the private reception which took place on Tuesday, March 19, 2019.
Stewart and Hamilton spoke of the remarkable results and benefits they continue to experience as the result of the allogeneic stem cell treatments (40 minute intravenous infusions) they received.  "It's been a thrill to participate in this stem cell program, and I feel it really helped my chronic fatigue syndrome and improved my bone density.  I'm excited its being tested for approval in the United States," stated Alana Stewart.
After an amusing repartee among the formerly wedded couple, Dr. Hare presented a scientific presentation, entitled How To Stay Healthy To 120 Years of Age:  The Role of Stem Cells, during which he explained the state of the science and ongoing clinical trials in cell-based therapy research, and some published research results which have shown improved physical performance, strength and mobility, increased walking distance, improved cognition, increased sexual quality of life, and decreased blood markers of inflammatory disease. The fascinated crowd continued to engage asking questions well beyond the end of the presentation.
The host committee included some of Palm Beach's most beautiful…Susan Lloyd, Emilia Fanjul, Terry Allen Kramer, Jane Holzer and Roni Goldsmith.  Guests included Don & Michele Soffer, Beth Rudin deWoody, David Gilmour, Ambassador Bonnie McElveen-Hunter, Michele and Norman Reisman, Mai Hallingsby, Mashi Asmudeh, Molly & Larry Austin, Brewer & Chris Schoeller, Betsy & Wally Turner, Priscilla Rattazzi, Christine Schott & George Ledes.
Longeveron, a leading regenerative medicine company developing biological solutions for aging and aging-related diseases, is conducting several research programs with stem cells.  For more information, www.longeveron.com or contact JProtenic@longeveron.com or 305-909-0840.