Maybelline Ambassador Manny Gutierrez Joins Child Mind Institute's Social Campaign to End Stigma of Mental Health and Learning Disorders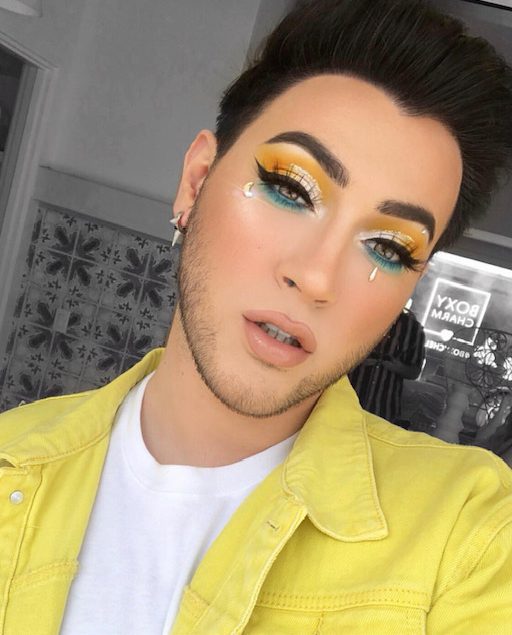 Ray Romano, Kevin Love, Isaac Mizrahi, Charlamagne Tha God, Queer Eye's Antoni Porowski, Pete Wentz and Weezer Join the Child Mind Institute's 2019 #MyYoungerSelf Social Campaign to End the Stigma of Mental Health and Learning Disorders
Sugar Ray Leonard, Gillian Anderson, Manny Gutierrez, Dacre Montgomery, Heather Matarazzo, Bo Burnham, Elsie Fisher, and Imagine Dragons' Dan Reynolds Share Powerful, Homemade Videos Offering Reassurance and Hope to the One in Five Children Struggling Today
Goldie Hawn and NBA Star Kevin Love Kicked-off #MyYoungerSelf Month as recipients of Child Mind Institute's Change Maker Awards at Carnegie Hall Event on May 1
The Child Mind Institute launched the 2019 #MyYoungerSelf social media campaign, a unique and impactful awareness initiative bringing together actors, musicians, athletes, entrepreneurs, and other influencers who share personal videos with advice they would offer their younger selves about overcoming a mental health or learning disorder.  The goal of the #MyYoungerSelf campaign, now in its third year, is to eliminate stigma by showing children and adolescents who struggle that there is a bright future ahead if they open up and ask for help.
Each day in May, which is National Mental Health Awareness Month, the Child Mind Institute will reveal a new celebrity cell phone video and childhood photo on the Child Mind Institute's social media channels (Twitter: @ChildMindInst; Instagram: @childmindinstitute; Facebook: facebook.com/ChildMindInstitute) and childmind.org. The public is encouraged to get involved by liking and sharing all the videos that inspire them.
This year's campaign features a wide range of voices, including: actors Ray Romano, Gillian Anderson, Elsie Fisher, Alyson Stoner, and Heather Matarazzo; fashion icon Isaac Mizrahi; Queer Eye food and wine expert Antoni Porowski; mixed martial artist/pro basketball player Royce White and boxing legend Sugar Ray Leonard; YouTube beauty expert Manny Gutierrez (Manny MUA); and Quest Nutrition co-founder Tom Bilyeu, among others.
In his video, Romano tells his younger self "You're going to be fine. You're going to get through this. You may be having a little trouble now, maybe a little bit of a struggle emotionally – a little anxiety, a little depression – but you're going to do alright."
Anderson, talking about years of struggling with anxiety, depression and panic attacks, says "Just because you have anxiety or you have panic attacks doesn't mean your life has to get any smaller…you can live a very full, beautiful, and even peaceful life regardless of the anxiety."
Charlamagne Tha God shares that he wishes the adults who were around him growing up — including his father, who struggled with mental health challenges — would have spoken more openly about mental health and "equipped me with the knowledge that I have now to stay mentally healthy."
Porowski, who struggled with anxiety attacks, says, "I was really ashamed…now it's actually become something that I'm kind of proud of because it's part of me and it makes me different." He advises those similarly struggling to seek help. "I guarantee everyone has someone in their life who can help them. You just have to ask for it."
"These celebrities are influencers in the best sense of the word – by sharing their personal struggles and demonstrating that young people can overcome challenges that sometime seem overwhelming, they are sending a powerful message of hope and resilience," said Dr. Harold S. Koplewicz, founding president and medical director of the Child Mind Institute. "The #MyYoungerSelf campaign is about moving beyond the stigma and helping kids get the help they need to thrive."
An estimated one in five American children have, or once had, a disorder such as depression, anxiety, or ADHD — more than the number of children with cancer, diabetes and AIDS combined. In spite of the magnitude of the problem, lack of awareness and entrenched stigma keep the majority of these young people from getting help. Children and adolescents struggling with these disorders are at risk for academic failure, substance abuse, and a clash with the juvenile justice system — all of which come at tremendous cost to them, their families and communities. 
The first two years of the #MyYoungerSelf campaign reached millions, featuring high-profile figures including Emma Stone (a Child Mind Institute board member), Sarah Silverman, Tim Howard, Lena Dunham, Michael Phelps, Temple Grandin, Henry Winkler, Tommy Hilfiger, Brandon Marshall and Jesse Eisenberg. 
 About the Child Mind Institute
The Child Mind Institute is an independent, national nonprofit dedicated to transforming the lives of children and families struggling with mental health and learning disorders. Our teams work every day to deliver the highest standards of care, advance the science of the developing brain, and empower parents, professionals and policymakers to support children when and where they need it most. Together with our supporters, we're helping children reach their full potential in school and in life. We share all of our resources freely and do not accept any funding from the pharmaceutical industry. Learn more at childmind.org.