National Beauty Science Institute Hosts Master Class at Pasteur Institute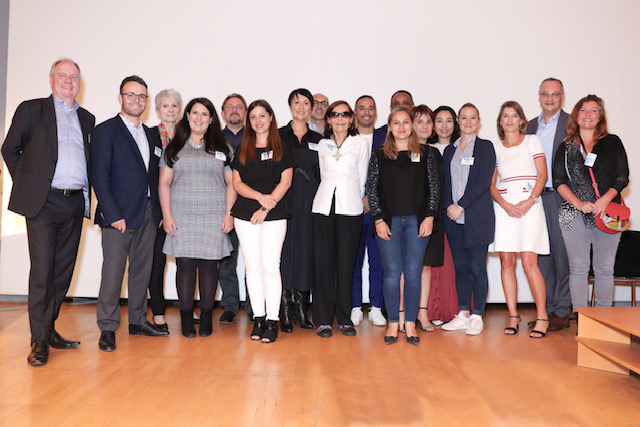 The National Beauty Science Institute hosted its 2nd Annual Master Class at the Pasteur Institute in Paris on September 11th.
This year's focus was "The Science & Sustainability of Beauty." The all day event ateended by approximately 600 students and industry professionals included speakers from The Estée Lauder Companies, LVMH, Coty, Johnson & Johnson and Symrise.
The organization was founded by Judy Price, former Editor/Publisher of Avenue magazine, in 2016 to mentor smart, young people, who want to learn about innovation in the beauty and science space. The organization plans to launch a blog called BeautyLabTalk that students and young professionals from around the world will be able to tap into.  It is meant to be a place where scientists can post on a regular basis about discoveries being made in the lab and new products coming out. Students took part in a hack-a-thon in June to help create BeautyLabTalk's logo.
Among the topics discussed in this master class were epigenetics, mechanobiology, metabolomics, ethnobotany and biomimicry.
Executives from Estée Lauder talked about new frontiers of innovation in the cosmetics industry, while LVMH focused on the cutting edge of natural cosmetics. Coty focused its presentation on pioneering and shaping the future of beauty. Johnson & Johnson presented its Consumer Health division's holistic sustainability approach. And Symrise revealed its innovation plan designed for virtuous growth in the long term.
During breaks between talks attendees were encouraged to learn more about each company, which had HR managers on hand to meet with aspiring new hires. Symrise invited students and young professionals to submit a sustainable-themed initiative that will result in one or two internship opportunities.
NBSI's fourth master class is already in the works and set for Sept. 9, 2020 at The Royal Institution of Great Britain, in London.
Photo credit: Francois Goize