Miss Pop x OPI x M Missoni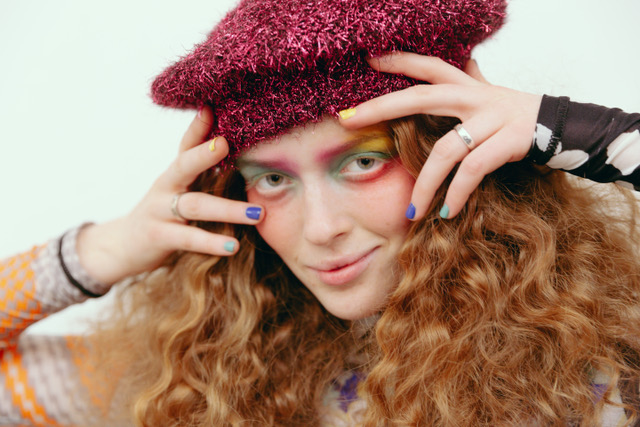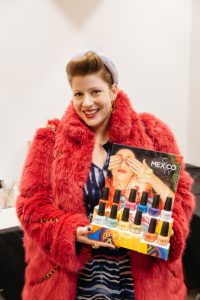 Editorial Nail Artist and lead, Miss Pop, created colorful custom manicures for M Missoni's Fashion Week Presentation yesterday. The looks featured a variety of OPI Nail Lacquer shades from the new Mexico City Collection. The 60-plus group of models included a large group of male models – and non-models – who all donned colorful OPI manis. 
Inspiration for the nail art looks came from M Missoni's signature pattern knitwear. One nail art look included daisies, inspired by the translation of Margherita Missoni's first name, in Italian. Those not featuring artwork, showcased five (5) solid shades from the Mexico City Collection – one on each nail. "It was a blast because this show was non-traditional," explains Miss Pop. "The takeover of the iconic Pink's Hot Dogs was a color explosion and OPI was a big part of that magic."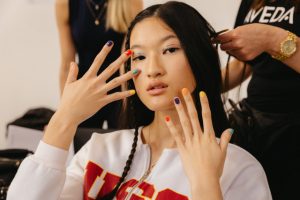 ***M MISSONI GET THE LOOK***
STEP 1: Start by applying 2 coats of OPI Nail Lacquer to the nail
OPI Nail Lacquer in Mariachi Makes My Day

OPI Nail Lacquer in Don't Tell a Sol

OPI Nail Lacquer in Telenovela Me About It

OPI Nail Lacquer in Mi Casa Es Blue Casa

OPI Nail Lacquer in Verde Nice to Meet You
STEP 2: Next, add designs using an OPI art brush (or a toothpick) to nail tip. To create M Missoni's knitwear inspired lines: "You can brush out the colors on a palette or piece of tin foil first, if desired, then make simple strokes across the nail in each color. I clustered them in groups like the Missoni look," says Miss Pop.    
STEP 3: Finish the look with an OPI Top Coat and finish with Rapid Dry Spray.