Arcade Beauty Offering Contact-Free, Single-Use Sampling Solutions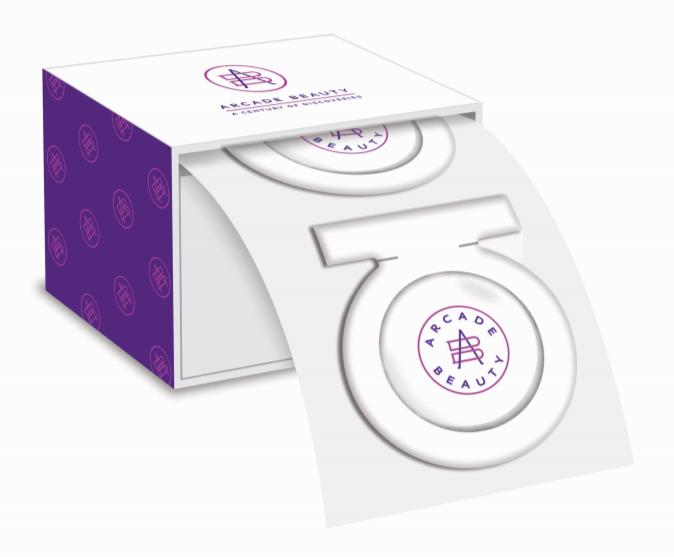 Arcade Beauty — the global leader of sampling solutions for the beauty industry, leverages its comprehensive portfolio of innovative, patented sampling technologies to offer contact-free, single-use solutions to the beauty industry. 
In a post COVID-19 world, hygienic trial will take on new importance, as brands and retailers alike prioritize safe and healthy practices in-store. 
Amid the uncertainty, it has become abundantly clear that traditional product testing methods at counter are sure to change both short and long term. Arcade Beauty's customizable, individual, hermetically sealed samples offer safe, single-applications of product, whether it be for fragrance, makeup, or skincare. 
Beyond the retail counter, Abeo, their in-house agency, can help brands stay connected to consumers and reach them at home through sampling via social media. In this unique market climate, there's a need for brands to think differently about how to maintain and build relationships with consumers.  Brands partner with Abeo to send targeted samples directly to consumers at home.
Below are a variety of key single-use, contact-free samples offered by Arcade Beauty for each beauty category…
FRAGRANCE
ScentTalker™: Self-Service Sample Dispensing
The easy to use fragrance dispenser allows customers to grab your scent and go – no assistance required.
Available in ScentStrip® or Stand-Alone LiquaTouch®, complete with dispensing box to sit conveniently on-counter.
COLOR COSMETICS
BeautiSeal®: Shade Matching Made Simple
The BeautiSeal® samples a wide variety of formulas and can be affixed to accompanying marketing materials or offered in a stand-alone format (no card required)! The stand-alone BeautiSeal® is the quickest, most economical option to produce in bulk and is available in single, dual, or triple. Available in multiple sizes, the BeautiSeal® can accommodate up to 12 different formulas on one label.
SKINCARE
BeautiPod®: Offering a Full Product Application
The patented BeautiPod® is offered in two ways. It can be permanently attached to a card, allowing the sample and marketing materials to stay together.
Or available on a roll, for easy self-dispensing at retail. This solution is available in several shapes and sizes, and has an easy-to-use spout that dispenses product precisely. 
A significantly faster development time versus packet, thanks to an efficient manufacturing process.
Can accommodate larger fill volumes (up to 20ml).
"We have been communicating with all of our clients over the last few weeks and the message has been very consistent.  The retail experience will need to be very different when the country starts to open up again.  As "contact-free" will be the new normal, in-store trial will need to be single-dose, limiting exposure for the consumer.  The virtual beauty consultant will be critical, but the need for actual product trial will always be necessary.  As Arcade Beauty has multiple options for economical single-dose sampling for literally every beauty product, including hard to sample mascaras, we are here to offer our clients whatever support they need," states Larry Berman, Senior Vice President Sales, North America
"There is a seismic shift taking place in the world right now.  As it pertains to the beauty industry, our clients need to be extremely conscious of safety first when sampling their products, whether it be for fragrance, cosmetic or skincare.  The days of dipping an applicator into a lipstick, eyeshadow or foundation are gone.  So are the days of picking up a bottle of fragrance to sample it.  At Arcade Beauty, we have developed what we are calling no-contact sampling, which is done via individual, hermetically sealed samples which can contain anything from color cosmetics (including powders such as blush and eye shadow) to lip colors, and skincare products.  In fragrance, we also have a range of products, from scent samples to skin testers, we offer various single-use application options.
"With retail stores shuttered for the time being, our clients are searching for new ways to sample. I believe in what's old is new again, and to that end, I believe we will see a resurgence of our magazine ScentStrip® business coming back.  It's still an economical, efficient way to allow people to smell a fragrance in a clean environment," states  Diane Crecca, Senior Vice President, Fragrance Business Unit, Business Development and Corporate Relations
Arcade Beauty's list of sampling solutions by beauty category and product include:
FRAGRANCE
ScentStrip®, DiscCover®, ScentSeal®, LiquaTouch®, Vial/Vial-on-Card, Rollerball, Spray Pen, Visual Fragrance™, Blotter Cards, Scented Paper
FRAGRANCED ANCILLARIES
MAKEUP
Lipstick: Kiss-A-Peel®, LipSeal®, Thermoform

Lip Gloss: Thermoform, Sampling Stix

Foundation: BeautiSeal®, BeautiPod®, Thermoform, Packette

Concealer: BeautiSeal®, Thermoform

Primer: BeautiPod®, BeautiSeal®, Thermoform

Loose Powders:

 

Thermoform Sifter

Pressed Powder: ShadeSeal®

Powder Blush and Bronzer:

ShadeSeal®   

Cream Blush and Bronzer: Thermoform

Eye Shadow: ShadeSeal® 

Mascara: Mini Mascara 
SKINCARE
Cream, Lotion, Gel, Serum: BeautiPod®, BeautiSeal®, Packette, Thermoform

Oil:

 

BeautiPod®, Packette, Rollerball, Thermoform, Vial, Rollerball

Cleanser, Toner: LiquaTouch®
Note: If two formulas (serum, oil, cream, toner) must be kept separate and be mixed immediately before use, the Fusion Pack offers formula separation and controlled mixing.
Arcade Beauty also offers a variety of mini products such as tubes, bottles, jars, and mini drip.
With over a century of expertise, Arcade Beauty is dedicated to the creation of meaningful discovery experiences for the beauty and wellness industry. As the leader in our field, we are committed to continuous innovation while providing expert quality, value and service to deliver influential moments to our clients. Our combination of unique industry knowledge, global manufacturing capabilities and patented technologies allow us to deliver solutions that engage and drive results. We treat our clients' goals and challenges as our own.
For more information, please contact:
Larry Berman at Arcade Beauty: larry.berman@arcadebeauty.com
Diane Crecca at Arcade Beauty: diane.crecca@arcadebeauty.com