The Estée Lauder Companies Partners with Howard University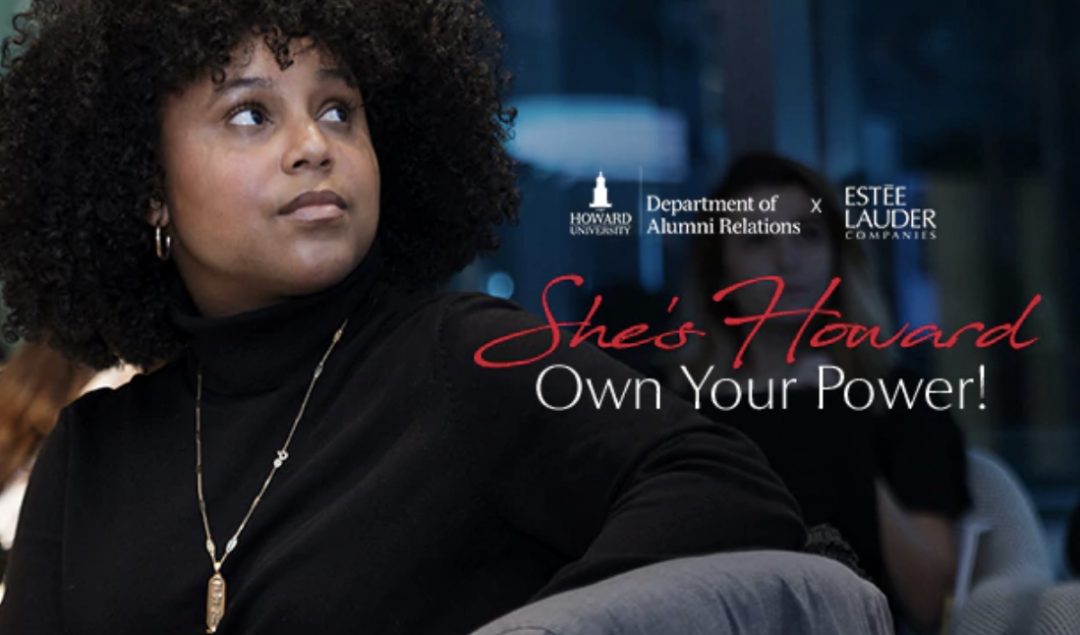 The Estée Lauder Companies (ELC) and Howard University have announced a partnership to support the success of the University's alumnae through experiential learning, career coaching, professional training and self-empowering mentorship opportunities.
The new program, titled "She's Howard: Own Your Power," will kick off in March 2021. It will engage self-identifying female graduates with virtual networking events, a lecture series and seminars on relevant industry topics. Discussions will focus on balancing personal and professional responsibilities, navigating the challenges Black women face in the workplace, skills for approaching salary negotiations and more.
"As an alumna of Howard University, I understand how valuable the Howard experience is, and I am especially inspired by the support we get from the Howard network long after graduating," said Sharon Strange Lewis, Director of Alumni Relations, Howard University. "She's Howard: Own Your Power is our opportunity to double down on that support network. I could not be more excited that The Estée Lauder Companies has partnered with us to bring this program to life."
ELC Support for Historically Black Colleges and Universities (HBCU)She's Howard: Own Your Power builds on ELC's relationship with Howard University beginning in 2018 through increased focus on HBCU recruiting and Howard's 21CAP program. 21CAP is a program that connects Howard University Business School freshmen to corporations by aligning groups of students to a particular company and exposing them to team building exercises, personal and professional development sessions and networking opportunities throughout their academic year. The program is also representative of ELC's ongoing Racial Equity commitments to double recruitment of employees and interns from HBCUs, establish stronger partnerships with Black organizations and meaningfully support external organizations and nonprofits pushing for systemic changes and racial and social justice.
Howard University students at ELC's M·A·C Cosmetics office in 2019
"I am delighted to serve as the executive sponsor for She's Howard: Own Your Power," said Nicole Monson, Senior Vice President and Deputy General Counsel, The Estée Lauder Companies, and a graduate of Howard University School of Law."My HBCU experience, like no other experience I've had, prepared me not just for my career, but for life," Monson continued. "It instilled in me a confidence that I can handle anything that comes my way because I was prepared, in large part by what I learned during my matriculation. I have no doubt that my career and the opportunities I've had in corporate America are largely attributable to my HBCU experience."Attracting Diverse Talent

The launch of She's Howard: Own Your Power underscores ELC's commitment to Racial Equity, a pledge the company made in June 2020. The commitment aligns with its vision of becoming the most inclusive and diverse beauty company in the world and standing in solidarity with its Black employees, Black consumers and Black communities at large.

"HBCU alumni continue to emerge as some of the most elite and diverse talent," said Kristina Coppolino, Inclusion and Diversity Talent Lead, Global Talent, The Estée Lauder Companies. "We are excited to launch this inaugural program with Howard University as an important step toward deepening our relationship with an alumni community rich in culture, intelligence and diversity."

On February 26, 2021, Howard University will hold a virtual event for alumni, faculty and students that will set the stage for launching She's Howard: Own Your Power. Monson and Strange Lewis will participate and share the collective vision and perspectives that led to this exciting new program.