The Fragrance Lovers: A Video Series by MAISON CHRISTIAN DIOR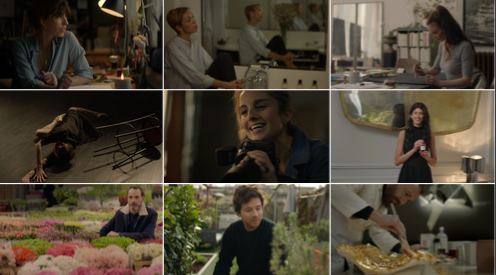 MAISON CHRISTIAN DIOR PRESENTS PLACES THROUGHOUT THE WORLD THAT ARE OPEN TO EVERY OLFACTIVE POSSIBILITY. BOUTIQUES DECORATED WITH CLEAN LINES OFFER PERFUME BOTTLES, SOAPS, CANDLES, AND OTHER SCENTED DELIGHTS FROM A UNIVERSE DEDICATED TO PERFUME LOVERS. WE WANTED TO SHARE THIS DECLARATION OF LOVE TO PERFUME, WHICH HAS ALWAYS BEEN A PART OF US, WITH OTHERS WHO FEEL THE SAME – IN OTHER WORDS, WITH FRAGRANCE LOVERS WHO ALL HAVE A PASSIONATE LOVE OF PERFUME IN COMMON.
FOR MAISON CHRISTIAN DIOR, LOU DOILLON, MATHILDE FAVIER, CHARLOTTE LE BON, MARIE-AGNÈS GILLOT, SONIA SIEFF AND SOPHIE VOUZELAUD AS WELL AS PIERRE BANCHEREAU, JEAN IMBERT AND MATHIAS KISS GENEROUSLY SHARE THEIR OLFACTIVE TASTES AND MEMORIES. STEEPED IN A COOL AND STYLISH PARISIAN ATMOSPHERE, THESE NINE FILMS ARE AS UNSTINTING AS THE EXCEPTIONAL AND TOUCHING PORTRAITS OF THOSE WHO PROCLAIM THEIR LOVE OF PERFUME.
LOU DOILLON
SINGER-SONGWRITER, ACTRESS, AND SPOKESMODEL LOU DOILLON IS THE DAUGHTER OF JANE BIRKIN AND FILMMAKER JACQUES DOILLON. SHE HAS APPEARED IN MORE THAN A DOZEN FEATURE FILMS, AND ALSO RECEIVED A VICTOIRE DE LA MUSIQUE AWARD IN 2013 FOR HER ALBUM "PLACES," AND THEN IN 2015 FOR "LAY LAW." AN ALL-ROUND ARTIST, SHE ALSO PUBLISHED "DRAWINGS," A BOOK OF INK DRAWINGS, IN 2017. THE MULTI-TALENTED LOU DOILLON INVITED US INTO HER PARIS APARTMENT WHERE SHE SHARED HER OLFACTIVE EMOTIONS WITH US. DELICIOUS AROMAS OF COOKING, THE MAGIC OF BOOKS BEING OPENED, AND THE EMOTIONAL IMPACT OF A VINYL RECORD: HER WORLD IS A REFLECTION OF HER ECLECTIC AND SENSITIVE CHARACTER. LOU DOILLON CHOSE THE "BOIS BRÛLÉ" CANDLE.
MATHILDE FAVIER
PUBLIC RELATIONS DIRECTOR IN CHARGE OF CELEBRITIES WORLDWIDE FOR CHRISTIAN DIOR COUTURE, MATHILDE FAVIER GREW UP SURROUNDED BY THE GREAT NAMES OF THE FASHION MILIEU. WARM AND RADIANT, SHE HAS BUILT UP ONE OF THE MOST IMPRESSIVE ADDRESS BOOKS IN PARIS AND HAS NUMEROUS FAMOUS FRIENDS. SHE HERSELF IS A GENUINE LESSON IN STYLE, AND HER LOOK IS A MANIFESTO FOR THE FAMOUS "PARISIAN CHIC." THE PERSONIFICATION OF FRENCH ELEGANCE, MATHILDE FAVIER REVEALS THE REFINED INTERIOR OF HER PARIS APARTMENT AND HER SUBTLE OLFACTIVE MEMORIES. TUBEROSE, VIOLET, AND POWDERY SCENTS ARE PRECISELY RECALLED. A WARM AND GRACIOUS PORTRAIT REVEALS A FASHION WOMAN WHO PROCLAIMS HER LOYALTY TO HER SCENT. MATHILDE FAVIER CHOSE "BELLE DE JOUR" PERFUME.
CHARLOTTE LE BON
THE PRETTY QUEBECOIS ACTRESS, WHO IS ALSO A TALENTED ILLUSTRATOR, BEGAN MODELLING AT THE AGE OF 16. SHE WAS THEN THE SPIRITED MISS MÉTÉO ON THE CANAL PLUS "GRAND JOURNAL" PROGRAMME, BEFORE GOING ON TO APPEAR ON THE BIG SCREEN IN "ASTERIX AND OBELIX: GOD SAVE BRITANNIA" BY LAURENT TIRARD IN 2012. THIS WAS FOLLOWED BY ROLES IN FRANCE AND ABROAD IN "MOOD INDIGO" BY MICHEL GONDRY, "YVES SAINT LAURENT"BY JALIL LESPERT, AND MORE RECENTLY, "THE PROMISE" BY TERRY GEORGE. DOES SPACE HAVE A SMELL? THE POETIC AND PASSIONATE YOUNG ACTRESS REVISITS SMELLS THAT HAVE TOUCHED HER WITH COMPELLING FRANKNESS. SHE IS GRACIOUS AND BUBBLY, TELLING US THAT SHE LOVES WHITE SUMMER FLOWERS, THE MEMORY OF THE MONOÏ OIL THAT HER MOTHER USED, AND THE SCENT OF WOODEN PENCILS FROM HER CHILDHOOD. SHE ALSO HUMOROUSLY DETECTS A SCENT SHE ADORES IN HER OWN SNEEZES… CHARLOTTE LE BON CHOSE "THÉ CACHEMIRE" PERFUME.
MARIE-AGNÈS GILLOT
DANCER, CHOREOGRAPHER, AND ÉTOILE AT THE OPÉRA DE PARIS, MARIE-AGNÈS GILLOT IS THE FIRST DANCER TO HAVE BEEN MADE AN ÉTOILE AFTER A PERFORMANCE IN A CONTEMPORARY BALLET, "SIGNES," BY CAROLYN CARLSON. STANDOUT PERFORMANCES FROM THIS VERY GREAT ARTIST INCLUDE MAURICE BÉJART'S "BOLERO,"AND PINA BAUSCH'S "ORPHEUS AND EURYDICE." PASSIONATE ABOUT FASHION, SHE IS CLOSE TO THE MAJOR LUXURY HOUSES SUCH AS DIOR WITH WHOM SHE WORKS REGULARLY. INTENSE AND POETIC, THE GREAT MARIE-AGNÈS GILLOT OPENS THE DOORS TO THE OPÉRA DE PARIS. WE GO BEHIND THE SCENES, PLUNGED INTO THE MYSTERY OF THIS TEMPLE OF DANCE, WHERE SHE RECALLS THE SCENTS OF HER LIFE WITH EQUAL PARTS HUMOUR AND SINCERITY. WAXED WOODEN FLOORS AND ROLLED UP FABRICS RUB SHOULDERS WITH THE SMELL OF HER SON'S AFTERNOON TEA AND THE SCENTS OF NATURE. EACH SCENT IS A SMILE, AND EVERY MEMORY ILLUSTRATES THE UNIQUE WORLD OF THIS IMMENSE ARTIST. MARIE-AGNÈS GILLOT CHOSE "DIORISSIMA" PERFUME.
SONIA SIEFF
A FASHION PHOTOGRAPHER AND SPOKESMODEL SOUGHT OUT BY MAJOR LUXURY AND COSMETICS HOUSES, SONIA SIEFF IS THE PERFECT EMBODIMENT OF THE OFT-EVOKED PARISIAN STYLE. THE DAUGHTER OF PHOTOGRAPHER JEANLOUP SIEFF, THIS ECLECTIC TRAVELLER PUBLISHED HER FIRST BOOK, "LES FRANÇAISES" IN 2017 WITH RIZZOLI. IN IT, 155 PHOTOGRAPHS OF FEMALE NUDES PRESENT A MANIFESTO FOR BEAUTY AND FREEDOM. SHE STARTS BY EVOKING SCENTS LINKED TO THE MEN SHE LOVES: THE LEATHER OF HER FATHER'S CAR, HER SON'S CLOTHES, A TEE-SHIRT, ETC. PERFUME IS SECOND NATURE FOR THIS SENSUAL WOMAN OF IMAGES WITH THE STYLE OF A FILM STAR. SHE DETECTS AN UNUSUAL SMELL IN THE FLASH OF HER CAMERA, AND LIKES THE WARM SCENT OF NIGHTS WHERE ANYTHING GOES. SONIA SIEFF CHOSE "AMBRE NUIT" PERFUME.
SOPHIE VOUZELAUD
MODEL, ACTRESS, AND WRITER SOPHIE VOUZELAUD FIRST CAME INTO THE PUBLIC EYE WHEN SHE WON THE MISS LIMOUSIN TITLE IN 2006. SHE WAS THEN VOTED FIRST RUNNER UP IN THE MISS FRANCE 2007 CONTEST. DEAF FROM BIRTH, SHE SPEAKS SIGN LANGUAGE AND HAS ALSO LEARNED TO SPEAK AND LIP-READ. SHE PUBLISHED "MISS ET SOURDE !" (A BEAUTY QUEEN AND DEAF!) (2008), APPEARED IN THE FILM "THE PERFECT DATE" (2010), TOOK PART IN "DANCING WITH THE STARS" ON TF1 (2015), AND IN "LA ROBE DE MA VIE" (THE DRESS OF MY LIFE) ON M6 (2017). THE SMELLS OF THE SUN, THE SEA, AND THE SAND GIVE HER CONFIDENCE. GRACIOUS AND LUMINOUS SOPHIE VOUZELAUD DRAWS ON HER MEMORIES TO GIVE US AN INCREDIBLY POETIC DESCRIPTION OF HER OLFACTIVE SENSATIONS. HER ARMS WHIRL THROUGH THE AIR AS HER HANDS EMPHATICALLY SIGN THE IMPORTANCE OF CHILDHOOD SMELLS. "IF THERE IS NO SMELL, THERE IS NO LOVE!" SHE SAYS. SOPHIE VOUZELAUD CHOSE "JASMIN DES ANGES" PERFUME.
PIERRE BANCHEREAU
IN RECORD TIME, PIERRE BANCHEREAU, THE DEBEAULIEU FLORIST, HAS BECOME SOUGHT AFTER IN THE FASHION AND LUXURY WORLD FOR HIS SIGNATURE CREATIONS. INSPIRED BY FLEMISH PAINTING AS MUCH AS THE VASES AND DECORATIVE OBJECTS HE COLLECTS FOR HIS FLOWERS, HIS POETIC BOUQUETS HAVE ALREADY ILLUSTRATED FOUR MAISON CHRISTIAN DIOR FRAGRANCES: SAKURA, LUCKY, ROSE GIPSY, AND SOUFFLE DE SOIE. HIS BOUQUETS ARE POETRY, YET HE HIMSELF PREFERS CITRUS SCENTS. PIERRE BANCHEREAU IS THE FLORIST AT DEBEAULIEU, NAMED FOR HIS BELOVED GRANDMOTHER. HE VIVIDLY RECALLS THE SMELL OF HER HAIRSPRAY AND THE GOLDEN COLOUR OF HER HAIR. EACH OF HIS PRECISE MOVEMENTS IS IMBUED WITH ELEGANCE, AND THIS STYLISH PARISIAN ASPIRES TO MAKE A FRENCH SKILL LIVE ON, IN A MODERN WAY. PIERRE BANCHEREAU CHOSE "BALADE SAUVAGE" PERFUME.
JEAN IMBERT
YOUNG STAR CHEF JEAN IMBERT WON SEASON 3 OF M6'S REALITY TV COOKERY SHOW, TOP CHEF, IN 2012. TRAINED AT THE INSTITUT BOCUSE IN LYON, HE OPENED HIS FIRST RESTAURANT, "L'ACAJOU" IN PARIS IN 2004, WHICH WAS FREQUENTED BY NUMEROUS CELEBRITIES. SINCE 2017 HE HAS PRESENTED THE TV SHOW "QUI SERA LE PROCHAIN GRAND CHEF PÂTISSIER?" (WHO WILL BE THE NEXT GREAT PATISSERIE CHEF?) ON FRANCE 2. FOLLOWING HIS "LES BOLS DE JEAN" CHAIN OF RESTAURANTS IN PARIS, HE IS PREPARING TO OPEN A NEW RESTAURANT IN NEW YORK NAMED "ENCORE."JEAN IMBERT EMPHASIZES THAT SMELLS TAKE TIME. THE STAR CHEF WOULD LIKE MORE THAN ANYTHING TO CAPTURE THE SMELLS OF HIS NATIVE BRITTANY – SEA AIR, GRILLED FISH AND COASTAL PINES – IN A BOTTLE. HE HAPPILY REVEALS HIS PARISIAN PARADISE, WHICH TAKES THE SHAPE OF AN URBAN VEGETABLE GARDEN THAT HE LOVES MORE THAN ANYTHING ELSE, RIGHT IN THE MIDDLE OF THE 16TH ARRONDISSEMENT. HIS MEMORIES ARE LINKED TO THE KITCHEN NOISES THAT HAVE BEEN WITH HIM SINCE CHILDHOOD, AND TO THE WARM, CONVIVIAL ATMOSPHERES THAT HE LIKES TO PRECISION-CRAFT WITH HIS BRILLIANT CUISINE OF COURSE, AND ALSO WITH SCENTED CANDLES. JEAN IMBERT CHOSE THE "BOIS D'ARGENT" CANDLE.
MATHIAS KISS
HAVING SPENT 15 YEARS TRAINING WITH THE COMPAGNONS (TOURING APPRENTICES), MATHIAS KISS IS A CONTEMPORARY ARTIST WHO REFLECTS ON THE DECONSTRUCTION OF A CLASSICAL HERITAGE AT THE CROSSROADS OF PAINTING, SCULPTURE, AND ARCHITECTURE. IN 2002 HE AND OLIVIER PIEL SET UP A STUDIOWORKSHOP NAMED ATTIALOU, WHICH BECAME A SPACE FOR RESEARCH, INSTALLATIONS, PERFORMANCES, AND STAGE DESIGN. IN 2008 HE CREATED A SENSATION WITH HIS PIECE "SANS 90 DEGRÉ." HIS WORK IS CURRENTLY ON DISPLAY IN HERITAGES AT THE REGIONAL CONTEMPORARY ART CENTRE, L'AR[T]SENAL DREUX, FROM MAY 4 – SEPTEMBER 16 2018, AND WAS RECENTLY IN PARIS, WITH NEW LIGHTS FROM APRIL 5 – JUNE 30 2018 AT THE GALERIE LÉAGE. CHILDHOOD SMELLS OF PETROL STATIONS, TURPENTINE AND WAXED WOODEN FLOORS COME BACK TO HIM. TODAY, THE DAILY LIFE OF THIS "2000%" URBANITE IS DOMINATED BY THE CHEMICALS HE USES IN HIS CREATIONS. SPORTY SMELLS OF CAMPHOR ALSO FIGURE FOR THIS ARTIST WHO SPENT LONG YEARS TRAVELLING AND STUDYING WITH THE COMPAGNONS, BUT WHO ALSO SHONE AT THAI BOXING. FOR THE FRANCO-HUNGARIAN, THE SMELL OF THE RAIN ON THE TARMAC IS A POWERFUL EVOCATION OF PARIS. MATHIAS KISS CHOSE "COLOGNE ROYALE" PERFUME.
#maisonchristiandior @diorparfums