Lupita Nyong'o & Saoirse Ronan to feature in Calvin Klein Women Fragrance Campaign by Raf Simons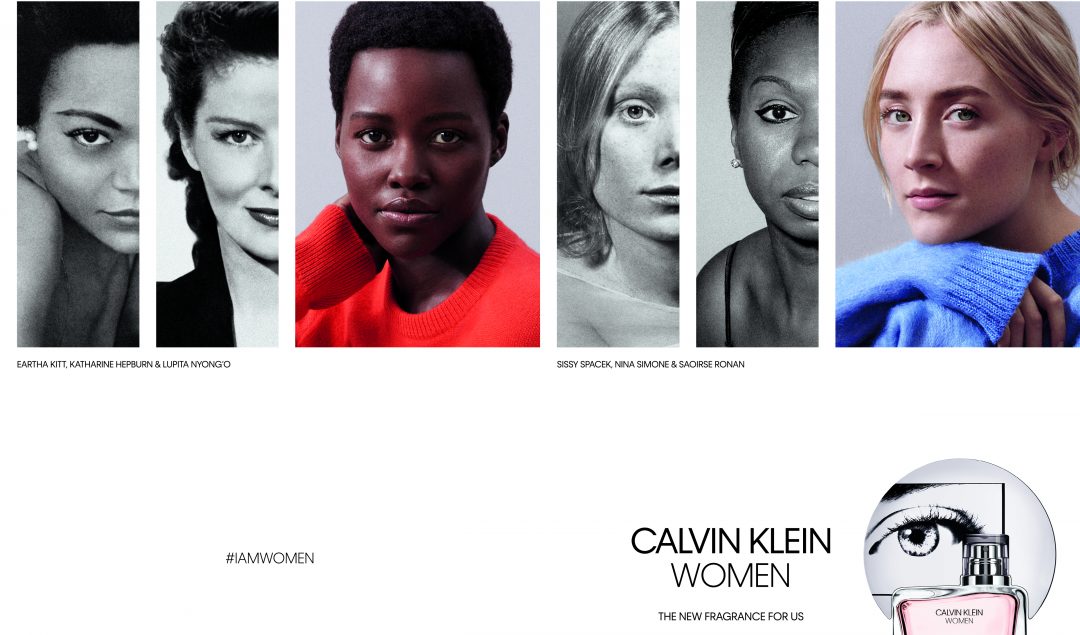 Calvin Klein Fragrances, a division of Coty Inc., revealed the worldwide print advertising campaign for the new fragrance CALVIN KLEIN WOMEN, the first CALVIN KLEIN fragrance to be developed under the vision of Chief Creative Officer, Raf Simons.
The campaign features Lupita Nyong'o and Saoirse Ronan. Award-winning actors and voices of their generation, both women are universally recognized for their unique talent, creativity, intelligence and strength of character.
Directed by artist Anne Collier with creative direction from Lloyd & Co., the campaign champions iconic women and celebrates heroines of contemporary culture. Lupita and Saoirse are featured in the print campaign, in a pair of striking and direct portraits, positioned next to chosen figures from the past who have inspired them – icons of femininity that have shaped their identities, as creatives, and as women. Lupita is featured next to singer and multi-dimensional performer Eartha Kitt and celebrated American actor Katharine Hepburn, and Saoirse is featured with award-winning actor Sissy Spacek and award-winning singer and civil rights activist Nina Simone.
"With this fragrance, we wanted to put the concept of plurality center stage. The campaign is an exploration of femininity – a group of women bonded by a common thread; the desire to have the power to create their own identity, and to support and lead the way for those that come after them." said Raf Simons, Chief Creative Officer, Calvin Klein. "CALVIN KLEIN WOMEN is inspired by the transmission of strength and inspiration from one woman to the next; by plurality combined with individuality; freedom of expression; and the notion that the collective is as vital as the individual."
Devised by perfumer Annick Menardo and master perfumer Honorine Blanc. Delicate orange flower petals, fresh eucalyptus acorns, and a rich Alaskan cedarwood are combined with black pepper and lemon Sfuma, a bouquet of Magnolia Grandiflora and Jasmine Absolute, and the seductive strength of Olibanum essential oil and Ambrox® Super.
Lupita and Saoirse will also be featured in the CALVIN KLEIN WOMEN television campaign, directed by Anne Collier in New York City, and debuting worldwide later this summer.
Lupita made her feature film debut in 12 Years a Slave, and received the Academy Award® in the category of Best Supporting Actress as well as multiple accolades including the Screen Actors Guild Award®, the Critics' Choice Award®, the Independent Spirit Award®, NAACP Image Award® and the 2013 Hollywood Film Awards® New Hollywood Award for her performance. She went on to star in numerous critically acclaimed films including Star Wars: The Force Awakens, Queen of Katwe and Black Panther. She has a number of upcoming projects including Us, The Killer, Born a Crime, 355, The Woman King, and Americanah.
Saoirse — a Golden Globe® winner and three-time Academy Award® nominee, broke into Hollywood at the age of thirteen with her critically acclaimed performance in wartime drama Atonement, garnering her first Academy Award® nomination. She has since earned two additional nominations for her memorable performances in Brooklyn and Lady Bird. This fall, Ronan can be seen playing the title role in Mary, Queen of Scots.
The CALVIN KLEIN WOMEN fragrance is a play of contrasts, as infinitely varied as the personas of the women who inspire it. A woody floral, it fuses strength with fragility, freshness with sensuality. The light pink-hued fragrance builds around three core ingredients – fresh eucalyptus acorns, delicate orange flower petals and rich Alaskan cedarwood. The flacon blurs the boundaries between art and fashion, fusing quotes from the visual language of contemporary photography with age-old notions of the feminine. It is redolent of a timeless femininity, with an ergonomically rounded shape in weighted glass and silver collar and pump, drawing on traditional fragrance archetypes. It simultaneously disrupts aesthetic codes and respects traditions – the graphic, oversized disc-shaped cap designed in collaboration with Raf Simons, a canvas for a photographic print by Anne Collier.
Over the past fifteen years the artist Anne Collier has developed a highly-focused body of work that considers the formal intersections and psychological entanglements of photography, material culture, and the self-help industries. Her work was most recently the subject of a solo exhibition at Anton Kern Gallery, New York (2018); and a survey exhibition at FRAC Normandie, Rouen, France (2018). She was the subject of a major traveling survey exhibition organized by the Museum of Contemporary Art, Chicago (2014), and her work will be the subject of a solo exhibition at the Sprengel Museum, Hanover, in fall 2018, that will travel to the Fotomuseum Winterthur, Switzerland. Collier's work is featured in the permanent collections of the Museum of Modern Art (New York), the Whitney Museum of American Art (New York), the Solomon R. Guggenheim Museum (New York), the Museum of Contemporary Art (Los Angeles), the Centre Georges Pompidou (Paris), and Tate (London), among others.
CALVIN KLEIN WOMEN is asking "Who are your women?" By using #IAMWOMEN, women around the world can pay homage to the females in their lives, who helped make them the individuals they are today by simply sharing a picture of those that inspired them. Photos can also be shared on calvinklein.com/IAMWOMEN.
CALVIN KLEIN WOMEN is available for sale on calvinklein.com, at CALVIN KLEIN retail locations, Harvey Nichols London Knightsbridge and on HarveyNichols.com.