2018 CEW Achiever Awards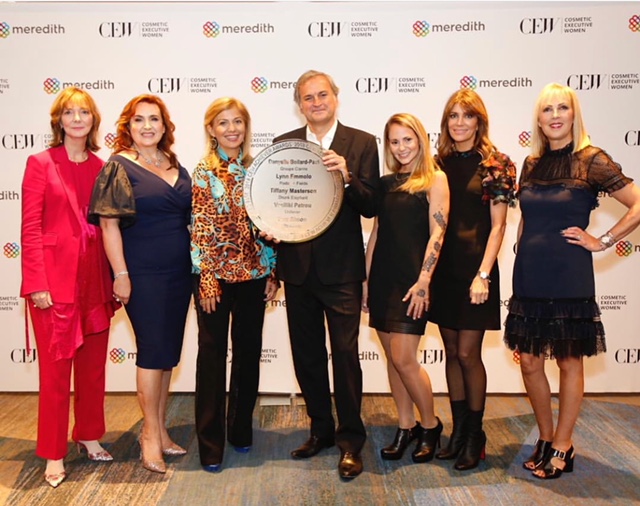 Cosmetic Executive Women (CEW) Honors Seven Industry Leaders
Annual Achiever Awards Celebrate Beauty MVPs and Inspire Future Leaders
On Friday, September 21st, Cosmetic Executive Women (CEW) celebrated the accomplishments of seven industry leaders –six women and one man, with its Achiever Awards Luncheon at the The New York Hilton Midtown.
Now in its 43rd year, the Awards honor women who have reached the highest levels of the beauty industry. They also serve as inspiration to CEW's now 10,000-plus members worldwide.
The 2018 Achiever Award honorees are: 
Danyelle Boilard Paul, EVP & General Manager, Groupe Clarins USA,

who has overseen its portfolio of skincare, cosmetics and fragrance brands in the U.S. and Canada since 2002;

Lynn Emmolo, Chief Global Officer, Rodan + Fields,

who has spent 30 years leading beauty brands like L'Oréal, Avon and Rodan + Fields, into new markets internationally;

Tiffany Masterson, Founder & Chief Creative Officer, Drunk Elephant, whose passion for learning about beauty products' composition inspired the development of trending indie products that improve skin health;

   

Vasiliki Petrou, Global EVP Prestige, Personal Care, Unilever,

who has led socially conscious campaigns across Unilever's Prestige Personal Care portfolio for more than two decades; and

Tara Simon, SVP, Merchandising, Ulta Beauty,

who channeled a love for the industry into her work at Ulta Beauty and a commitment to empowering other women.
In addition, CEW will present the Scent Innovator Award to Shoval Shavit Shapiro, Founder and Chief Creative, Amkiri, for her creation of a long-lasting fragrance 'ink' that is applied to the skin as body art.
And, for the first time, CEW will recognize the contributions of a male leader's advancement of women. The inaugural MEN-tor Award will be presented to Marc Rey, President and CEO, Shiseido Americas, for his role in advocating for and increasing the presence of female leaders.
"CEW was founded with a singular vision of helping women in the beauty industry achieve, advance and inspire," says CEW President Carlotta Jacobson. "We're delighted to continue to honor our members' accomplishments and contributions through our Achiever Awards. This month we reached a significant milestone – 10,000 members internationally – whom we will continue to empower and support as they pursue leadership roles in the beauty community."   
In keeping with that commitment, CEW has invited the winners of its 2018 Top Talent Awards to share the dais at the Achiever Awards luncheon. The Top Talent Awards, which were presented in April, recognize the accomplishments of women at mid-career.
The 2018 Top Talent Award recipients are: Brooke Banwart, Vice President/DMM, Fragrance, Sephora; Doreen Bucher, Vice President, Global Marketing, Fine Fragrance, Symrise; Barbara Green, Head of Research & Development, NeoStrata Company Inc. (J&J); Molly Landman, Global Brand Director, Love Beauty & Planet and ApotheCARE Essentials, Unilever; Rukeyser Thompson, Senior Manager & Section Head, P&G Hair Research & Development, P&G; Ada Lien, Senior Vice President, Global Marketing, La Mer; and Sophie Lilly, Vice President, Global Business Development, Urban Decay (L'Oréal).
The event was sponsored by Meredith, IFF, Arcade Beauty, 24 Seven, Beauty IQ, Nordstrom Beauty, Wells Fargo Securities, Sephora, Tarte, IT Cosmetics, Anisa, Fusion PKG, Beauty Inc, Coty, Array, Stila, WWD, Consultancy Media, Badger & Winters, Moblty, Urban Warrior, Suite K, Walgreens and Kaplow Communications.
CEW is an international organization of 10,000 individual members representing a cross section of beauty and related businesses. The composition of membership includes leading & indie brands, retailers, the media and suppliers. CEW's primary purpose is to provide programs online and in person to develop careers and knowledge of the beauty industry. CEW provides opportunities to connect and gain industry knowledge through networking events, trend reports, industry newsletters, interactive workshops and industry leader talks.
For more information, visit https://www.cew.org/.