Start the New Year off with Elemis Starter Kits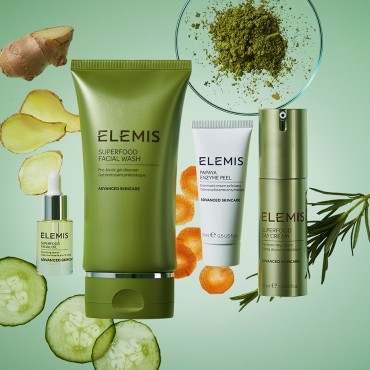 Put your best face forward for 2019! Start your skin off right this year with the NEW ELEMIS Starter Kits. To celebrate the new year & save your post-holiday skin, ELEMIS has created four expertly curated skincare systems, packed full of potent ingredients from above and below the earth's surface. Each unique set features signature ELEMIS products and is designed to tackle specific skincare concerns for a radiant, healthy glow.

ELEMIS Starter Kits                     
Restore, Refresh, Renew ($75, Elemis.com) – Synchronize your skin with the power of Peptide4 for a well-rested look, day or night.
Includes: Gentle Foaming Facial Wash (Full Size), Peptide4 Eye Recovery Cream, Peptide4 Night Recovery Cream & Peptide4 Thousand Flower Mask
A Smooth Start ($105, Elemis.com) – Take a shortcut to radiance with revolutionary Tri-Enzyme technology to exfoliate & even skin tone.
Includes: Dynamic Resurfacing Facial Wash (Full Size), Dynamic Resurfacing Facial Pads (Full Size), Dynamic Resurfacing Serum & Dynamic Resurfacing Gel Mask
Face a Firm Future ($135, Elemis.com) – Step into the new year with intensely hydrated & plumped
Includes: Pro-Radiance Cream Cleanser (Full Size), Pro-Collagen Super Serum Elixir, Pro-Collagen Marine Cream, Pro-Collagen Hydra-Gel Eye Masks
Healthy Kickstart ($45, Elemis.com) – A juice-cleanse for your skin! Nutrient-dense superfood ingredients leave skin with a lasting, plant-powered glow.
Includes: Superfood Facial Wash (Full Size), Superfood Facial Oil, Superfood Day Cream & Papaya Enzyme Peel