HARRY STYLES STARS IN GUCCI MÉMOIRE D'UNE ODEUR CAMPAIGN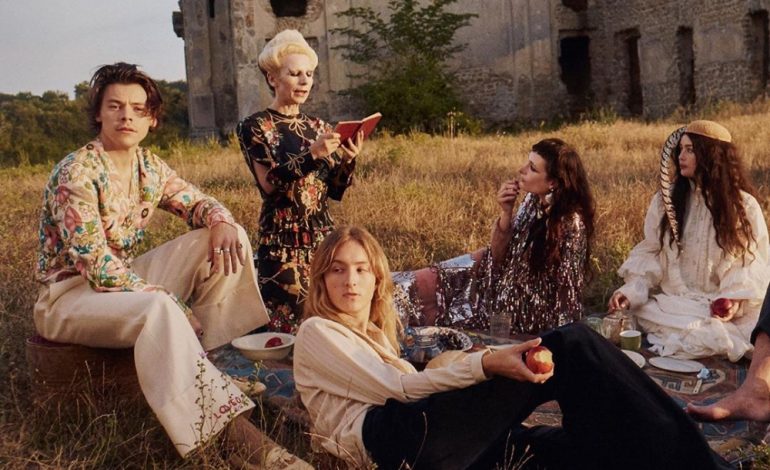 Singer, songwriter and actor Harry Styles stars in the new Gucci Mémoire d'une Odeur campaign.
The guiding element of the entire campaign is the idea of freedom; the idea of the non-era, the non-place, the non-social. I pictured a world that was a fresco of a 'mythological' life in which the family is a private community with its own social framework where total freedom of expression prevails and where the roles of people and things aren't clear. I pictured the memory of an authentic memory,"  states Alessandro Michele.
A gathering of a free-spirited family, who embrace life by living freely and making memories together, an idea by Alessandro Michele. In diverse settings on the outskirts of Rome, the family are captured dancing, picnicking at sun kissed ruins of Canale Monterano, and in and around their family home, Montecalvello Castle—a medieval castle featuring a fountain in a courtyard, and enigmatic frescoes inside and out. Director of the campaign Glen Luchford imbues the video and images with vibrant nostalgia, under the artistic direction of Christopher Simmonds. The print advertising campaign is composed like intimate photo albums, that show each member's character and their intimate rapport with one another.
Harry Styles leads the cast of the family, which includes an eclectic and universal mix of talents and models including:
Harris Reed (designer)
Zumi Rosow (designer and musician)
Ariana Papademetropoulos (artist)
Stanislas Klossowski de Rola (actor and musician) Olimpia Dior (artist)
Leslie Winer (model and musician)
Thomas Riguelle (model)
Tex Santos-Shaw (model)
Tessa Bruinsma (model)
Olga Zapivokhina (model)
Oleg Ulrich (model)
Matïss Rucko (model)
Mae Lapres (model)
William Valente (model)
Katea Gramma (model)
Unia Pakhomova (model)
Ellia Sophia (model)
Elibeidy Dani Martinez (model)
Cheikh Tall (model)
Aaron Sirainen (model)
Everything comes from my obsession with scents: my memory is primarily olfactive so, for me, my sense of smell is my memory. I thought that, deep down, perfume is that thing that even with your eyes closed, brings you to a precise moment in space and time. When we began to work on Gucci Mémoire d'une Odeur, I tried to imagine the recollection of a scent that couldn't easily be identified; a hybrid scent that resembles memory as much as possible, Alessandro Michele.
Scent is in our subconscious, attached to fragments of moments lived, coloring them with emotions of all-consuming joy, of intense love, or overwhelming sadness. A scent can gift a moment again, so an experience from the past can be relived in the now.
For a new Gucci fragrance story, scent becomes an explorer of the power of memories, bringing them back from the past and making them live in our present. Skipping backward and forward in chronological time, the present and past are connected by a unique bridge that projects directly into the future. Presenting a new universal Gucci scent. A perfume unassigned with a gender or a time. Presenting Gucci Mémoire d'une Odeur.
The fragrance
Gucci Mémoire d'une Odeur is an elixir that transcends gender by its individuality, to establish a new olfactive family, Mineral Aromatic. The transcendent accord features unexpected and enigmatic ingredients, and is defined by a note of Roman chamomile. Alessandro Michele envisioned this particular flower inside the scent, blended by Master Perfumer Alberto Morillas.
Gucci Mémoire d'une Odeur's Roman chamomile is structured with Indian Coral Jasmine petals for tenderness, precious musks for depth, and noble woods including warm, luminous sandalwood and airy, subtle cedarwood, a powerful tree with deep roots and an irresistible vanilla note.
Mineral Aromatic Family
Disrupting the traditional olfactive families that classifies fragrances, Gucci Mémoire d'une Odeur establishes a new modern fragrance category, Mineral, which is a mix of scents and emotions: airy, musky, transparent and authentic. Mineral was classically used to describe facets of some fragrances, and combined with Aromatic, it becomes the center of Gucci Memoire d'une Odeur.
The musky mineral accord is the keystone of the fragrance: it links all the other olfactive elements together with pure softness, Alberto Morillas.
The notes
"I had to think quite carefully about why Alessandro chose chamomile. When I started to work with the scent of chamomile itself, then I understood," Morillas said. "No one had done it before. Chamomile is known all over the world. Everyone has smelt it at some point, but as a dream, a memory of childhood, something timeless, and never in a fragrance. This flower is much underestimated and is a plant with an exceptional olfactive signature."
Roman Chamomile
Roman Chamomile has grown around Rome in terraced gardens since the 16th and 17th centuries. Giving a green aromatic scent, the sunny and hardy flower has an unparalleled character, radiating with joy to a sweet aromatic dry down with honey and green apple.
Indian Coral Jasmine Nature Print ®
A note exclusive to Gucci, collected in India, the star-shaped flower emits a more powerful scent and colors at night, remaining lighter and fresher during the day. Referred to as Queen of the Night, the official flower of Bengal, this unique quality of jasmine has a honeyed temper and an orangey coral-colored heart.
Gucci Mémoire d'une Odeur's dry down is an evanescent cloud, evolving on skin with a rhythm of Musks and iconic woods: Cedarwood and Sandalwood. The woody architecture of the fragrance brings intensity to its structure.
The bottle
Alessandro Michele discovered a vintage Gucci fragrance bottle, and was inspired by its design for Gucci Mémoire d'une Odeur's bottle. Grooved like a column from an ancient world, the bottle casts a refined silhouette in heavy transparent light green glass, crowned with shiny gold cap. Printed gold foil frames the label, revealing the Gucci logo together with the name of the fragrance.
The packaging
"The packaging comes from the past, inspired by an old Gucci perfume from the early 90s. I didn't want the bottle to take on a shape or size that is too feminine or too masculine because the perfume could be very much for women or very much for men," Alessandro Michele.
Symbolizing a starry night sky and the earthly world that gazes up at it in marvel, the perfume's green box is decorated with Celestial firmaments inspired by the paintings of Roman and gothic churches of the Middle Ages and Renaissance in Europe. This particular pattern recalls Giotto's frescoes in the Scrovegni Chapel in Padova.
Gucci Mémoire d'une Odeur 100ml $120
Gucci Mémoire d'une Odeur 60ml $95
Gucci Mémoire d'une Odeur 40ml $74
Gucci Mémoire d'une Odeur will be available beginning August 1st at Macy's, Saks Fifth Avenue and Sephora.