Viktor&Rolf Reveal Flowerbomb In The Sky Travel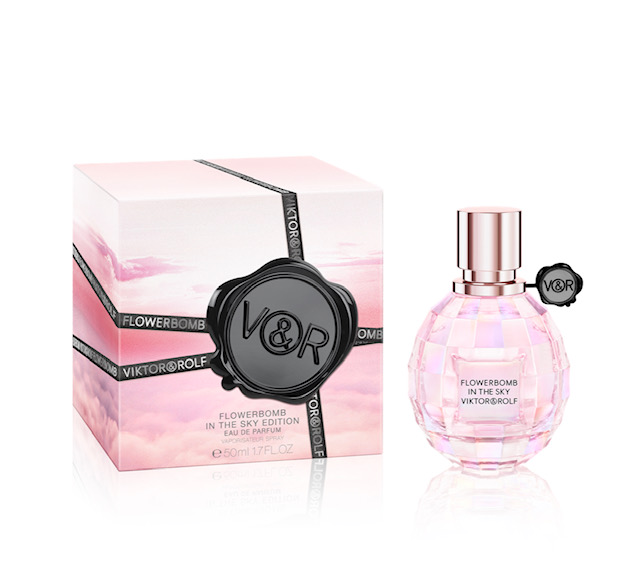 They dreamt of a fragrance with the power to spread a positive message… and now in the skies above Paris, Dubai, London and more, their dream takes new flight.
Altitude, latitude and above all positive attitude. Viktor&Rolf reveal Flowerbomb In The Sky Travel Exclusive Edition, the fresh floral citrus take of their best-selling scent. Playing on the strength of Flowerbomb's original explosion of thousands of flowers, Viktor&Rolf make Flowerbomb airborne with a propulsion of citrus modernity.
Unexpected glamour, provocative couture, Viktor&Rolf are the design duo who never travel the traditional road. Instead, from their artistic studio in Amsterdam they create "wearable art," redefining the very concepts of Haute Couture and Haute Fragrances to become known as fashion and fragrance artists. Now, their playful sense of exploration looks upwards for this exclusive Travel Retail Limited Edition; Flowerbomb In The Sky.
An icon born to travel
One of the three noses behind the seminal Flowerbomb original, perfumer Domitille Michalon-Bertier, IFF senior perfumer, worked with Viktor&Rolf to create Flowerbomb In The Sky Limited Edition. Recharging thousands of flowers with a zesty lift-off, top notes of bergamot essence and mandarin essence begin the ascent into a brighter, lighter floral citrus scent.
Top: sparkling fresh Bergamot Essence – sparkling acidulous Mandarin Essence – bitter, zesty and acidulous Grapefruit Essence.
Heart: powerful, fruity, green Blackcurrant Bud Absolute – floral, green, sharp joyful Lily of the Valley Accord – –the strength of millions of rose petals, fresh, floral Rose Essence.
Base: voluptuous, floral, white Sambac Jasmine Absolute – woody, intense, warm Patchouli Heart Essence.
Look to the skies
Holographic and dramatic, for Flowerbomb in the Sky Limited Edition, the original diamond-grenade bottle is given a twist to become even more facetted in pink-blue hues. While the striking Flowerbomb box is elevated with a cloud cover, in the same pink-blue skies color palette as the bottle. Available in a 50ml. version, this fragrance is ready to gift in an accompanying bag, elegantly customized to feature the skyline of the city they are in.
Something beautiful is in the air
Setting the scene at retail for this olfactory ascent, Viktor&Rolf take inspiration in the joy of an otherworldly way to travel; the surreal and fascinating world of hot air ballooning.
Providing a sense of place, Flowerbomb In the Sky Limited Edition celebrates the landscapes and loved landmarks on each city skyline where the Limited Edition will be on offer; the views taken in during a hot air balloon's drifting trajectory across the cityscape.
Flowerbomb in the Sky Limited Edition will be released in the UK from February 2020 and will be rolled out to the other Travel Retail regions later on.