REVLON X WONDER WOMAN 1984 COLLECTION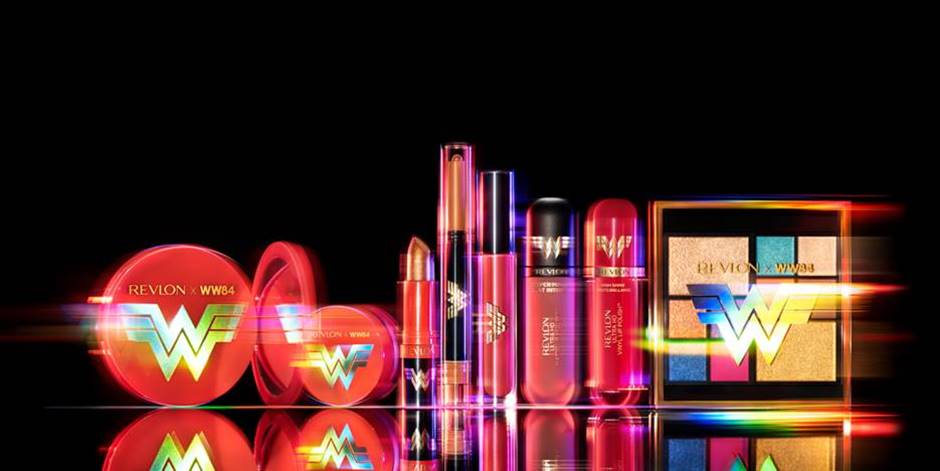 Revlon celebrates the return of Wonder Woman  (in theaters October) – and the glamorous 1980s with the Revlon x Wonder Woman 1984 Collection is an all-NEW limited-edition cosmetics line inspired by the film, plus a sophisticated selection of timeless Revlon favorites, each emblazoned with the iconic Wonder Woman logo.  
Transform your look by reflecting your light into the world or embracing your darker side. Only you possess the power to fully express yourself. The choice is yours: shimmering, glossy or matte? Vivid, smoky or classic? Our array of textures allows you to be the you you've always dreamed of.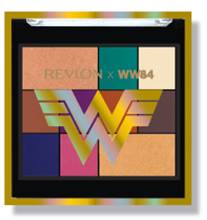 NEW Revlon x Wonder Woman 1984 Face & Eye Palette (SRP $14.99) • Limited-edition face and eyeshadow palette offers ultra-creamy application with transformative color payoff • 10 bold shades for limitless looks • Saturated pigments in mattes, metallics, and pearls • Use your favorite brush to blend or use fingers for an even more saturated look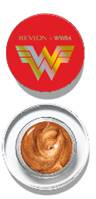 NEW Revlon x Wonder Woman 1984 Liquid Armor Glow Pot (SRP $11.99) • Highlight your face with this universal liquid armor highlighter glow pot • Jelly-like texture glides onto skin and leaves a buildable champagne gleam finish • Apply to cheekbones for a wet, glossy look • 1 shade: Golden Lasso

NEW Revlon x Wonder Woman 1984 Warrior Glitter Lip Color (SRP $10.99) • This transformative liquid lipstick comes alive with one press of the lips • Vibrant liquid lipstick that transforms from matte to a multidimensional glitter finish • Press lips together to unlock multidimensional glitter • 2 shades: Fight For It, Gear Up
NEW Revlon x Wonder Woman 1984 Super Lustrous Lipstick (SRP $8.49)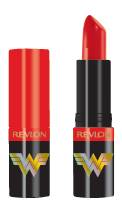 • High-impact color with super-moisturizing satin finish • Formula infused with vitamin E • Made with micro-fine pigments so the shades are vibrant yet lightweight • 4 NEW, limited edition shades: Strike First, Justice for All, Truth Seeker, Raise Your Fists
NEW Revlon x Wonder Woman 1984 Super Lustrous The Luscious Mattes Lipstick (SRP $8.49) • Lightweight, non-drying matte with a velvety smooth feel • All the drama without the draggy, heavy feeling • Infused with agave, moringa oil and cupuacu butter to instantly smooth lips • Made with micro-fine pigments for high impact, long-lasting color • 2 NEW, limited edition shades: Super Heroine, Amazon
NEW Revlon x Wonder Woman 1984 Kiss Melting Shine Lipstick (SRP $9.99) • Indulge your lips with decadent melting texture for addictive, irresistible shine • Infused with coconut oil and shea butter to give a high shine finish while lips stay hydrated • Decadent texture with lightweight, non-sticky feel • Button applicator provides fresh product every time • 2 shades: Courageous, Hot-Spirited
NEW Revlon x Wonder Woman 1984 Fearless Black Liquid Liner (SRP $8.99) • Ultra-black liquid liner glides on evenly and has a glossy, high shine finish • Easy to apply application for bold dramatic color • Precise definition for a thin or thick line

NEW Revlon x Wonder Woman 1984 Transforming Effects Eye Powders (SRP $9.99) • Dual-Ended Transforming Effects Eye Powders are packed with iridescent, silky soft powders filled with glistening pigments for fearless eyes. • Layer it on top of black liquid liner and transform into a holographic effect • Use as eyeshadow for a soft iridescent look
Revlon x Wonder Woman 1984 So Fierce Mascara (SRP $8.99) • Unapologetic length and clump-free, smudge-free volume with up to 24 Hour wear • Molded, tapered wand with 252 multi-layered bristles that comb and grab each and every lash
Revlon x Wonder Woman 1984 So Fierce Vinyl Liner (SRP $8.99) • High impact, lacquer-like color • Waterproof, smudge proof • 3 shades: Midnight Mystery, Mighty Mocha, Force of Steel

Revlon x Wonder Woman 1984 Ultra HD Vinyl Lip Polish (SRP $9.99) • High shine and intense color payoff • Ultimate comfort without drying or streaking • 3 shades: Cherry on Top, Birthday Suit, So Shady
Revlon x Wonder Woman 1984 Ultra HD Matte Lip Mousse (SRP $9.99) • Plush, soft matte lipcolor • 100% wax-free gel formula • 4 shades: Red Hot, Death Valley, Earthy, Scorpion Red
Revlon x Wonder Woman 1984 ColorStay Glaze Sticks Eye Shadow (SRP $7.99) • Creamy formula infused with metallic and duo chrome pigments • Silky pearl finish for lids that sparkle and shine • Wears all day without fading, creasing or smearing • 2 shades: Gilt, Sapphire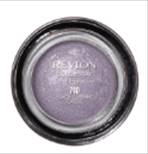 Revlon x Wonder Woman 1984 ColorStay Crème Eye Eyeshadow (SRP $7.99) • High pigment, blendable color in matte or shimmer finish • Waterproof with up to 24-hour wear • 3 shades: Caramel, Chocolate, Black Currant
Revlon x Wonder Woman 1984 ColorStay Liquid Eyeliner ($8.49) • Rich, waterproof black color that won't smudge or smear for up to 16 hours • 1 shade: Blackest Black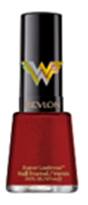 Revlon x Wonder Woman 1984 Super Lustrous Nail Enamel (SRP $5.99) • Crème and metallic shades for a daring, brilliant look • Chip resistant film strengthens and protects the nail • 5 shades: Sultry, Fearless, Tempting, Hypnotic, Revlon Red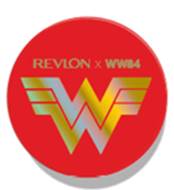 Revlon x Wonder Woman 1984 Compact Mirror (SRP $6.99) • Compact mirror emblazoned with the iconic Wonder Woman logo