Aveda Sets New Standard for Transparency in Hair Care with Blockchain-Enabled Traceable Vanilla from Madagascar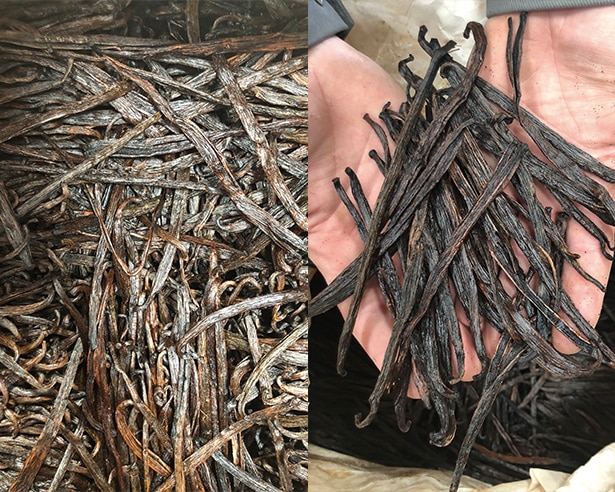 Aveda is the first hair care company to use the technology with Wholechain, which traces vanilla  from Madagascar to the bottle in more than 125 products 
Aveda – the high-performance, plant powered hair care brand with a mission of care, alongside its parent company, The Estée Lauder Companies (ELC), has announced the success of a pilot program to leverage blockchain technology in its vanilla supply chain in Madagascar in partnership with natural ingredients supply chain partner LMR Naturals by IFF, local Malagasy vanilla supplier, Biovanilla, global sustainable business partner, BSR, and blockchain  innovation partner, Wholechain. Blockchain technology provides further traceability by collating data from supply chain partners in real-time via a secure, digital system. Aveda  is one of the first beauty companies to launch a successful, commercial blockchain pilot at such scale, and the program will bring blockchain-enabled, traceable vanilla to more  than 125 Aveda products starting this spring.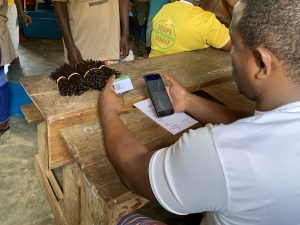 Transparency in Supply Chain 
Blockchain technology provides an immutable reference that can be used to verify  claims of the source and quality of ingredients, such as the Malagasy vanilla Aveda uses in its products. 80% of the world's vanilla comes from the island of Madagascar, and small farms are responsible for most of the production. Complexities in the vanilla  supply chain are multilayered, ranging from price fluctuations to major climate  challenges and intensive farming needs, which is why vanilla was selected for this pilot  program.
Using mobile phones and QR codes, Wholechain creates a tamper-proof record using  blockchain tracing of each vanilla bean's journey throughout the supply chain.  Beginning with a cooperative of 450 smallholder farmers in Madagascar, the technology  traces the beans along the process from the sale to the local co-op; to LMR, Aveda's  fragrance house partner in Grasse, France; and finally, across the Atlantic to Aveda's  manufacturing facility in Blaine, MN. These products, including Aveda's Invati franchise, will be on store shelves in the Spring of 2021.
Ultimately, this traceability is important because it will help to demonstrate sustainable,  responsible sourcing, high quality ingredients, and more transparency for all  stakeholders. Beyond these long-term benefits, this pilot provides a strong proof-of concept for the use of blockchain to increase traceability in complex supply chains,  benefitting the wider business community by establishing robust best practices for  responsible sourcing in the beauty sector and beyond.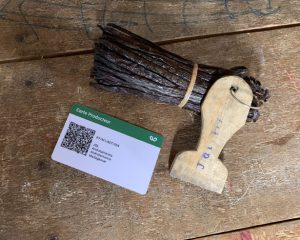 For generations, vanilla beans were traced using a unique stamp called a "Fitomboka"  which was embedded directly on the bean and served as a record keeping system for the farmers. The Fitomboka has now been digitized onto a digital card, and data is  captured directly from the farmer co-op in Madagascar using mobile phones and QR  code IDs. At the co-op, each farmer has a digital ID card that converts their unique  traceability code and other key data attributes via a QR reader. This information is then  recorded via blockchain technology, making it completely tamper-proof. From the time  the vanilla leaves the producer's hands, it is tracked through the supply chain on blockchain to validate its quality and authenticity.
A Commitment to Sustainable Sourcing 
For Aveda, integrating social, ethical, and environmental performance metrics into the  process of selecting and maintaining suppliers is key to sustainable sourcing practices.  This includes establishing on-the-ground, meaningful environmental and social  programs that will benefit the communities from where the brand sources ingredients.  Blockchain technology will contribute to this by laying the groundwork to ensure  transparency in Aveda's supply chain, providing transparency from the bottle back to  the farm.
Barbara De Laere, Aveda Global Brand President, said, "Aveda has prioritized sustainable sourcing for decades, and we now have the technology to demonstrate this to the consumer. Our products are built on natural ingredients, and the long-term  viability of those ingredients and the people cultivating them is vitally important to  Aveda. With blockchain, we now have a direct connection to our farmers in Madagascar, providing us, our salon partners and our customers more transparency  into our supply chain. This transparency is of utmost importance to us as a brand, and  we are proud to give our network visibility to the positive impact that, ultimately, they are  having on this local community."
"This new investment supports The Estée Lauder Companies' efforts to continuously  improve and strengthen our sourcing practices while remaining sensitive to the local  communities in which we operate," said Greg Polcer, Executive Vice President of  Global Supply Chain at The Estée Lauder Companies Inc. "Blockchain technology  adds an extra layer of transparency to our sourcing practices, verifying our vanilla supply chain's compliance with the highest ethical and environmental standards, and  strengthening trust with our suppliers, consumers and investors."
Jayson Berryhill, Wholechain Co-founder and Partner, said, "It is a privilege to work  with Aveda and The Estée Lauder Companies, who are leading the way with their  commitment to achieve full traceability with their ingredients. While some companies are taking small steps with traceability pilots, most are small scale and only go back to their first tier suppliers. By contrast, the teams from Aveda and The Estée Lauder Companies can ensure their sustainability criteria are met by tracing all the way back to the vanilla farmers. This is the future of sustainable sourcing."
Bertrand de Preville, LMR Naturals by IFF General Manager said: "LMR and IFF are  proud to leverage our transparent and responsible sourcing principles on vanilla for Aveda and the Estée Lauder Companies, in a country like Madagascar, where this  sustainable vanilla supply chain improves the livelihood of hundreds of families."
A Blueprint for the Industry 
"It's really exciting to see the beauty sector pursuing the use of blockchain at such a large, commercial scale," said Thibault Gravier, Global Supply Chain Director, BSR.  "Improving supply chain transparency across sectors really depends on the investment  and leadership of companies like Aveda and The Estée Lauder Companies. The  success of this pilot provides a true proof of concept for others to follow."
Whereas many commercial blockchain pilots are theoretical (relying on sample data) or extremely small in scale, ELC and Aveda's program is one of the largest scale pilots to be launched in the beauty industry. The implementation of digital tracing capabilities at the beginning of the supply chain process helps to facilitate positive impacts across the value chain including greater transparency for the end consumer. Additionally, digital  traceability enables a level of visibility needed to facilitate the management and  mitigation of complexities in supply chains arising from unforeseen events such as  climate changes or global pandemics. Tracing and verifying the steps in the supply  chain from 450 smallholder vanilla farmers all the way to Aveda's manufacturing facility,  the extensive pilot provides a true proof of concept that can be leveraged by others in  the industry to improve transparency and raise sourcing standards.
12 Years of Giving Back in Madagascar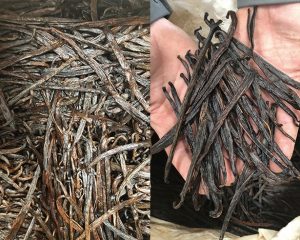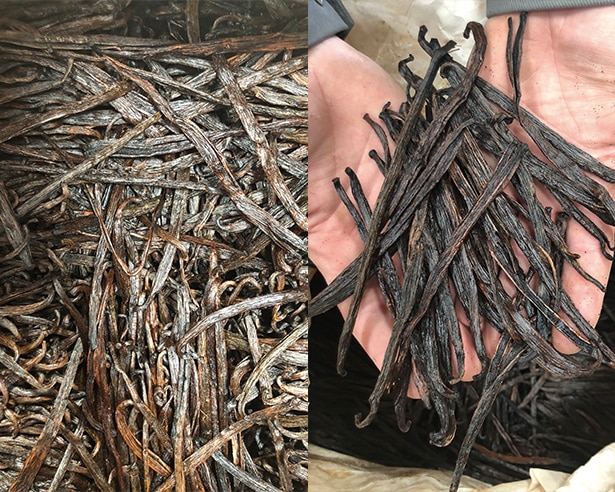 Since 2008, Aveda and its partners Global Greengrants Fund and WaterAid, have provided community and institution-led sustainable and equitable access to water,  sanitation and hygiene (WASH) through gravity-fed water supply systems for 60,000  people in marginalized communities throughout Madagascar including Ampasimanjeva,  Ambodiranonambilona, Betampona, Taindambo and Vohimasina. Aveda is currently  working on an additional water project in Madagascar with global partner charity: water  to bring WASH to nearly 26,000 people the Miandrivazo and Antananarivo Avaradrano  districts through large-scale piped systems. These systems will use solar power or  electricity grid power to pump water from boreholes and springs into a reservoir tank,  and then distribute the water by gravity to tap stands located throughout the  communities.
A More Sustainable Future 
Enabling blockchain technology is one of several sustainability goals that Aveda has  achieved this year. Aveda recently launched its online Ingredient Glossary, which details what the brand's key ingredients do and where they are sourced from.  Additionally, earlier this year, Aveda "flipped the switch" on a new 3.6 acre, 900kW  ground-mounted solar array at its headquarters in Blaine, Minnesota. The solar panels  collect sunlight throughout the day, converting the light into electricity and supplying it to  the manufacturing facility on campus, sending excess energy back to the grid. The new  array is part of the brand's vision to be a renewable energy generator.
Aveda's headquarters are situated on a 58-acre campus in Blaine, Minnesota alongside  honeybee colonies, an employee-curated vegetable garden, electric vehicle charging  stations and miles of running trails. The land is National Wildlife Federation Certified,  and employees enjoy frequent sightings of a variety of wildlife including turkeys, deer,  turtles and groundhogs. The main office building has an emphasis on sustainability: it is  powered by solar and wind energy, is carpeted with recycled fibers, has composting and  recycling bins throughout the building and an organic cafe on the first floor. To learn  more about Aveda's sustainability initiatives, visit aveda.com/sustainablefuture.