GUCCI GUILTY LOVE EDITION 2021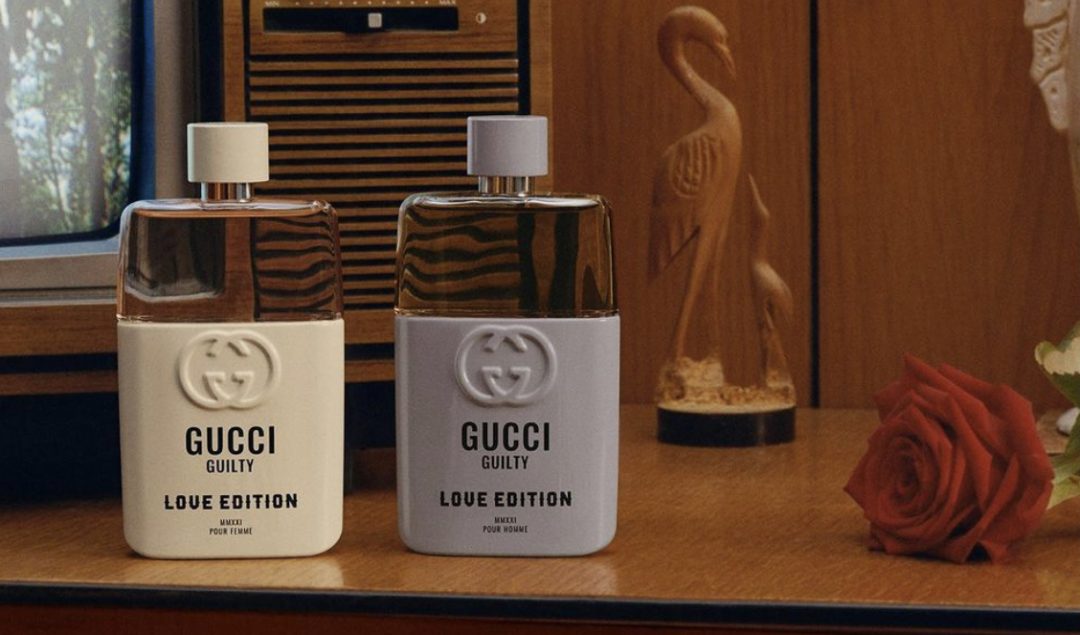 GUCCI GUILTY LOVE EDITION 2021
Lovers live free from expectation with unconventional gifts for Valentine's Day
Following the successful first launch of Gucci Guilty Love Edition, the celebration of freedom and unconventional love peculiar to the #ForeverGuilty universe continues with Gucci Guilty Love Edition 2021. In this special time of the year dedicated to love, Gucci presents the Gucci Guilty fragrances for him and for her in two new limited edition bottles. Set to become a modern declaration of passion and all it represents, the Love Edition scents are dedicated to eccentric lovers around the world who express their connections free from the rules and definitions of society. Exploring the male and female gaze, the two fragrances are newly presented in romantic pastel shades of ivory and a grey mauve, and inscribed with poetic messages of love; we are not together but we should be on the female bottle, and we should be together, but we are not on the male bottle.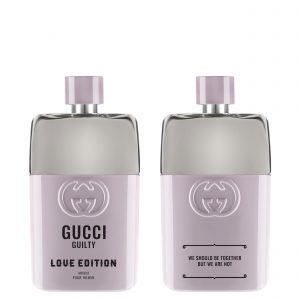 Gucci Guilty Love Edition 2021 Pour Homme
The same Aromatic Fougère scent as Gucci Guilty Eau de Toilette Pour Homme, Gucci Guilty Love Edition 2021 Pour Homme is a modern masculine creation that opens with refreshing Italian Lemon. White florals with honey tones enrich the scent's notes of Orange Blossom Absolute and French Lavender; the very flower the original playboy Casanova used to fragrance his love letters. Completing this modern expression of sensuality and mystery, sophisticated Patchouli develops with hints of leather, green, woodiness and incense-like qualities. The dry-down is intensified with the masculine richness of Cedarwood.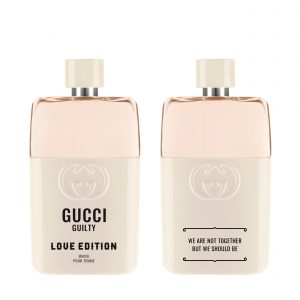 Gucci Guilty Love Edition 2021 Pour Femme
A strong and refined eau de parfum, Gucci Guilty Love Edition 2021 Pour Femme is the same romantic Ambery Floral scent as the popular Gucci Guilty Eau de Parfum Pour Femme. Opening in the mood of the scent's message of unapologetic love, citrus top notes of Mandora – a fruit found in the Mediterranean island of Cyprus – are smoothed out with natural zesty Bergamot and spicy Pink Pepper. The heart defines the scent's complexity, where Lilac is contrasted with rosy, violet notes and layered with Geranium Oil to create a nuanced and individual floral blend. Defining the scent is a deep natural duet of Patchouli Oils – Patchouli Coeur and Patchouli Oil Micro-Distillation – combined with Amber notes.
The Campaign
Gucci Guilty protagonists Jared Leto and Lana Del Rey are drawn to each other once more, finding themselves reunited in another peculiar setting: the motel. Captured by photographer Glen Luchford, Gucci Guilty Love Edition 2021 fragrances are represented as part of a traditional love trope with a twist, placed on the familiar bedside table in this peculiar environment.

The Packaging
Collectable objects of desire, the Gucci Guilty Love Edition 2021 bottle designs reflect the vision of #ForeverGuilty. Encased in the distinctive heavy glass Gucci Guilty bottles, the scents renew their look in shades of ivory and grey mauve, half in a shiny lacquered finish and half translucent glass. Acting as an echo for the other like star-crossed lovers, the back of each bottle features poetry verses designed to be paired to be completed: We are not together but we should be, on the female bottle, and we should be together, but we are not on the male fragrance. Both bottles are finished with a cap of the matching shade and accented with the House's interlocking G logo. Inscribed with black capital letters in a new gothic font to reflect the bold statement the scents represent, each bottle is packaged within a matching box of the same design.
#ForeverGuilty
Pricing and Availability
Gucci Guilty Love Edition 2021 is available beginning January 1, 2021 at Macys.
Gucci Guilty Love Edition Eau de Toilette For Him 90mL Gucci Guilty Love Edition Eau de Toilette For Him 50mL
Gucci Guilty Love Edition Eau de Parfum for Her 90mL Gucci Guilty Love Edition Eau de Parfum for Her 50mL
Press Contacts
$97.00 $77.00
$130.00 $99.00