Le Jardin des Rêves Dior at the Beverly Hills Hotel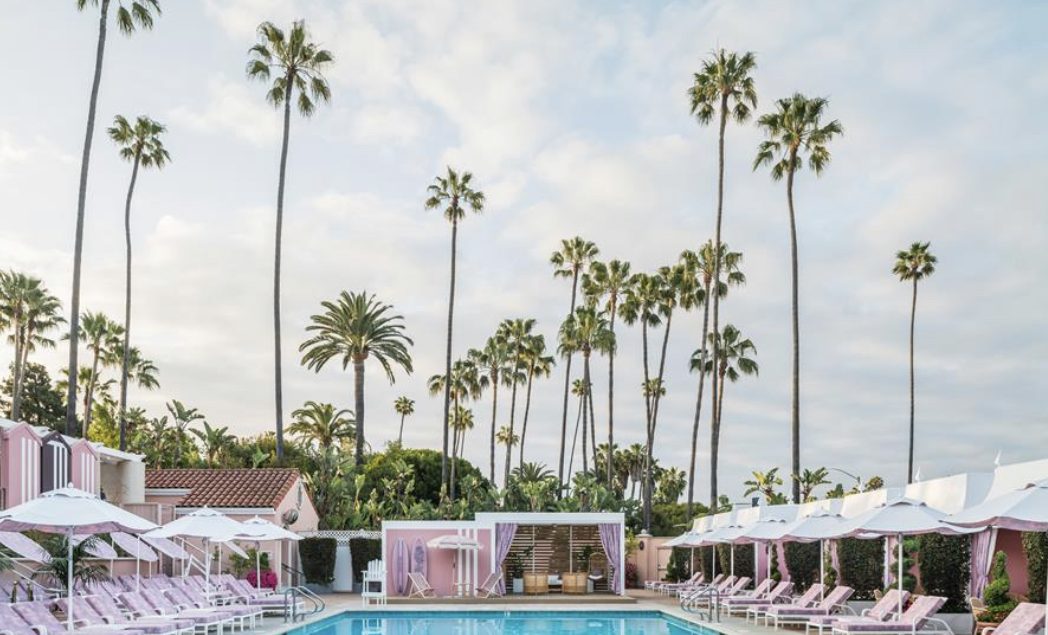 FOR THE FIRST TIME EVER, THE HOLLYWOOD GLAMOUR OF THE BEVERLY HILLS HOTEL, A DORCHESTER COLLECTION HOTEL, MEETS THE DIOR ART OF BEAUTY AND WELL-BEING. FROM MAY 26 TO SEPTEMBER 4, 2023, DIOR ADDS A TOUCH OF POOLSIDE MAGIC WITH ITS EXCLUSIVE LE JARDIN DES RÊVES DIOR SPA CABANA, TO CREATE A BRAND-NEW SKINCARE SPACE FOR A COMFORTING ESCAPE AND PEAK SERENITY.
FOR OVER A CENTURY THE BEVERLY HILLS HOTEL HAS BEEN THE CHOSEN PLACE FOR HOLLYWOOD'S BRIGHTEST LIGHTS. SHE GREETS YOU LIKE A MOVIE STAR FROM THE MOMENT YOU STEP ONTO THE RED CARPET AND ENTER THE GRAND LOBBY.
FONDLY NICKNAMED THE 'PINK PALACE', THE HOTEL'S 12-ACRE GARDENS AND FAMOUS POOL OFFER AN EXPERIENCE THAT SHIMMERS WITH HISTORY AND GLAMOUR. SPACIOUS SUITES PAY HOMAGE TO THE LEGACY, WHILE BUNGALOWS OFFER THE TRUE HOLLYWOOD EXPERIENCE INSPIRED BY THEIR FAMOUS GUESTS.
THIS SUMMER, DIOR ADDS ITS OWN TOUCH TO THIS ILLUSTRIOUS PLACE, BY CREATING AN UNPRECEDENTED EXPERIENCE THAT BLENDS HOLISTIC WELLNESS PROTOCOLS WITH BEAUTY AND EXQUISITE DELIGHT.
THE HOUSE OF DIOR CHOSE TO SITUATE THE INDOOR-OUTDOOR JARDIN DES RÊVES DIOR SPA CABANA AT THE BEVERLY HILLS HOTEL. NESTLED AMONG THE ICONIC PINK AND WHITE STRIPED CABANAS, THIS POP-UP OASIS OFFERS GUESTS A PEACEFUL ESCAPE IN THE HEART OF BEVERLY HILLS.
AVAILABLE EXCLUSIVELY FOR HOTEL GUESTS TO RESERVE DAILY, IT IS COMPLETE WITH A TREATMENT CABINE ADORNED IN TOILE DE JOUY, THE ICONIC DIOR PATTERN REINTERPRETED BY MARIA GRAZIA CHIURI, CREATIVE DIRECTOR OF WOMEN'S HAUTE COUTURE, READY-TO-WEAR AND ACCESSORIES COLLECTIONS, REVISITED FOR THE SUMMER 2023 DIORIVIERA CAPSULE IN PINK AND GRAY TONES, DEAR TO OUR FOUNDING COUTURIER.
ALONGSIDE THE TREATMENT CABINE, A COMFORTABLE SUITE OF RATTAN FURNITURE PROVIDES A PRELUDE FOR THIS TIMELESS MOMENT, AND POST-TREATMENT, GUESTS CAN RETURN FOR A RELAXING PAUSE, A PERFECT FINISHING TOUCH TO THIS MOMENT OF PLENTITUDE.
IN THIS MAGICAL SETTING, DIOR PROVIDES A TOP-FLIGHT TREATMENT PROGRAM BASED ON FOUR TAILOR-MADE SIGNATURE TREATMENTS. INSPIRED BY DIOR SKINCARE TO COMPLEMENT THE SERVICES CURRENTLY OFFERED BY THE HOTEL'S SPA, THESE PROTOCOLS STRIVE TO ENSURE AN EXTREMELY CHIC AND MEMORABLE EXPERIENCE.
TWO BEAUTY-ENHANCING TREATMENTS ARE AVAILABLE FOR THE FACE:
L'OR DE VIE MIRACLE TREATMENT, A NINETY-MINUTE TREATMENT, WORKS IN TANDEM WITH THE L'OR DE VIE LINE. THIS ANTIOXIDANT-RICH PROTOCOL GIFTS THE SKIN WITH THE INFINITE LONGEVITY OF THE YQUEM SAP. STEP BY STEP, THE SKIN GAINS STRENGTH AND RESISTANCE, WHILE THE FACE RADIATES WITH A DIVINE GLOW.
DIOR PRESTIGE HAUTE PRÊCISION IS A MAJOR HOLISTIC TREATMENT USING THE DIOR PRESTIGE LINE, LASTING ONE HOUR. IT COMBINES THE REGENERATIVE POWER OF THE GRANVILLE ROSE WITH ENVELOPING MASSAGE TECHNIQUES TO BLEND PLEASURE WITH VISIBLE CORRECTION OF SIGNS OF AGING.
TWO FULFILLING OPTIONS ARE AVAILABLE FOR THE BODY:
NEW LOOK, A SIXTY MINUTE SLIMMING MASSAGE TREATMENT, COMBINES EXFOLIATION, THE PALPATE-ROLL METHOD, WITH KNEADING AND LYMPHATIC DRAINAGE TECNIQUES PAIRED WITH ANTI-WATER RETENTION AND ANTI-CELLULITE ACTIONS.
CONSTELLATION, A NINETY MINUTE RELAXING TREATMENT PAR EXCELLENCE, GUARANTEES THAT GUESTS WILL COMPLETELY UNWIND, FOR PERFECT HARMONY BETWEEN BODY AND MIND.
LE JARDIN DES RÊVES DIOR AT THE BEVERLY HILLS HOTEL IS THE PERFECT UNION OF HIGHLY EFFECTIVE TREATMENTS AND SENSORIAL EXPERIENCES.
PHOTO COURTESY OF PAUL VU FOR PARFUMS CHRISTIAN DIOR
LE JARDIN DES RÊVES DIOR AT THE BEVERLY HILLS HOTEL
9641 SUNSET BOULEVARD
BEVERLY HILLS, CA 90210
OPEN MAY 26TH TO SEPTEMBER 4TH, 2023
AVAILABLE TO RESERVE DAILY
TEL +1 310 887 2006
SPA.BHH@DORCHESTERCOLLECTION.COM